Bold, provocative, and totally HOT: Below Her Mouth won audiences over at TIFF 2016, and we're excited to partner with the film for its nation-wide theatrical release on February 10. In fact, there's no film we'd rather be in bed with.
If you've seen the hot AF ads on TTC bus shelters and subway platforms around the city, you may have noticed we've proclaimed Below Her Mouth as "a cinematic voice to the female orgasm." True indeed, but Below Her Mouth is also a visually stunning film that documents a passionate and fiery romance and will undoubtedly turn you on, no matter how you define your sexuality.
To celebrate the film, we've hooked up with a few sexy partners so one reader will get real lucky. Enter our Turn Me On contest for a chance to win:
2 tickets to Below Her Mouth opening night February 10 w/ actors Erica Linder and Natalie Krill in attendance
2 spots at Oyster Boy's Shuck U: A two-hour workshop that will have you shucking oysters like a pro
1 Cage Leather Body Harness + Single Strap Choker from UNCUFFED Leather for creative play (available at Stole My Heart Lingerie)
1 signed Below Her Mouth poster
2 Below Her Mouth t-shirts
THERE ARE THREE WAYS YOU CAN ENTER TO WIN!
Twitter:
RT: "Turn me on @Shedoesthecity w. a @BelowHerMouth @OysterBoy @StoleMyHeart_TO gift set. I want to open up & try new things! #BelowHerMouth"
Instagram:
LIKE + COMMENT on the Below Her Mouth poster, or our Oyster Boy and UNCUFFED photos
Facebook:
LIKE + COMMENT on our Open Yourself: Below Her Mouth + Shuck U + UNCUFFED Contest on Facebook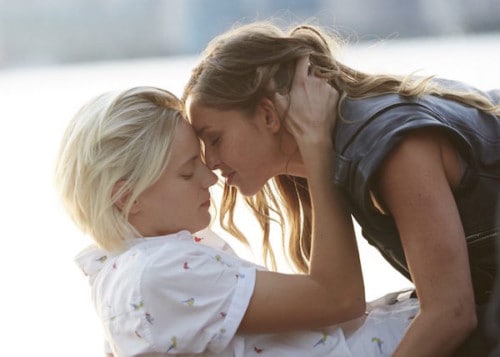 The story you will fall for:
Dallas (Linder) makes her living in a rough trade, shingling roofs while turning over female lovers in her personal life—until she encounters self-assured and successful fashion editor, Jasmine (Krill). From the moment their eyes meet, the two women are inexplicably drawn to one another. Their connection is powerful and immediate, drawing them into a passionate love affair. Jasmine sees through Dallas's charm and recognizes her philandering ways, but that creates only a small obstacle for Dallas. The bigger obstacle: Jasmine's fiancé, Rile.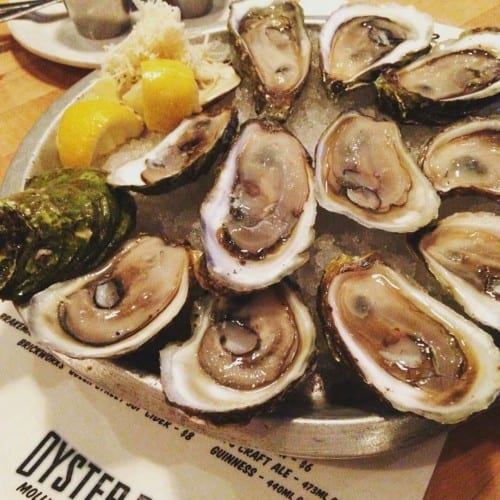 The delicacy you will devour:
Oyster Boy offers an entertaining and informative two-hour program that teaches you everything about buying, shucking and presenting oysters.
An expert oyster shucker will lecture for the first hour on subjects such as how oysters are grown, how they breed, the life cycle and seasonal variations. In the second hour of Shuck U, the professor and assistant will demonstrate how to properly shuck and present an oyster. Students are given eighteen oysters and their very own oyster-shucking knife. Then they can start practicing!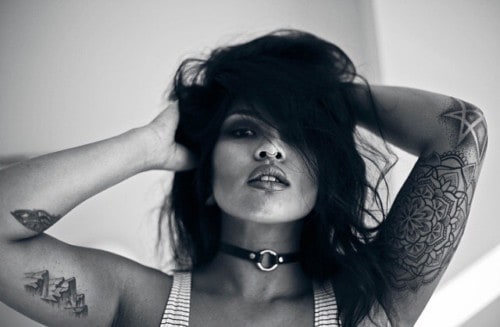 UNCUFFED Leather is an artisanal line of chokers, harnesses + headpieces created for strong, daring and playful women (and men). The best part? Everything is made in Toronto with <3. (JUST LIKE BELOW HER MOUTH!)
Below Her Mouth opens in theatres across Canada on February 10th. Tickets are on sale at www.Cineplex.com. Watch the trailer now here.