As the cold weather sets in for the long haul, you probably feel like hunkering down and getting cozy with a few friends and a great book. A Girls Night In is in order.
Eunice Bae started off as a reader of the Girls Night In newsletter when it launched last year. "The long reads and recommendations that were being shared just clicked with me, [so I] emailed the founder, Alisha." This April, she took on an Operations Lead position for the GNI Reads program. Her role is to grow the program and host community into other cities across North America, ensuring everything runs smoothly and efficiently. "I do that in tandem with being a Toronto host, where I work with my co-host to run a monthly book club event," she says.
We asked Eunice about the program, what's on the roster for this month, and her ideal Girls Night In.
SDTC: Do you see a trend of women wanting to stay in with friends?
EB: I believe it's more of a growing recognition of different ways to hang out with friends or enjoying time to yourself—it's not really an "either/or" situation. I've known so many women who enjoy both, but there has always been more vocal emphasis and value put on "hitting the town."
Now, in light of so many issues in society that are coming to a head (and how polarizing the global cultural climate is becoming), there's a shift towards valuing self-care, slowing down, and fostering deeper relationships. We have to take care of our whole selves—mental, physical, and even spiritual.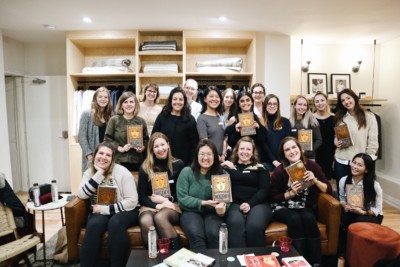 What has been the most rewarding part about doing these events?
For me, it's been so rewarding meeting all these awesome people and taking part in creating space for self-care—especially with a focus on a love of books. Across GNI Reads, I consistently hear that participants also love the discussion! I've been part of bookclubs where either the book choice isn't my choice, or the discussion is lacking—the opposite seems to be true at GNI Reads! I hear all the time how they love that they actually get to talk about the book, and delve into the topics that arise from the discussion.
Describe your ideal Girls Night In scenario.
It can go two ways: Lazy AF, or DO ALL THE THINGS.
A Lazy AF GNI™️ would be to order in take-out (pizza, Tibetan momos, whatever's easiest and quickest), put on Netflix (I prefer something lighthearted and easy to get through—just finished Great News [RIP]), and face mask time. Friends can be included in said night, but likely replace face mask with chats.
The DATT GNI™️ definitely includes the besties. A homemade dinner (I always trust good ole Bon Appétit, but I can never say no to chicken thighs with a salad and some vino) where everyone is involved. In the background, I usually play the "Indie Pop Chillout" playlist on Spotify. We'll catch up with a deep dive into life goals, relationships, careers. Break out the tarot deck and do some astrology.
How do you see Girls Night In growing in Toronto this coming year?
The GNI bookclub in Toronto is growing in numbers—a healthy mix of repeat and new participants come out each month. If the demand continues to scale at this rate, I could see the bookclub growing to two groups (east/west) in the next year!
What is the November pick?
Everything's Trash, But It's Okay by Phoebe Robinson. The GNI Reads team chooses books for the hosts and community each month, switching between fiction and non-fiction books written by females. We decided on Phoebe's book because we all love her, her comedy, her first book (You Can't Touch My Hair: And Other Things I Still Have to Explain), and we wanted to read about what she had to say.
The next event is on November 28 at Kotn (754 Queen St. W). Register here.