When all you see are rosy Instagram shots of others living their (seemingly) best lives, it can be easy to fall into a comparison trap. This aspirational hamster wheel can make you feel as though you're coming up short – no matter how hard you try.
UR Enough is a new website + web series by two Toronto-based women, Kelsey and Mandi. UR Enough captures stories from real people talking about their struggles with self-love. Some have struggled with addiction, depression, mental health stigma, breakups, heartache or PPD, but they ALL come to the eventual realization that we are enough–just as we are.
We asked the founders about the project this week.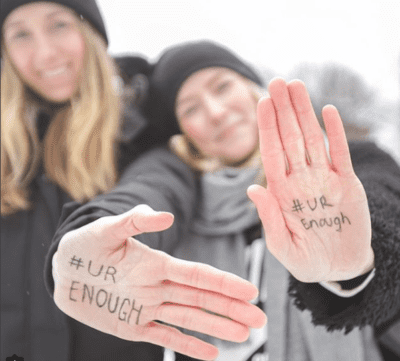 SDTC: What was the catalyst for starting UR Enough?
M&K: When Mandi opened up and told the story of her eating disorder, something magical happened: a conversation–a difficult conversation that society doesn't normally partake in. There was something so powerful in sharing but even more empowering to be the individual to listen.
We thought, What if we could create a space that encouraged bravery, a safe place to open up and become your real, authentic self? UR Enough became a platform to share others' stories—stories of struggle, addiction, mental health, vulnerability, but more importantly, stories of hope, inspiration, and of our undefinable worth. [It's] a place that celebrates individuals for exactly who they are.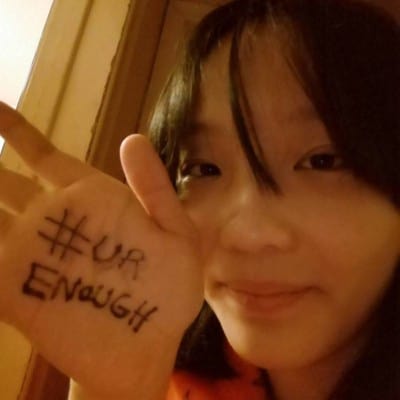 Have you always practiced positive self-love? If not, who/what helped you to do so?
Mandi: If I am being honest, no. There was a long period of my life when I didn't. It's hard to look back and think about how hard I was on myself and how many unkind words I thought to myself. Once I found the bravery to come out about my eating disorder, that is when I began to heal. I had to learn how to fall back in love with myself. My family was a huge support system for me. I also started going to therapy; talking things out really helped me.
Through my recovery, I unintentionally discovered running. It was a sane place for me to clear my mind. There's something remarkably healing about putting one foot in front of the other. Running is now my safe place. It keeps me in control of my mind and my body–a healthy release, a way to work through my insecurities, a chance to clear my head, and it is my way of maintaining my recovery. It makes me happy and I do it to feel alive. And as crazy as it sounds, it's what has truly made me fall back in love with myself; it has made me love the skin I am in again.
Kelsey: No, not by any means. I didn't believe I was deserving of love, let alone my own self-love, and even to this day I still struggle with this concept. But there are amazing people in my corner and I am slowly learning to be vulnerable with myself, working through emotions that have been bottled up for years so that I may find the acceptance and (self-)love that I deserve.
How did you find the people you have featured in the project?
With focus on mental wellness and self-acceptance, we invited willing individuals to submit their thoughts, feelings and stories as part of their application for the UR Enough campaign.
We were blown away by how many brave individuals submitted their thoughts. We wish we could have had the time to bring everyone in. As we wanted the UR Enough campaign to include the voices of people from different age groups, backgrounds, experiences and opinions within Toronto, we carefully and methodically had to review each application. It was a difficult decision to only choose fifteen.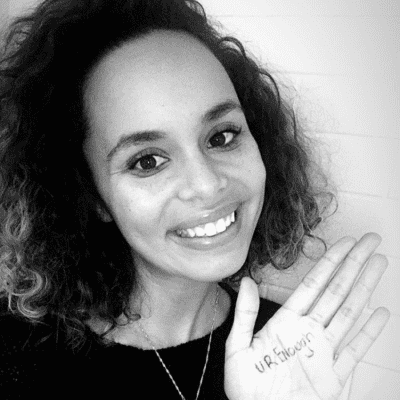 It seems that despite all of the talk about self-care and self-love, people seem to really struggle with it. Why do you think that is?
The topic of self-love and self-care have only really started to come into conversation, we feel, within the last few years. We live in a world where external opinions and expectations influence the way we think, feel and speak, and when we are faced with struggle we feel shame. With people showcasing the most aspirational versions of themselves on social media, we dangerously compare ourselves to them. We self-criticize, filter our words, mask our imperfections, and dim our light in attempt to not draw attention to our "imperfections." And we will be the first to admit it, we struggle.
But here's the truth: we are all imperfect human beings struggling to be seen, and we are worthy of love and belonging.
What did you learn during the process of putting this project together that surprised you?
That we really are all the same. In one way or another we are all faced with adversity, struggles and daily hurdles. And we, individually, have this misconception or fear that the struggles we face won't be accepted by our loved ones or society. During the campaign, many people spoke about the shame they felt for exposing their struggle and those feelings of shame grew to their considered "breaking point." While each story was very different, the common theme was that they all felt they couldn't be themselves or express themselves in a vulnerable way that would be accepted. And they are not alone with this; we are all the same.
What do you hope comes of this project?
Over the past few weeks we have witnessed the magic that will unfold when you give someone just enough comfort and support to be themselves. Continuing the conversation afterwards, we can break the silence, cut through the stigmas, and create a culture of acceptance and support. As a society, we might learn to express empathy and understanding to those others who might be struggling.