Season 2 of hit web series Ghost BFF, created and starring Vanessa Matsui (The Handmaid's Tale, Shadowhunters), gives us whip-smart writing that continues to blow open the conversation about mental health with thoughtfulness, humour, and the right dose of spooky to make us jump.
The female-led dark comedy follows two best friends, Amy (Matsui) and Tara (Kaniehtiio Horn) one alive, one dead, across planes of existence, as they struggle to find themselves and right past wrongs following Tara's suicide. Season Two delves deeper into Amy's struggles as she addresses unemployment, singledom, unexpected challenges, and the grief of missing her friend. Tara returns once again as a ghost to find closure with her mother (Angela Asher), to help Amy heal, and to gain a better understanding of her own narrative of what happened the day she died.
It's rare that entertainment can tackle the most serious of subjects while making us keel over in laughter, but Matsui has, once again, mastered that balance in Season 2.
PTSD, suicide, anxiety, and depression are ever-present themes within the show; themes that Matsui knows well. "One of my best friends, who I grew up with, was suicidal. I went to stay with her when she was on suicide watch," she said. "Now, she's thriving—she's a doctor! But that was the kernel of inspiration, imaging if she hadn't made it through that time."
Another of Matsui's friends didn't make it, "She died by suicide in Montreal. It happened years ago, and at the time, no one was talking about it." It struck her that, at the time, that mental health was still a taboo subject, rarely discussed in an open and authentic way. Matsui knew, at some point, that she'd want to create something that would help act as a catalyst for both conversation and change.
She's since embarked on her own personal journey, using mindfulness as a technique to calm her anxiety. "My whole life, I've run away from pain. I hate feeling bad. My instinct is to chug wine when I'm feeling bad. I have to pause to not do that, and lean into the pain." It's a technique she learned and honed during Season 1, after taking two courses at The Centre For Mindfulness that "changed her life." It's also what helped her shape Season 2.
As part of the Ghost BFF experience, eight mental health PSAs have been created by the production team to accompany the eight series' episodes. The PSAs will be launched in parallel to offer a supportive element to discuss mindfulness, depression, anxiety, boundaries, and self-care.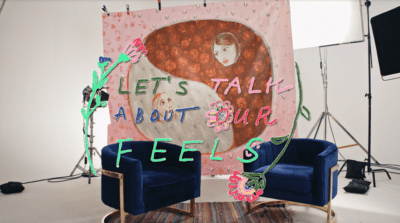 "We are currently living in a time when mental health is top priority for many of us," said Matsui. "What we learned with season one of Ghost BFF was the importance of opening up hard conversations and addressing anxiety and depression head on. By using humour, we are also able to soften the impact of these hard topics while not shutting down anyone's feelings. Season two delves even deeper into some of the challenges many of us face and also the comfort of finding resiliency and hope within our families and ourselves."
Shedoesthecity hast partnered with Touchwood PR and Babe Nation to host a premiere event on July 6—and you're invited. Watch Season 1 on KindaTV now. Ghost BFF Season 2 premieres on July 7.