Vanessa Matsui's Midnight At The Paradise is a cinematic love letter to Toronto. Starring Liane Balaban (The People Garden, New Waterford Girl), the charming rom-com features numerous venues and locations around town, including the beautifully restored Paradise Theatre on Bloor, where the film will screen on Friday, April 21st.
Iris (Balaban) and Alex (Allan Hawco) were once teenagers in love, but it's been many years since they've seen one another, and lots of life has happened: marriage, kids, demanding jobs and ailing parents. Midnight At The Paradise follows the tension and desire that unfolds when the two ex-lovers, now in their forties, reunite for a special screening event, showcasing their favourite film, Jean-Luc Godard's Breathless.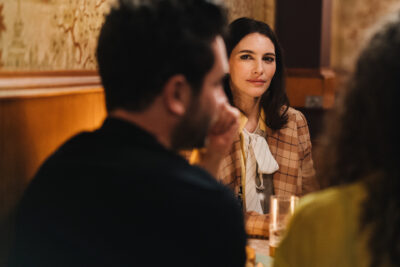 "What initially attracted me to the project was that I could see what the lead character, Iris, was going through. I'm a 40-year-old mom with aging parents and a little kid, and I'm in that in-between place where you're not young anymore, but you're not old," says Matsui, who was also excited to capture Toronto on film.
The Paradise Theatre plays a key role in the story, but there are many treasured spots that also make an appearance. The Drake Hotel, Union Station, Osteria Rialto, Toronto's Financial District and the Centre for Social Innovation are just some of the locations where drama unfolds. For locals, seeing Toronto captured on film is a real joy to watch.
Curious to see the city through her eyes, we connected with Matsui to ask her about other favourite destinations, from the city blocks she loves to walk to where she goes for creative inspiration.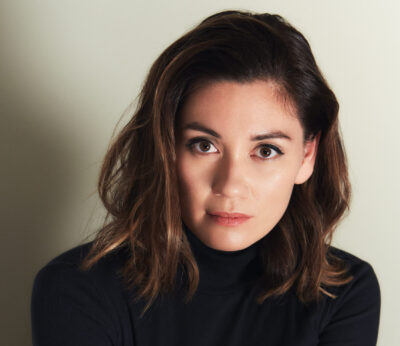 Why did you set your film at The Paradise?
There are so few of the old Toronto theatres left. I love the Paradise's marquee, and that it has been restored. It's a great name for a theatre.
Somewhere romantic…
A space that always helps you feel calm?
When I lived on Roncesvalles, I loved running through the woods in High Park on a weekday morning when it wasn't busy.
What's a street that you love to walk along?
I love old Toronto! King street east with all those beautiful old buildings.
A spot you always recommend to out-of-town visitors is….
Maha's! Best Egyptian brunch and it's a lovely family who owns and runs it.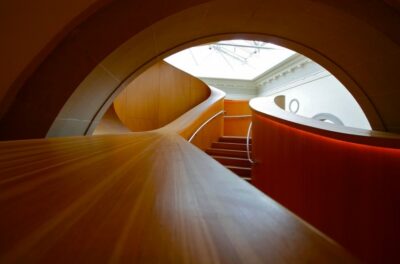 Go-to destinations for kids?
Riverdale Farm. It's so charming and unique and free. And our local park is lovely. It has an outdoor pool and a little skating rink. Also the usual spots: Science Centre, AGO and ROM. All wonderful. I also love our local library for puppet shows, storytime and crafts. I also love taking my daughter to plays and movies.
What Toronto location would you love to put on film?
I was just walking along the PATH under Roy Thompson Hall and there is this light / video installation that overlooks a giant window that looks at the bottom of the Roy Thompson Hall fountain and I thought immediately how much I would want to shoot a walk and talk there!
What's a wonderful spot for people-watching?
The fountain on the Danforth. Love the old-school Torontonians who hang out there.
Three small businesses you'd like to give a shoutout to are…
I already shouted out Maha's so I will say Conci on Gerrard (best croissants in the city hands down), Present Day Gifts (my go-to for gifting) and Pure and Simple. (Best facials and natural skin care products in the city). I would also say Fortnight Lingerie but she just closed.
A space that sparks tension is…
The emergency room! I hate that the provincial government is hell bent on destroying public health care. This city deserves better.
Where do you go to get inspired, or jumpstart your creativity?
I love the AGO. By myself. No kids. With a weed gummy.
A restaurant you've recently fallen for is…
Danny's! My friends Anna and Danny just opened their own restaurant and I have so much fun every time I'm there.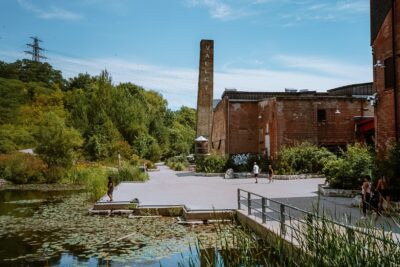 Where do you go when you want to immerse yourself in nature?
Brickworks. My fave.
A space you'd like to direct teens to is…
Young People's Theatre. It's where I spent my teen years learning how to act. I loved it. Also take an improv class! Nothing teaches confidence and not being afraid of failing faster or better.
What's a place that always has a noticeably welcoming vibe?
The Toronto Public Library.
Where is your go-to spot for good art?
My house! It's filled with Chris Curreri art and my husband's photography work and pieces from Ghost BFF that Laura Dawe made. I love all the art in our home.
What's a location/place that always smells good?
The Shangri-la lobby bar. I got married there and if I could bottle their smell I would.
Do you have a favourite spot to visit in the spring?
My balcony! There is this beautiful Magnolia tree that blooms in my neighbour's front yard. I love sitting out there and looking at it.
What's a spot that makes you nostalgic?
Ack! So many! When I pass by the old uptown theatre (that is gone now) and I think about all the great times I had there as a teen, Queen West where I spent so much of my youth and it is so different now. I also recently went to Silvercity Yonge and Eg where I had my first teen job doing the announcements before the movies would start.
What's a spot you love that comes alive at night?
I don't really go out at night lol. I have a 5-year-old. But Gerrard St. East is my go-to and I'm always shocked how packed each bar is. We got denied entry to the Vatican a couple of weekends ago.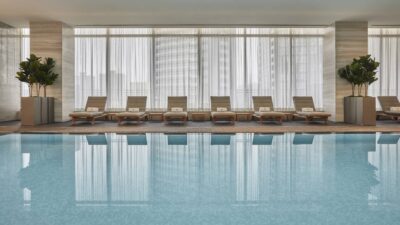 Where would you love to spend a day of self-care?
The Four Seasons for a massage and then use the pool and hot tub. Get lunch on the balcony.
If you could use a time machine, and pick one Toronto location to visit in the past, where would you go?
Great question. I would have loved to see the Old Toronto Star building. It looks so grand and incredible from pictures.
What's a spot that deserves more praise?
My daughter's public school! It's an incredible school and the staff work so hard. It's in a mixed neighbourhood that has many challenges but they rise to it and I love the community. I praise the TDSB!! Stop cutting their funding Doug Ford. These are our children. Our future.
What space drains your energy?
Driving on the Gardiner or DVP or 401 at rush hour.
What do you consider to be a place loaded with stories that people may not think of?
The subway where all the unhoused people are staying when it's cold out. I want to know all their stories.
And finally, where do you feel magic in the city?
It's when I see a rare act of kindness. It's still here! We just need to tease it out and look for it!
Join Vanessa and cast at the one-night-only special Toronto premiere of Midnight at the Paradise, at the Paradise Theatre, on April 21st at 8pm. Watch the trailer now.