Veronica Kazoleas is a social psychologist and former healthcare executive who had the idea to open a new kind of sex shop in 2002 when she was doing undergraduate research on sexual fantasies.
"I was struck by how few women felt empowered to assert their desires," she explains. "I thought this stemmed from both the social expectation that women don't have sex for the sake of their own pleasure and the lack of accessible resources for sexual exploration."
To Kazoleas, the popularity of Fifty Shades of Grey signalled a shift in women's willingness to express their sexuality. So, after thirteen years of dreaming and a year of research and planning (including everything from touring Amsterdam's Red Light District to inadvertently signing up for an orgy), she opened The Nookie (827 College St) with a vision of creating an educational, comfortable, and beautiful retail environment and event space for women to safely explore this fundamental aspect of their health & wellbeing.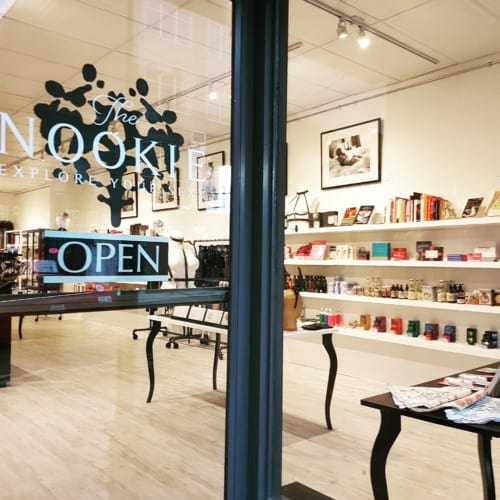 We asked her about the shop.
SDTC: What sets The Nookie apart from other sex shops?
VK: I think several things:
1) It's owned by a social psychologist and former healthcare executive who's been nationally recognized for her innovative views on the need for sex research reform;
2) The Nookie offers a curated selection of high-quality, exclusively body-safe products, including sex toys, lubes, and massage oils;
3) We source Canadian-made products wherever possible, and we feature goods from Toronto-based lingerie, body jewelry, bondage gear, and kink accessory designers;
4) We have innovative programming focused on lessening the stigma around sexual exploration, with past events including live comedy shows (Tinder Tales), a Tori Amos-inspired cabaret, a fashion show, and workshops on topics like Playful Domination, Sex Toy Basics, and BDSM 101; and,
5) We offer private shopping and allow people to book the shop for events, often at no charge (the highlight so far was hosting a private wine and cheese birthday celebration for a 75-year-old woman to buy her first sex toy).
This coming Saturday, you are hosting an event that examines the link between mental health and sexuality. Why do you think it's so rare that we talk about this?
This is a fabulous question! Though I'm honestly not sure what the answer is. Primarily, I think there's simply a lack of qualified people to speak on the link. I also think both are still taboo topics. Where sex is discussed in the mainstream, the dialogue tends to focus on the 'sexy' aspects like sex toys and positions. People are uncomfortable with the more human aspects of sexuality, like shame, guilt, and trauma. Throw in mental health challenges, and I think people become fearful of stigmatization if they share their experiences.
What should we expect from Saturday's event?
Saturday's event is an informal, low-pressure meet and greet – people are welcome to come and go anytime between 2:00 and 4:00 pm. JoEllen Notte, award-winning sex educator and author of The Monster Under the Bed: Sex, Depression, and the Conversations We Aren't Having, will be here to chat with guests about her experiences navigating sexuality with depression. JoEllen has led workshops on sexual communication, consent, having casual sex kindly, and dating as an introvert. Guests can also ask her any questions they may have about sex, dating, and sex toys in general. We'll be offering light refreshments and the store will be open for shopping.
Why was it important for you to get this conversation into the open?
The Nookie was born from a desire to foster healthy, positive dialogue around female sexuality. The women who come into my shop often communicate a need to feel like their sexual desires, challenges, and insecurities are normal. I think talking to someone who openly struggles with mental health and sexuality will be empowering, regardless of mental health status, because it can serve as a reminder that everyone struggles with some aspect of their sexuality. And that's okay.
JoEllen Notte in particular is a force in the sex and depression arena. She has an approachable conversation style, and her motto that none of us are broken invites non-judgmental dialogue around traditionally ignored topics.
This free, informal drop-in event runs between 2:00 and 4:00 pm at The Nookie (827 College St) this Saturday (June 24). Find out more here.