In an era when so many local restaurants and businesses are struggling, it's nice to see Toronto establishments coming together to help each other succeed (especially when we're big fans of both).
We've already shared about how Unboxed Market & Bar Mordecai partnered to bring Venice Beach to Dundas West, and now we're going to tell you about a budding relationship between Village Juicery & Tori's Bakeshop.
Last week, Village Juicery announced that they have become a major stakeholder in Toronto's top plant-based bakery—a move that hopes to see both companies accelerate growth."The investment will bring an expanded bakery offering to Village Juicery stores in Southern Ontario and to Village Juicery's 300-wholesale partners," reads the press release. "The investment will also serve to refresh the Tori's flagship store (which reopened August 6th), and expand the e-commerce capability of the brand."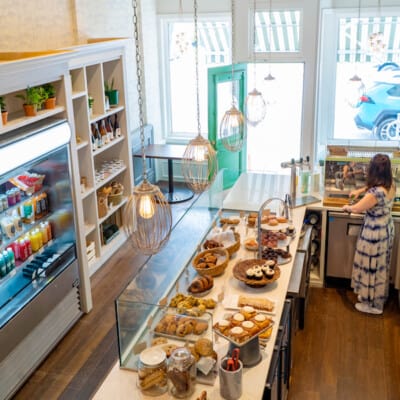 By bringing Tori's Bakeshop into the fold, Village Juicery can now offer customers a mouthwatering selection of dessert, or the only thing that was missing from their menu.
It's a smart venture, and one that makes complete sense: both companies share the same values of making their products fresh daily with absolutely no preservatives or preservation processes, and only using the highest quality organic, plant-based ingredients. It's no wonder they have a loyal overlapping customer base.
Beyond a delicious biz deal, the partnership makes sense from an environmental impact standpoint: moving all production into Village Juicery's 32,000 square-foot, "has allowed Tori's Bakeshop to migrate to Village Juicery's zero landfill waste management systems".
All of this is to say: you can now order a Vanilla Doughnut or Cinnamon Bun to go with your juice, nut milk, or salad. Sweet!