How to Fail as a Popstar is the story of a dream that didn't come true. The new eight-episode series on CBC Gem, created by artist Vivek Shraya, is based on her lifelong dream of becoming a popstar, and what happens when that dream didn't quite work out.
How to Fail as a Popstar spans a lifetime, showing vignettes of young Vivek and adult Vivek on the rollercoaster of aspiring pop stardom— growing up as a queer brown boy in Edmonton, working with manipulative music industry professionals, and holding on to glimpses of success along the way.
Directed by Vanessa Matsui, the show is based on Shraya's one-woman theatrical production of the same name that debuted in 2020. With her dazzling performances sprinkled throughout the episodes, and accompanied by a soundtrack of her original songs, Shraya's artistry and skill as a writer and performer are on full display in How to Fail as a Popstar. Her story is full of heart, courage, and self-acceptance, and has a vulnerability that will resonate with viewers, whether or not they consider themselves artists.
"I hope people will think a little bit more about their own failed dreams and honouring them," says Shraya. "I hope that it allows people the space to mourn."
We had a blast chatting to Shraya this week about the show, her favourite pop music references, and the beauty of honouring failure.
Creating this story has been a multi-medium and multi-year process for you. What was it like bringing How to Fail as a Popstar from stage to screen?
We filmed 8 episodes in 14 days in the dead of winter in Toronto, and honestly, it was one of the happiest times of my life, not just in my career, but my life, It was very surreal. Especially because the play is a one person show, so I do all the characters. But in the show, there's actors playing my mom, my ex-girlfriend, my first manager. So that part was very surreal and fun—to have other people make the story their own.
You've described the show as "what happens when a star isn't born". It's so refreshing to talk about failure more openly, and you definitely don't shy away from it in the show. Why do you think we need to have more conversations around failure?
There's just such a pressure to perform success at all times. On social media, with your friends, even when you run into someone. It's so exhausting, and I think that the pressure to tell stories about things working out is actually hurting our cultural mental health. Because we don't create enough space to talk about disappointment. We're not sharing enough stories about people who didn't get the funding, didn't get to make the movie, they didn't get the dream role they auditioned for. The emphasis is always the success. And so for me, this show is about pushing against that a little bit and and hoping that we create more conversations around disappointment and failure.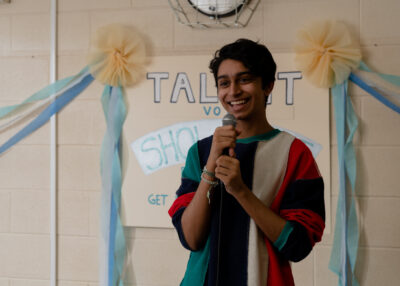 In the show we see Vivek deal with plenty of microaggressions and other barriers that people of colour often face in this industry. What did you want the show to say about identity?
As someone who is a person of colour and marginalized, I feel like there's an expectation that everything I'm going to make is about my identity. So it's a box that I've sometimes felt very limited in and yet at the same time, I do want to talk about racism. I do want to talk about sexism. I do want to talk about homophobia, those are topics and themes and issues that I care about. And certainly having a platform I feel a responsibility to address.
So for me, it's sort of like how do we have these conversations that are very real to my experience, and certainly, to my experience in this story, but how do we do it in a way that's a little bit more nuanced? One of the things I really love about the show is that it's a brown show, it's a queer show, it's a trans show, but we never use that language. There's no real coming out. There's no identity crisis. In 2023, it feels important to look at representation and think, how do we push it forward? I think our show is moving in the direction that I would love to see as an audience member.
In the process of telling this story that's so personal to you, and putting it out into the world, what emotions have come up for you?
I largely just feel a lot of love for that kid. Looking back, and now that I've been in the world of this project for about four years, it feels very clear to me that the chances of this happening were very slim. And I love that that kid just still went for it…I'm just very heartened by that innocence and persistence. The older you get the more you tend to talk yourself out of things. You're more jaded about the world, you understand capitalism and sexism and all these things, but that kid didn't know any of that stuff. That kid just had a dream and went for it. I'm just really proud.

We love that you released a soundtrack to accompany the show, and we get to see you perform in several episodes. What do you think is so special about bringing music to the screen?
​​I often credit The Bodyguard as being so pivotal for me. It was one of the first times I really saw this marriage between visual and audio. That movie wouldn't really exist in the same way without the soundtrack, and the soundtrack couldn't exist without the visual. I just love music as being a part of storytelling or a way to enhance a story. I wouldn't say the show is a musical, but there's definitely a strong musical element to it.
There are so many pop music gems in How to Fail as a Popstar! What were some of your favourite songs and musical references you got to include?
It was really fun working on the music video segments, because that's kind of my wheelhouse. There's a couple of shots in one of the music videos that references some Madonna videos. Madonna was one of my favorite artists growing up and I feel like she made some of the best music videos in the 90s, so it was really fun to reference. The show is like a time capsule. There are so many 90s and 2000s music references. There's a lot for music lovers in there.
You've been down so many avenues in your career—music, writing, theatre, TV—which medium do you find to be the most creatively fulfilling?
I really, really like TV. Like, I'm gonna put it out there, I hope this is a new chapter of my life where I get to have a healthy career in TV and film. There's just something about having an idea and then bringing it to life, but also doing it collaboratively. With books it's so lonely…but with TV, you're getting feedback. People are talking to you about it. They're laughing, they're taking on the words, they're making it their own, like it's just such a collaborative medium. I would love to do more TV.
How to Fail as a Popstar is streaming now on CBC Gem.