Netflix released the official trailer for upcoming comedy series The Chair, starring the incomparable Sandra Oh, and we're wishing we could binge watch all six episodes IMMEDIATELY.
The Chair follows Dr. Ji-Yoon Kim (Sandra Oh) as she navigates her new role as the Chair of the English department at prestigious Pembroke University. Ji-Yoon is faced with a unique set of challenges as the first woman to chair the department, and as one of the few staff members of color at the university. The older staff fear change, while new blood, like professor Yasmin McKay (Nana Mensah), agitate for it. Ji-Yoon tries to juggle her new administrative responsibilities —clashing with close co-workers who were confidants before she became the boss— while mothering her young daughter Ju Ju (Everly Carginilla) and caretaking for her father Habi (Ji Yong Lee).
We've been die-hard fans of Oh since the early days of Grey's Anatomy, and our admiration grew with each project she took on, from Mina Shum's Meditation Park to Killing Eve. This past year, Oh became an inspiring voice in the #StopAsianHate movement, and listening to her address a crowd of peaceful protesters in Oakland was incredibly powerful, deepening our already immense respect for the Canadian actor.
We're excited to watch Oh in this new role, as the boss in charge of shaking up a stuffy white-run college, bulldozing tired traditions in her path.
The trailer features the latest track by LA punk band The Linda Lindas, aptly named "Oh!" (not named after the award-winning actor, fyi).
Listening to the song, we were inspired to do some exploring on Google, and discovered that the band made their Netflix debut in Amy Poehler's Moxie. We also ended up watching the original video for "Oh!", which was also jusssst released.
If you like investigating these types of art forms, like we do, here it is:
Eloise (Age 13; vocals, bass), Mila (Age 10; vocals, drums), Bela (Age 16; vocals, guitar), and Lucia (Age 14; vocals, guitar) are the four youngsters that make up The Linda Lindas. How incredible are they? Their first track "Racist, Sexist Boy" went viral, and the all-girl band has received praise from the likes of Questlove and Sonic Youth. All this before they're even old enough to vote.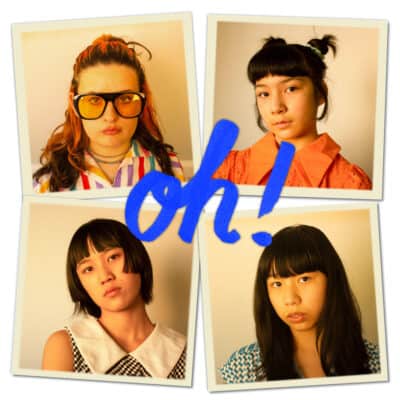 After years of associating "the chair" with the incredibly ludicrous story of a Torontonian hurling one off a balcony, we're excited to bring new associations to this phrase, from legendary Sandra Oh to the coolest Gen Z riot grrrl band.
The Chair launches on Netflix August 20th, and is poised to be our favourite new series.