The trailer for the new Netflix series, Colin in Black & White, just dropped. It's immensely powerful, as we knew it would be, but also stylistically very cool.
Created by Ava DuVernay and Colin Kaepernick, the new limited series chronicles Kaepernick's coming of age story, tackling the obstacles of race, class and culture as the Black adopted child of a white family.
Jaden Michael stars as Young Colin, Nick Offerman and Mary-Louise Parker play his well-meaning parents Rick and Teresa, and Colin Kaepernick appears as the present-day narrator of his own story, guiding viewers through a robust and colourfully presented array of historical and contemporary contextual moments.
Colin in Black & White had its world premiere this past weekend at TIFF. In this video, TIFF's Senior Director, Industry & Theatrical, Geoff Macnaughton, interviews Ava DuVernay (Selma, 13th) and writer Michael Starrbury (The Inevitable Defeat of Mister & Pete, When They See Us) about the new series. Ava shares how she first met Kaepernick, gushes about her respect for his activism, explains how the initial ideas for the show began, as well as what it was like to direct the football star—drawing similarities between rules of the game and life on set.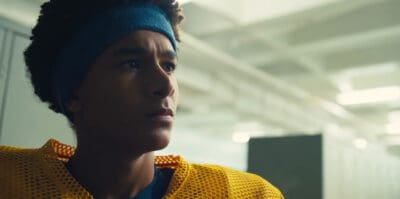 "There's an audience that's going to see him like they've never seen him," says Starrbury, teasing the show. Both him and Ava wanted to share chapters from Colin's youth that show a different side of the athlete and activist, stories that the public doesn't know about, but were pivotal in making him the man and global icon who he is today.
Colin in Black & White launches on Netflix on Oct 29th. We're counting down the days.