We raved about In Between when it released in theatres last February, and now we're encouraging you to watch it at home. This film is not only immensely engaging, but it also bravely tackles issues of race, gender, sexuality, family conflict, and, most of all, the transcendent power of female friendship. Ask yourself: When was the last time you watched a film from the perspective of a Palestinian woman? (Even more reason to watch tonight.)
In Between follows three very different Palestinian women living in Tel Aviv. All in their twenties, the film's protagonists are in the "in between" time (hence the title) where they've left childhood but haven't figured out what adulthood should look like.
Brilliantly nuanced, watch intensely as Leila, Salma and Noor forge their way through a modern-day oppressed society built on an antiquated patriarchal system that stifles identity, growth, equality and freedom.
A.O. Scott of The New York Times gave In Between a 5-star rating, praising it as "a remarkably assured, stirring and revelatory debut feature." We wholeheartedly agree and think Hamoud has beautifully captured the unspoken bond of sisterhood. Further, the vantage point offers a fascinating glimpse into daily life in Israel.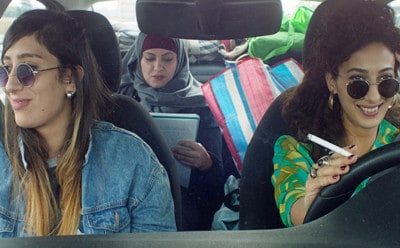 CONTEST
If you didn't catch In Between in theatres, book a night in for a fierce feminist film that will capture your heart and strike up all sorts of discussions. We've got a promo code to give to one lucky winner! For a chance to win, head to our Facebook page and/or Instagram and LIKE + COMMENT on our In Between posts.
Contest ends on Friday, November 16 at 1:00 p.m. The winner will have four weeks to watch the film before the promo code expires.
Watch the trailer now. Click here for the iTunes link to download now.