Making eye contact with people on the TTC is weird. We understand. We've all been there! But guess what? Your commute is about to change now that The National Ballet of Canada and the TTC have paired up to launch. We Move You, a joint creative campaign and partnership. While this may seem like an unlikely pair, these are two of Toronto's top infrastructure and cultural organizations. So it's almost natural that they'd band together!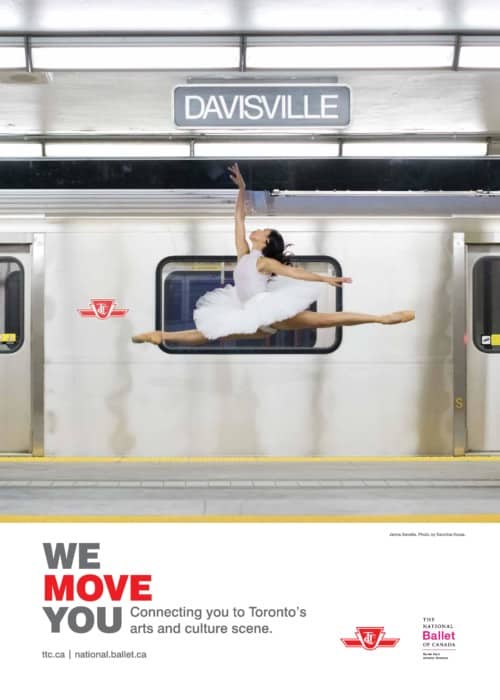 So what's it all about?
We Move You provides TTC riders with enhanced beauty and art during their commutes with a collection of images and video. The campaign features striking images of five National Ballet dancers at various TTC locations across the city: Principal Dancers Naoya Ebe and Heather Ogden, First Soloists Francesco Gabriele Frola and Jenna Savella and Second Soloist Rui Huang. The campaign will appear in TTC properties and on vehicles across Toronto.
On Monday, November 14, 2016 at 11:30 am, Torontonians are invited to experience We Move You as dancers from the National Ballet take barre class at Union Station. Artistic Director Ms. Kain, and TTC's CEO Andy Byford will share remarks about the campaign and partnership before the class.
Share images of your TTC ride and what moves you during the campaign by posting to Facebook, Instagram or Twitter using #WeMoveYouTO.