Maskwell masks are made in Toronto and we love them because they're super comfy, but also designed to fit PureFilters filter inserts, which means they are much more effective than most non-medical grade masks.
For our contest, we've partnered with Maskwell to give away their Welcome Kit, which includes one mask + 10 insertible filters for the masks. The PureFilters filters are capable of capturing particles as small as 0.3 microns. Simply put, they can trap dust, bacteria & virus carriers, allergens, and prevent the transmission of coughs and sneezes.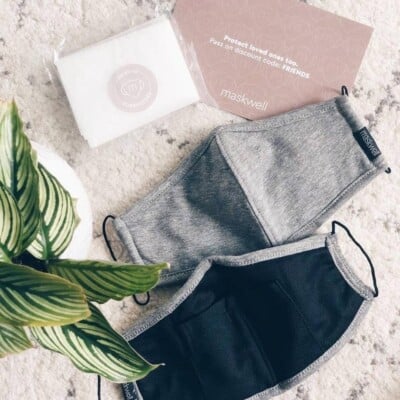 We're also fans because for every mask sold, Maskwell donates 10% to The Home Front, an organization that helps Canadian Frontline Healthcare Workers get the support they need during COVID-19.
So, who wants a comfy, washable, and safe Maskwell mask that—in neutral heather grey—goes with everything in your wardrobe?Wearing is caring!
Enter to win a Maskwell Welcome Kit
On Twitter tweet:
"Yes please, @Shedoesthecity. Send me a #GetMaskWell mask welcome kit with filters! Wearing is caring."
On Instagram & Facebook:
LIKE + COMMENT our Maskwell post.
If you want to order now, be sure to use promo code MaskUpTo to score 10% off.