Let your hair down – IT'S THE LONG WEEKEND! The Drake is getting sticky, Parkdale is going off, and you can get in some Burlesque Bible Studies and plan for Hot Docs. Good thing you've got an extra day…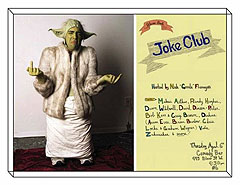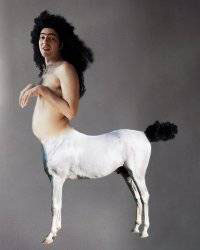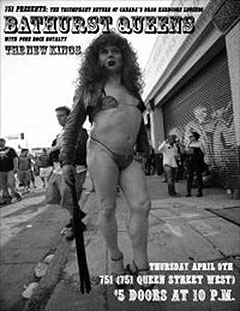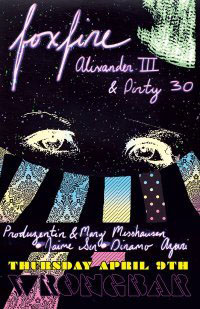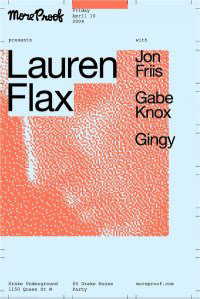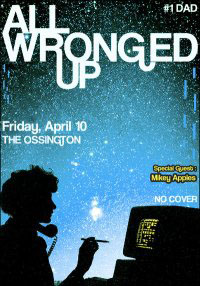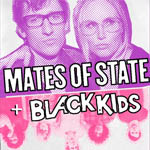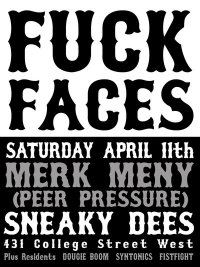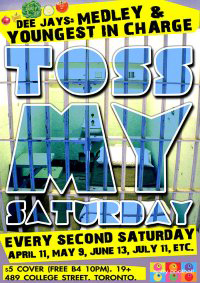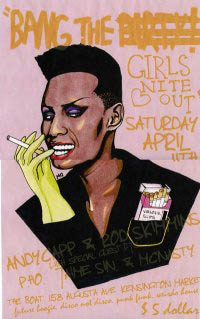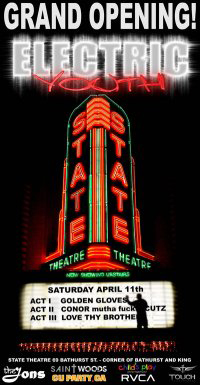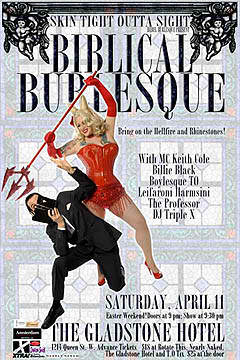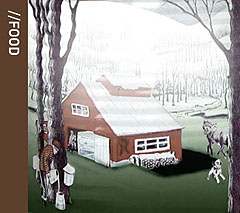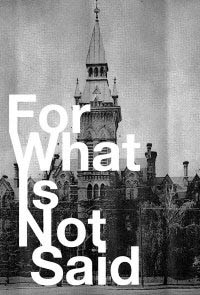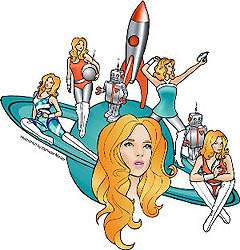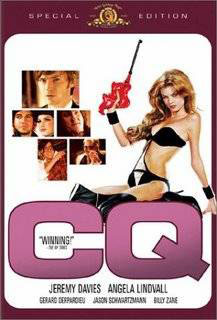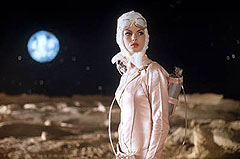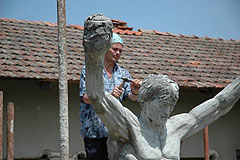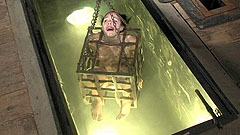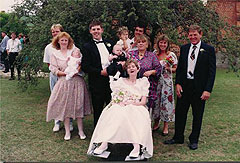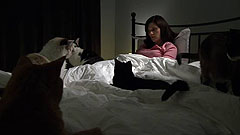 THURSDAY
Who would you rather hang with tonight: a half-man, half-goat joker? Or a big, hairy. bawdy Queen? Surely a battle for laughter tonight. Nick Flanagan hosts Joke Club at the Comedy Bar while down on Queen West the Queens promise to be lewd and crude.
Joke Club – 945 Bloor St West – 10PM, six buck
Bathurst Queens – 751 Queen St. West – 10 PM, five buck
Foxfire @ Wrongbar
Kicking things off with a wild holiday weekend party-lighting up the dance floor with hot, hot local acts Foxfire, and Alixander III & The Dirty 30. Think glam ladies in fierce high heels and more moustaches onstage than guitars. Start off your Easter weekend with a serious Toronto love-in.
http://www.myspace.com/foxfireforest
http://www.myspace.com/alixander3
Wrongbar, 1279 Queen St. W. $5. 9 pm.
FRIDAY
Lauren Flax DJ Set at More Proof
Lauren Flax looks like Lesley Arfin, collabs with Sia, and knows how to move a crowd-just ask Fischerspooner, she's DJing with them in NYC right after her stop at More Proof in Toronto.
Start Groovin':
http://www.myspace.com/laurenflax
Drake Underground, 1150 Queen St. W. 10 pm
Kool Keith
Kool Keith has been schooling the New York underground since before you were born. as part of Ultramagnetic MC's, and a solo artist. Expect people to be going crazy for his lyrics and swagger, and expect us to be really excited for him to come out popping champagne in a Russian hat.
Circa, 126 John St. 10 pm.
All Wronged Up
Post-punk, Disco, Minimal Wave, Weirdos. A dance party that reads like the Pitchfork 500 chapter headings.
The Ossington, 61 Ossington Ave. No cover.
Mates of State and Black Kids
Is it possible to dance, hold hands, break up, make out and have a crush all at once? Find out this Friday at Phoenix with these two indie-dance favourites.
http://www.myspace.com/matesofstate
http://www.myspace.com/blackkidsrock
Phoenix Concert Theatre, 410 Sherbourne St.
SATURDAY
Fuck Faces April
Beats so good they'll knock your teeth out. OUCH!
Sneaky Dee's, 439 College St. Free before 11 pm, $5 after.
TOSS MY SATURDAY!
DJ Youngest In Charge joins Matt Medley to bring some summer lovin' to Andy Poolhall.
http://www.myspace.com/djyoungestincharge
Andy Poolhall, 489 College St. Free before 10 pm, $5 after.
Bang The Party-Girls Nite Out
The resident gentemen of this always-rockin' party invite three lovely ladies to join them on the decks.
Oh yes, it's ladies night.
The Boat, 158 Augusta Ave. $5 before midnight, $7 after.
Electric Youth
The first-ever of the new Saturday night that's trying to turn vodka, DJ's, and high tops into a movement. Where do we sign up?
69 Bathurst St.
Biblical Burlesque
Skin Tight Outta Sight Rebel Burlesque present one sexy Sunday School-from the city's most titillating troupe.
The Gladstone Hotel, 1214 Queen St. W. Doors at 9/Show at 9:30 pm. $18 at Nearly Naked and Rotate This, $25 at the door.
ALL WEEKEND LONG
Drake Sugar Shack Maple Culinary Festival
Buttermilk Pancakes and Foie Gras with Bacon-Infused Bourbon? BREAKFAST OF CHAMPIONS! Whether you're sitting down for a sumptuous syrup-inspired meal or slurping Log Cabin Sno Cones in the Sky Yard, there's a Sugar Shack treat at the Drake with your name on it (if you're name is delicious).
The Drake Hotel, 1150 Queen St W.
For What Is Not Said
U of T Thesis students come together in a variety of disciplines, from intricate paper cuts to arresting photography. Expect the unexpected.
Begins Thursday at 9 pm, 1 Spadina Crescent.
HAVE YOU BOUGHT YOUR TICKET??
NEXT WEEK – FOR WINDFALL BUY DESIGN – IN SPACE
…the biggest fashion soiree fundraiser in town wants you to make a scene in a space suit
Next Saturday night, April 18, The Fermenting Cellar will play host to Buy Design's annual fundraiser for Windfall Clothing. This year's theme is 'INTERGALACTIC', so think the film CQ mixed with Barbarella. Need a costume on the cheap? Construct a tin foil mini and bustier! (warning, not sure if that is safe)
Tix are $75 each and include open bar and a killer gift bag. All proceeds go towards Windfall Clothing, the only charity in the GTA that provides new apparel to clothing banks and has so far helped 64, 000 individuals through 90 social services.
BUY TIX / MORE INFO: http://www.buydesignforwindfall.ca/
HOT DOCS BOX OFFICE IS OPEN
Truly our most favourite festival in Toronto – get your tix while they are HOT! (sorry, terrible pun but couldn't resist)
We've been busy pre-viewing and reviewing and are you ever going to be awed, shocked, emotional, disturbed and inspired.
Here's a mini sampling:
Cat Ladies – a film about woman who crowd their houses with frisky felines to the point of claustrophobia
A Good Man – a couples life is forever changed when girlfriend has a stroke and becomes quadropalegic while pregnant. They proceed with marriage and embark on raising a family in very trying circumstances but perhaps the most shocking is when in need of cash the husband decides to build a brothel that causes a fury of moralistic excitement with local press.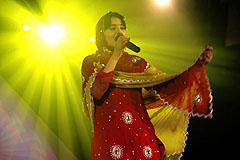 Afghan Star – The Taliban rule has subsided and the Afghan people can now sing…but not dance. This American Idol like show is gaining mass audiences and as a result invigorating a revitalized spirit within the devastatingly worn torn country. However, it also raises controversy as it dramatically shifts values and evokes change.
Graphic Sexual Horror – Insex…the world's most notorious hardcore S&M website has been a point of focus for the FBI who try to pin it as psychopathic and dangerous, but the girls involved don't seem to mind blood being drawn as they hang from barns in Vermont, cuffed in chains and cocooned in PVC.
Amerika Idol – a small town in Serbia pools its resources together to erect a giant statue of Rocky Balboa, in hopes of changing its image from washed out disasterville to strong and resilient fighter
And that my friends is just a taste of the eclectic hard-hitting documentaries on offer this year.
Shedoesthecity will be launching a special Spotlight on Female Filmmakers next Friday, so be sure to check it out.
http://www.hotdocs.ca/index.php/audience/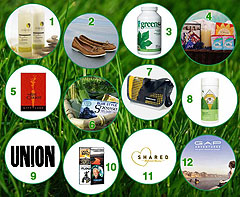 Oooh – if you haven't checked our SHOW YOUR GREEN contest – do so. $1500 in prizes from an assortment of our favourite eco-friendly companies including:
The Big Carrot, Timberland, G.A.P Adventures, Saijojo, Union Restaurant, o.b., Curbside Cycle, Shared Clothing, Shaklee Environmentally Friendly Cleaning Products, Skyranch Sheese, Mongrel Media – The Nature of Things and a variety of riveting enviro documentaries and enough greens + to revamp yourself from the inside-out.
Happy Long Weekend – smash some Cadbury goo and have fun.
Xo
Shedoesthecity