Bop-bop-bop – LONG WEEKEND! Queer west meets Church Street, the city turns Inside Out with Lesbian and Gay Films,ride your bike and suck in the sweet smell of summer, bare some bling and pretend you're Jay-Z, sweat up a Brooklyn dance floor or show off your worm for the So You Think You Can Dance auditions.
Calling all adventure seeking, life-loving, weekend warriors – spin the bottle and lap it up: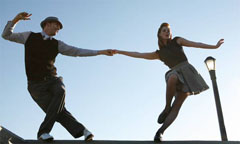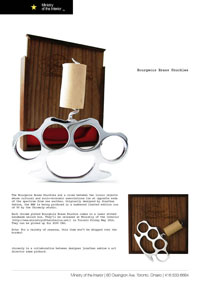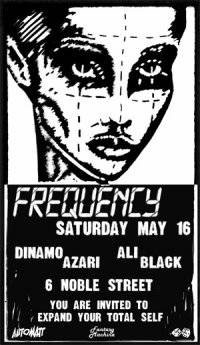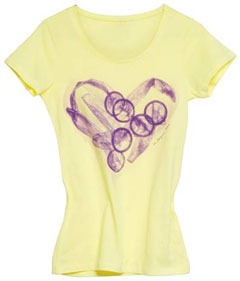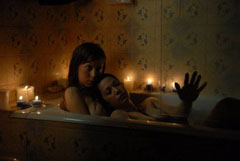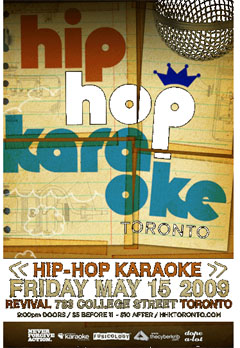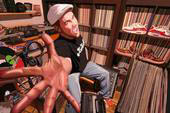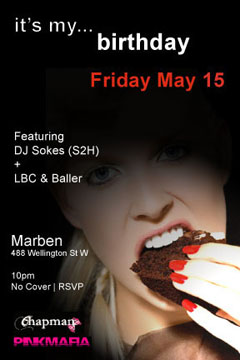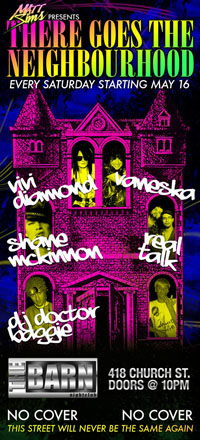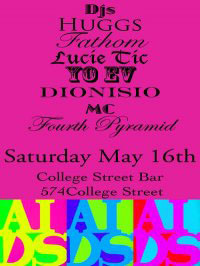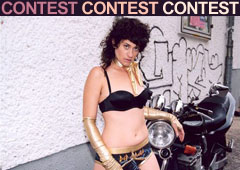 FRIDAY
Ministry of the Interior
launches a new gizmo from Chronoly design: Bourgeois Brass Knuckle. The perfect accessory for lavish picnics in dubious parks. Open a bottle of wine in style but keep on hand as a weapon for unpredictable situations. Retailing at $100 – this also makes a terrific engagement or wedding gift. Stop on by and say hi.
Hip Hop Karaoke
500 songs. Screaming fans. One microphone. Be a hero.
$5 before 11pm/$10 after. Revival, 783 College St.
Edumacation
DJ Fase serves up R&B treats just in time for warm weather: listen
10 pm, $5. The Drake Underground, 1150 Queen St. W.
It's Your Birthday
It IS? GREAT! You get a prix fixe menu, $125 bottles, a present and a totally fab party! It ISN'T? WHO CARES! You get to drink anyway!
Birthday peeps RSVP to info@pinkmafia.ca
10 pm. Marben, 488 Wellington St.
SATURDAY
Saturday Night Swing
Spent a birthday night here and danced with both a teenage boy and army vet. Teen was sweaty, old man was stinky but heck was it a good time.
Drew Jurecka Swing Quartet
Go early for a lesson
7pm – 1am, $13 for normal entry, $15-18 for one lesson or more
Dovercourt House
805 Dovercourt
swingtoronto.com (not that kind you dirty bird)
There Goes The Neighbourhood
Wait, where is it going? It's going off! Your favourite Queen West DJs invade Church St. to cause some mayhem. With them they will take all the well dressed queer boys and smart lesbians who love a good garage sale.
A Preview:
Vaneska: vaneska.com
ViVi Diamond: myspace.com/miss_screech
Dj Doctor Baggie: doctorbaggie.com/
REAL TALK: myspace.com/realmotherfuckintalk
10 pm. The Barn, 418 Church St.
Friendship
The dance party that isn't a dance party where everyone's dancing like they're at the world's best dance party. Things get pretty steamy.
Make a friend! "I'll show you mine if you show me yours."
10 pm. The Ossington, 61 Ossington St.
Frequency
Warehouse Party
It's like the underground Queen Street of the early days… until I just wrote about it.
6 Noble Street
Doors 11
$5 b4 2AM
BYOB
AIDS Fundraiser
Nina Gilmour is raising money to spread AIDS awareness in Africa with one heck of a dance party.
$5, with great DJs, gift bags, raffle prizes, and more.
10 pm. College St. Bar, 574 College St.
*Sidebar – FASHION AGAINST AIDS, H&M digs designed by Cyndi Lauper, Yelle, Katy Perry, Dita Von Teese, Yoko Ono and MORE! Retailing at $19.99 with 25% profits going to youth HIV awareness. Check them out – dibs on the yellow condom heart tee
Fashion Against Aids
SUNDAY
INTERMEDIATE BLACK AND WHITE DARKROOM
So inspired by CONTACT that you've spent the last week biking around, framing vistas, pigeons, and passing pedestrians with your hands? Why not learn from the professionals?
Three-week workshop for those with beginner and basic darkroom knowledge. 10 am-1 pm. $175. Gallery 44, 401 Richmond W. Pre-register 416-979-3941.

SUNDAY SCENE
Roger Bywater takes you on a guided tour of the latest exhibitions. Grab a latte and have a wander.
2 pm. Free w/ admission. Power Plant, 231 Queens Quay W. 416-973-4949.
MAPLE BAKERY RIDE
The best thing about Spring? Lazy Sunday bike rides, followed by a long Sunday brunch. Read about our latest bike adventures here and then go have your own!
5K leisure wheeler ride with Toronto Bicycling Network. 10 am. Free. Finch subway Park & Ride. tbn.ca.
No Sleep Til Brooklyn
NO! SLEEP! TIL BROOKLYN! The seminal late-night battle cry becomes a Last Night's Party beat-fest.
Photos by LAST NIGHT'S PARTY lastnightsparty.com
LIND$AY LUV | NYC myspace.com/originallindsayluv
REAL TALK myspace.com/realmotherfuckintalk
10 pm, The Social, 1100 Queen St. W.
MONDAY
So You Think You Can Dance?
TRY OUT THEN! (But only if you are under 30, if you think you can dance and you are older – nope)
Auditions start at 8AM
John Bassett Theatre
Metro Convention Centre
255 Front
dance.ctv.ca
ALL WEEKEND LONG!
GO CHECK OUT SOME FUN, EDGY AND INSPIRING FILMS AT THE INSIDE OUT GAY AND LESBIAN FILM FESTIVAL. For films and schedule – hit up THEIR SITE.
OR
TAKE A WANDER AND CHECK OUT SOME CONTACT PHOTOGRAPHY.
SEE OUR SPOTLIGHT ON FEMALE PHOTOGRAPHERS
PEACHES LIVES!
Toronto's raunchiest, raddest rock maniac is back, with a fantastic new album, and a show on May 20th at The Phoenix. We've got three pairs of tickets to give away. Just send an email with the subject line 'I Feel Cream' to contests@shedoesthecity.com to win!
We'll email the lucky winners tonight!
Check out her new video – TALK TO ME
youtube.com/watch?v=X2hvkiuxRAE
OMG – the WEATHER!!!
Fake a migraine and hit a patio.