So…Absolut Vodka and Steve Aoki are throwing a mega party tonight in the super secret Bay St. subway station. Too bad if you didn't score a ticket. No worries – you can still enjoy other cool things this weekend like swapping your gym shorts for a stained tank top or join the 28 venues on Ossington as they go dark for a blackout reunion street party.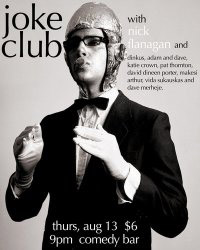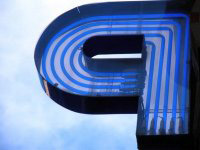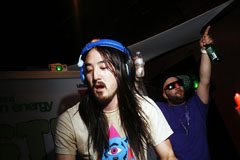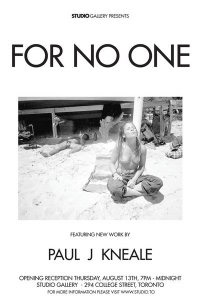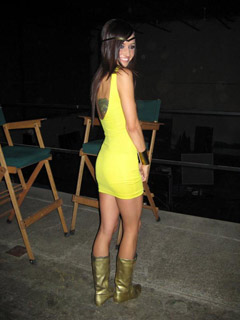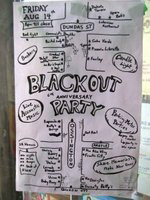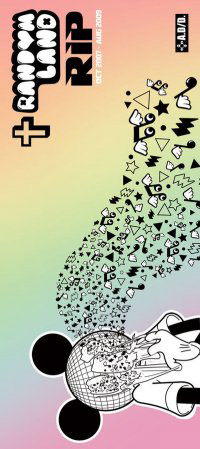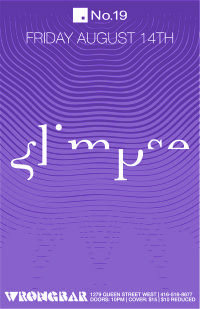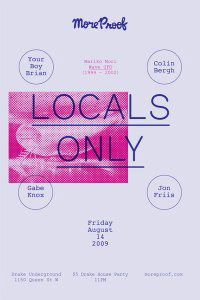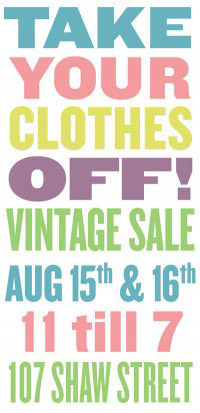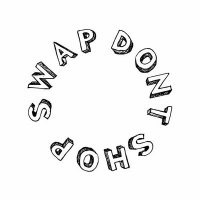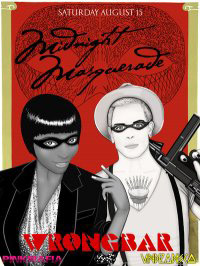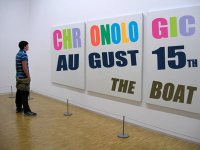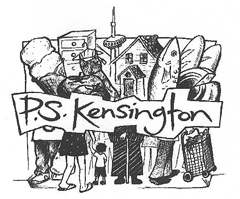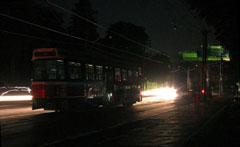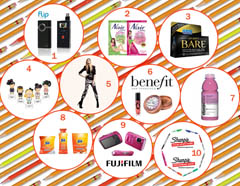 ALL WEEKEND
Take Your Clothes Off
Feeling bored with your wardrobe-but don't want to invest in a new summer dress with fall just around the corner? Take Your Clothes Off has added a $5 rack of last-minute summer must-have: perfect wardrobe pick-me-up for less than a bucket of Poutini's.
11 am-7 pm, 107Shaw Gallery, 107 Shaw St.
THURSDAY
Joke Club with stand up Nick Flanagan
Descend into Comedy Bar's dank basement theatre with a beer in hand, and get ready to laugh, groan, roll your eyes, and bat your eyelashes as some hilarious folks take to the stage. Let them entertain you!
9 pm, Comedy Bar, 945 Bloor St. W. $6
Slow Pitch – take it down a notch and just sway.

Ease your way from workday to party, slow- like:this party promises all slow jams, all the time.
10 pm, The Red Light, 1185 Dundas West.
Studio Gallery does it again – this time For No One
A new site-un-specific work created with Studio Gallery from artist Paul J. Kneale. Studio always serves up intriguing and exciting works from artists with a fresh, vibrant voice. Be sure not to miss this one.
Opens 7 pm, running until Sept 10. Studio/Ourspace, 294 College St. 2nd Floor.
Bandits in Bows – a fashion show by local designer who dresses tattoo cutie Lights
Designer Sarah Catalfo, who most recently has been responsible for the body-hugging, tailored to perfection ensembles sported by Canadian songstress Lights, is debuting her 2009 collection-Bandits in Bows from Maybe by Sarah Catalfo. She describes the looks as 'Jessica Rabbit meets Cat Woman.' We're intrigued-go check out some local talent!
8:30 pm, Rivoli, 334 Queen St. W.
FRIDAY
28 Venues will go DARK – The Ossington Black Out Party
28 venues between Queen and Dundas will be partying in honour of the legendary T.O. blackout. That's right-no lights, no mics, no amps, just a candle-lit good time. Parking-Meter Parties will be taking place up and down the street (intriguing) and they're promising a big surprise between 10 and 11-so get there on time! We reccomend wandering around and following the strains of acoustic bands and passed-around guitars to wherever the night will take you.
Randomland RIP
It's truly the end of an era-their Friday night weekly at Circa has been re-programmed, so Randomland is gathering in the west for one last love parade. The team will take over the Mod Club with all the madness that made this night so memorable. Now everyone gossip as to why this happened.
10 pm, Mod Club, 722 College St.
Wrongbar turns to the Brits
British DJ Glimpse will be making Wrongbar feel like an ambient London hotspot this Friday-a classy break from our usual anglophile habit of making British exchange students sing us Robbie Williams at last call.
www.myspace.com/glimpserecordings
10 pm, Wrongbar, 1279 Queen St. W. RSVP for $10 reduced guestlist: guestlist@wrongbar.com
More Proof: Locals Only
Local favourites Your Boy Brian, Colin Bergh, Gabe Knox and Jon Friis keep it in the family.
11 pm, The Drake Hotel, 1150 Queen St. W. $5
SATURDAY
Swap Don't Shop
Who doesn't love a good barter? Toronto's biggest clothing swap event is celebrating their one year anniversary. SWAP TIL YOU DROP (all your unwanted clothes on other people, who will then recycle and wear them, sparing waste and saving wardrobes.)
12 pm-4 pm, St. Stephen-In-The-Fields Church, 103 Bellevue Ave.
Midnight Masquerade – it's an eyes wide shut romper room!
Isis from Thunderheist will be jerkin' it, birthday style. No divas here, only hustlas. Don a mask and help her (and Marc Andrew Smith…someone we don't know but who apparently knows like Lindsay Lohan and EVERYBODY) celebrate.
9 pm, Wrongbar, 1279 Queen St. W.
Chronologic
You know the drill. They play the songs, in chronological order. You make the dance, any way you like but just be sure to do the running man after the mash potato.
10 pm, The Boat, 158 Augusta Ave.
Punk/Rap Volume 1
Neutral is better known for goth nights and British pop, but this weekend DJs Times Neue Roman, Young Flux, Sick Error and Rod Skimmins are taking the space over with classic rap, hip hop, disco, and punk.
9 pm, Neutral, 349A College St. $8
SUNDAY
P.S. Kensington 6th Anniversary Blackout Party
P.S. Kensington will be celebrating the sixth anniversary of the blackout with a car-free Sunday-reminding us to consume less with an electricity-free day of good times!
1pm-10pm, Kensington Market
BACK TO SCHOOOL, BACK TO SCHOOOOL! Calling all experts! We're looking for girls to profile in our Back To School Guide. Have all the key advice for incoming first years-the best 2 am poutine, vintage finds, off-campus study spots? Share them with our readers! Email haley@shedoesthecity.com if you want to be profiled in our Back To School Guide.
And SPEAKING of Back to School Survival, have you seen the amazing goods on offer in our Back To School contest? We've basically done all your packing for you-all you have to do is enter to win this cornucopia of fall must-haves. Like what? Like:
A Flip MinoHD for capturing all those ridiculous Frosh Week moments, filming your noir-esque Film 101 short, or ensuring you never forget that ill-fated 3 am R. Kelly dance party
A NAIR Prize Pack so you'll be all set for the freshman skinny dip and silky smooth for those early-morning towel-clad co-ed bathroom run ins.
A Durex Pleasure Kit because university is a great time to explore and enjoy your sexuality-and being safe is the most important part of that!
Harajuku Lovers Fragrance which comes with five different scents-so you'll smell great whether you're studying into the wee hours, running to 8 am lectures, or romancing intellectuals at the free-trade coffee shop.
A $150 H & M Gift Certificate – cause you already go wild at H&M we thought we'd give you some extra credit.
Benefit Cosmetics to keep you fresh faced after all night study sessions
glaceau vitamin water because we can't say it enough: hangover or pick up kick ball game in the quad: HYDRATE HYDRATE HYDRATE
Tide for a Year. That's right-you're doing your own laundry now. Tide wants to make it easier on you by providing you with a year's worth of clean.
Fujifilm Z33WP Believe us, you're going to want to obsessively capture every moment of your university experience-it only happens once. And this little baby makes it easy to upload to blogs or Facebook, so your friends back home can keep up with your awesome adventures.
Sharpie the oh-so-neccessary multicolour, multitip writing utensils that make taking notes a hell of a lot more exciting.
I WANT IT ALL! Email contests@shedoesthecity.com, Subject line BACK TO SCHOOL