Inside every woman's closet is a pair of crispy white sneakers. They're radiantly cool, chalk-white and essential for a sweltering hot summer of late dinners, boring errands and long work days. Fit for cruising the Ossington strip, speed-shopping through the chaos of Dufferin Mall, and with an extra thick layer of Phylon to withstand longer than expected Queen West streetcar waits, these white sneakers are running through the 6 this summer and this is what they're saying:
Nike Air Force 1s (Low Top)
You own Save the Last Dance on DVD and you're best friends with, or sleeping with, a sneaker head. It's a throwback to 2002, with Nelly, grillz, flavoured Prime Times ("Original Gangster" edition), and Lauryn Hill stoop drinking. Paired accordingly with mid-waist denim mom jeans (rolled cuffs), you'll be tempted to say things like, "Girl, hold my earrings," when pulling hair or throwing punches if someone scuffs your pearly whites. During the work week, Air Force 1s are the sneaker equivalent to the all-white Zara blazer. It's bossy, bold and gives off the cool little sister vibe in Boyz in the Hood. You are an entrepreneur, confident and eccentric enough to wear oversized men's clothing. Bright and bold, you're a softy with a big heart and a bulky pair of bad ass Air Force 1s.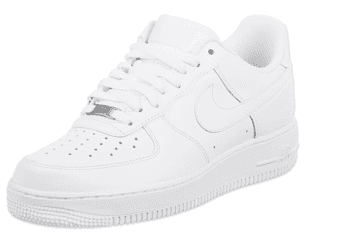 Adidas Stan Smiths
Sneaker veterans will be shaking their heads right now, boasting, "I wore Stan Smiths before they were cool." Right, well, too bad for you, they've hit the renovated malls of the suburbs and are virtually everywhere. A classic tennis shoe from 1971, they are now the poster sneaker for minimalist-health-goth/Internet celebrity. If you're a blogger, fashion writer, or one of those aerial table Instagrammers, this is your sneaker. Your outfits are long, feminine and flowy, and you have the type of style that looks expensive, but isn't. You're a fashion icon and with that, you listen to a lot of Blood Orange, shop at Muji and read books like I Love Dick, Aliens and Anorexia and Bluets. Robyn is most definitely on your playlist right now. Like your style, your physical exercise is minimalist so you admire a sneaker that's simple with enough of a heritage to give you street credibility, in case a break dance fight hits Parkdale. V. important.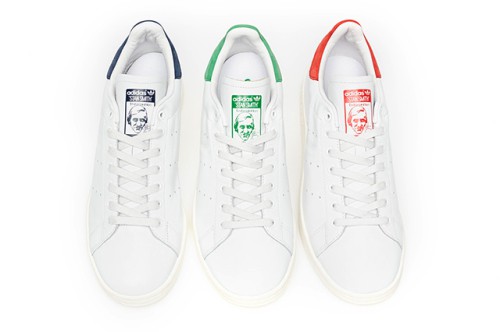 It's a big step when you decide to transition from low-top to high-top Converse sneakers. You're the twenty-something shadow of Patti Smith and you're seemingly troubled, which makes for curious storytelling, writing and long nights of multiple bathroom visits. Laced tightly around the ankle, you're a coffee shop hopper, writer and adrenaline seeker. You own a leather jacket, purchased on sale at a flea market in Brooklyn last summer, and Kurt Vonnegut is your go-to author. You wear white Converse sneakers to feel the canvas of your troubled celebrity icons; River Phoenix, Lauren Conrad and Nicole Richie. It's another traditional sneaker in history that rings the anthems of The Smiths, Björk and Beastie Boys. Worn on almost every occasion, the troubled sixteen year old in all of us is begging us to wear these day in and day out. Everyone in Toronto owns a pair of white Chucks, admit it.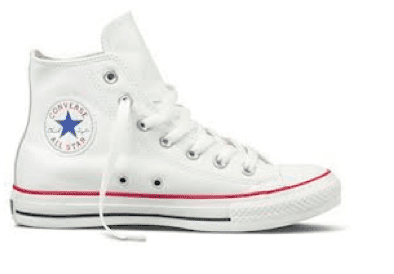 Nike Air Max 90s
Your style is defined as "sexy toddler." You LOVE glitter, Mariah Carey and anything that will give you extra cushioned height. Stylish polyester sweat pants are your jam and you wear tight white pants like Jennifer Lopez raised you on the block. Built for speed, these sneakers are your go-to crispy whites for 30+ sunshine, Queen West wandering and after parties with atmospheric hip hop and slow jams featuring Erykah Badu, Jurassic 5 and Solange.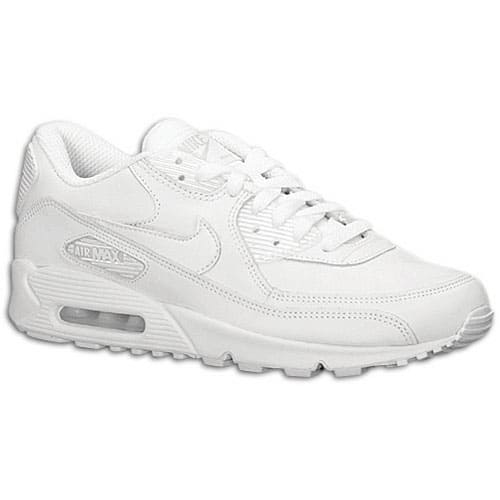 Vans SK8-Hi Slims
Vans sneakers are taking over the city. With a waffle soul and old skool canvas, these sneakers make you wish you had long blonde hair and a joint to skateboard down Dundas West with. If you're wearing these, you're cool as fuck. You're the grown up sk8er girl who could easily kick Avril Lavigne's ass in a bathroom, because you know how to wear these sneakers without looking like a thirteen-year-old girl sporting Roxy and Billabong. You are the lord of dogtown, and you've chosen to wear a legendary old skool sneaker because they're bold, white and probably more comfortable than flats. Blue Crush is recommended to you on Netflix, and at one point in your life, you may have had your tongue, eyebrow, lip or all three pierced.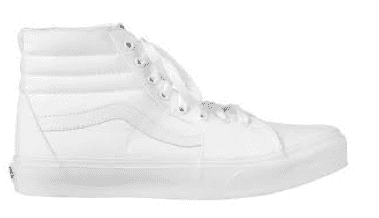 Hello floral summer dress and white Keds. If you grew up watching Marissa and Summer on The O.C., this is your canvas kick of choice. Don't be ashamed to admit you once owned a pair of watermelon, pineapple and banana covered Keds – these were the coolest canvas to own when the vibrant Champion sneaker hit the scene – around the same time Ryan crossed the tracks from Chino and everyone got their first gym class period. If you're wearing these kicks, you're hustling to and from work, school, events and need a reliable canvas shoe that will look good in two plus outfits. While the durability of these sneakers will likely last you three months tops, they're ideal for Trinity Bellwoods picnic drinking, Kensington brunching and music festivals where you may or may not lose one of your shoes. Whatever, they're like $45.
You're a health goth. You keep up with exercise (sort of) and your wardrobe consists of black, black, lighter shades of black and more black. Black is your favourite colour, next to skinny and toned. These are sleek, sexy and go with every single outfit you own. Your Instagram is vibrating with likes over the multiple photos you've posted with Bolt Fresh Bar and Roshe Runs. Fashion forward, comfortable, you're a babe with lipstick, a super cool blog and likely have a full-time photographer taking photos of you while wearing all-white Roshe Runs wherever you go. Everyone is jealous of you because your outfits always match and this sneaker is sold out, like everywhere. You definitely have a photo of you wearing Calvin Klein high-waist underwear, and it has over 999 Likes. Kewl.