Crammed subways, sky-high rent and stressed-out schedules can all contribute to the let's-get-the-hell-outta-dodge fantasy, but is country life really all it's cracked up to be?
Stowel Lake Farm is a thriving organic farm, retreat centre and community on Salt Spring Island, BC. The farm is located on over a hundred acres of mixed forests, fields, rocky outcrops and rolling hills. It's also home to four families (twenty-five people) who live and work together, 24/7.
Curious about how it all plays out, we chatted with Jennifer Lloyd-Karr, who has lived on Stowel Lake Farm since she was five years old. She facilitates community and co-manages business operations on the farm, where she lives with her husband, David, and their sons, Alex and Rio.
SDTC: How did you come to the Stowel Lake Farm community, and what did you do prior?
JL: I grew up on the farm. After university studies and guiding, I was drawn back to the farm in my mid-twenties, because I wanted to be part of the sustainable farming movement; it was something that I had studied but wanted the hands-on experience. Once the farm started to develop into a community, it became interesting to me to be part of that–seeing what it was like to work with others in a committed way.
What are the challenges you've faced in choosing this lifestyle?
Living in the community is very revealing, so it's a challenge, because you are seen as a person and parts of yourself you might not want others to see are exposed. It can be challenging to be okay with that.
For me, the advantage is connection. I can have close relationships with all of these people that I live with and connect with them in different ways, whether it is through a working relationship, celebrating together, or just in a neighbourly way of saying hello and helping each other out.
It is also so great to raise children together and for the children to have this community of people to grow up with.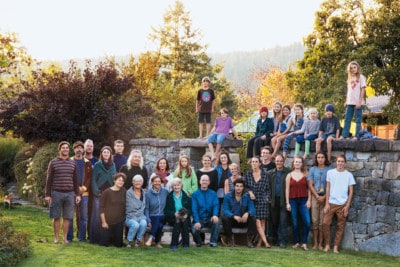 Walk us through a typical day, from getting up until going to bed?
During my workday, I get to check-in with a lot of folks on the farm. Much of my day is spent in the office, responding to inquiries about retreats and managing the business operations, but Liz and I are also still very involved in the farming, and when we check in with Meghan and the farm team, it usually involves a walkabout.
When the kids are done with school, I often spend some time in the garden with them harvesting for dinner, and then the children all have their routines of sports and homework or playing with the other farm kids.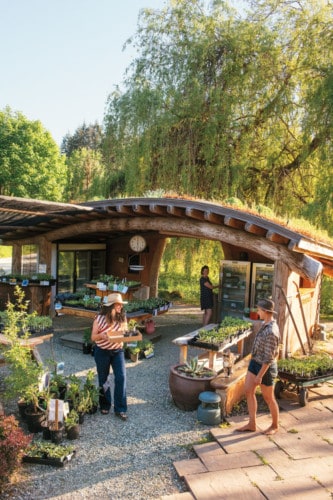 What does Stowel Lake Farm have planned for 2019?
We are really excited about planning our own retreats on the farm. We have spent years hosting incredible teachers from all over and are now ready to create our own offering. The process of writing the book really crystallized this idea for us, and we would like to create something where people can come and really experience life on the farm with us.
What is your favourite thing to do on the farm?
My favourite thing to do on the farm is a simple walk-around or "wander." You never know what you might run into; it is always different and always interesting. Because there are quite a few of us living on the farm, there is always something going on, in the garden, in the workshop, or out on the greater farm.
There is also the natural world all around: the birds, the animals, the plants and the trees. I really love observing the subtle seasonal changes and wandering around the land is the best way to do it.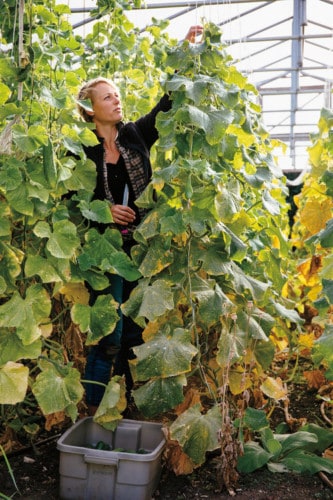 If someone is thinking of leaving the hectic city life and embarking on a life of farming, what advice/wisdom would you share with them?
I am a big proponent of experiencing and working on the land together. Living on the land on your own can be lonely. It is also a lot of work. It is nice to share the load, and everybody can have fun working together.
Are there any memories that stand out from the others from your life on the farm?
Our life together on the farm is rich and diverse. The small interactions and connections we have daily fill me up. I also love the celebrations we share. The other day we had a last-minute dance party in one of the big buildings. It was just us who live on the farm that showed up, and it was easy and fun.