We asked our writers to share the most important lesson they learned in 2013. Here's what they told us.
Stuff is just stuff. It is not ME, myself, it is separate. I moved from a very large spacious (basement) place to a smaller very nice (above ground) place and I had to downsize A LOT in order to make this move possible. But for a million reasons it was the right thing to do. It was scary and very tough to get rid of so much of my stuff, but in the end I feel more free and less attached to possessions. It's cleared things up for me somewhat. I'm even considering downsizing further, so if needed, I could travel for a month or two and sublet my room without having to deal with all the… stuff! We have so much stuff in the western world! Anything that I'm not obsessed with, I've tried to let go of, or stop buying in the first place. I hope to continue this mentality in 2014. If you know me personally, your jaw is probs on the floor right now with what I'm saying. Shit happens.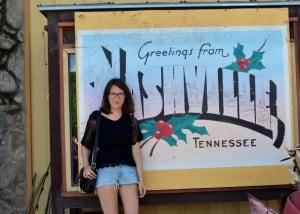 "Saving money is important." –Caitlyn Holroyd 
Saving money is important! Money isn't everything, obviously, but between student loan payments, my desire to travel, and the hope of one day owning my own house, it's about time I started saving.
"It's going to be okay." –Danielle Finestone 
One lesson I learned in 2013 is… it's going to be okay. I was fortunate to experience a couple of milestones this year—including graduating university—and at times, it was quite frightening. But alas, I've found that if you are a good and hardworking person, the rest will fall into place.
One lesson I learned in 2013 is that I need to bang my own drum. Toot my own horn. In other words, not only be proud of my accomplishments but also be vocal about them. It's a tough feat. After all, no one wants to look like Kanye West, desperately telling everyone that he's a genius. But after years of constantly second-guessing myself and downplaying some of my biggest accomplishments, I've realized that it's up to me to be proud of what I've achieved. I'm the only person who can stand up for myself and no *cough * future employers *cough * is going to know about my successes unless I tell them. At times it can feel weird and unnatural but the more I share my achievements the more I realize that a) I am not a complete fuck-up and b) I've actually got a whole network of friends and family who are rooting for me. And that makes me feel pretty darn good.
This year, it felt like major elements of my life were changing faster than I could keep up with them—I'd get a grip on the latest transition, and new ones would begin, good or bad but, more often, both. I think this is called "being an adult." I've learned that the best way to cope with change is to stop trying to control your environment and see each new challenge for all the positive opportunities it can bring—and also not to get defeated when, inevitably at times, change feels miserable. That's why the universe invented Netflix.
"Success is peace of mind." –Jen McNeely
The greatest lesson I learned in 2013 is that success to me is peace of mind. I want a fulfilling but manageable life. Each day, my goal is to knock things off my list, so that I may go to bed at night feeling less stressed. Making choices to ensure that life is less complicated doesn't mean that it can't be full, vibrant and rich. What it does mean is that I can put more care towards what really matters and bid farewell to unnecessary drama or chaos.
Busy doesn't mean better. Everyone seems so intent on having something to do/somewhere to be that it often seems like a competition to find out who's busiest! But it's okay (and important) to be put away the to-do list or say no to more work! PLAN FREE IN 2014 BABY. Also: Always the train, never the streetcar. (Google maps will lie and say they take the same amount of time but no, no they do not.)
This autumn, I was feeling a little more anxious and rundown than normal. At the suggestion of my artsy-fartsy, feelings-forever actor type friends, I decided to attend my first-ever personal therapy session. As you may have gathered from the above, it ruled. While I couldn't afford to keep it up, my six sessions were helpful and illuminating, and most importantly, left me feeling empowered and aware re: the kinds of questions I'd need to ask myself when I next felt stressed, upset, or insecure. There doesn't need to be a huge crisis happening for you to benefit from a visit to a therapist—it's about providing a place for you to be vulnerable and introspective, and to gain understanding about the ways you relate to yourself, others, and the world around you. (Pssst: information on low-cost therapy in Toronto for individuals and couples can be found here.)
If there is one thing I really learned in 2013 it was the importance of stopping every once in awhile and enjoying the view. I realized that almost every day had become a rush, a deadline that not only created headaches but never ended. The stress that built up within me didn't only cause health problems (yes, stress can mess with your body) but just cluttered my mind with tired, unhappy thoughts. I began to go on walks, spend time doing absolutely nothing and making decisions to see the people I love. By eliminating some commitments and looking at my life in the long run I realized that my happiness is crucial. I am grateful of what 2013 taught me and I pledge to stare at the clouds and day dream whenever I can. Bob Marley couldn't have said it better, "Don't worry be happy."
"The world is abundant." –Prima Feminista
The world is abundant. 2013 has been a year of letting go and learning to go with the flow. It's been a trying year of learning to accept life as it is, rather than trying to control it. After graduating university and turning 25, I had an "idea" of where I was supposed to be in my life. Once I flipped that concept on its head and just loved where I was, accepted it and enjoyed it, life got easier and bigger (and bigger and bigger). Success came, love came, and most importantly: opportunity came. I have been lucky to have an abundance of opportunities come my way, opportunities to work, to learn, to grow, to love, to laugh and yes, to cry. This year I have learned the power of a positive attitude and the abundance that comes with this power.  Lao Tzu once said "Those who believe in lack, live only in lack; those who believe in abundance, live in abundance. The world is won by those who let it go; To those who try and try, the world is beyond winning."  So I have let go, and I have seen my life change.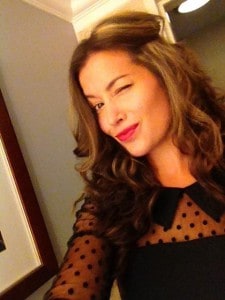 "I'm stronger than I thought." –Rachel Bies 
I learned that I'm stronger and more resilient than I gave myself credit for.  In the last year, I've been through family drama (who hasn't!) building a business from scratch, a breakup from a long-term relationship and a move!  Every time I was knocked down or stunned, I was able to pick myself up again. I realized whom my true friends are (breakups will make that very easy to spot), that being single at 33 isn't the end of the world and that my internal spirit was still inside, though silent for a few months.  That being said, I'm bloody ready for a new year to commence which I'm sure will carry another bundle of  "life lessons".  To those of you going through shitty, life-changing stuff, keep your gorgeous head high!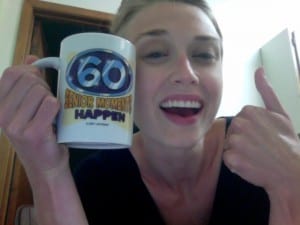 "My inner mom is alive and well." –Tess Degenstein 
One lesson I learned in 2013 is that my inner "mom" is alive and well, and a necessary part of me. By embracing, and not hiding from, my earnest "mom"-like tendencies, I've connected more genuinely with people, and felt a lot more free in my life. I don't know always know the "top 40 hits", I like my bars with quiet music and a nice tea selection, and I get off on saving money and packing lunches, but dammit! I'm cool on my own terms! Like a fun, empowered mom!