Searching for a job can be an exhausting, and confusing, process. With so much conflicting advice about everything from resume formats to post-interview thank-you notes, it can be difficult to know who to listen to, and where to put your energy.
With a possible recession looming, more people may be on the hunt for new jobs in 2023—so standing out as an applicant is essential. But if you've been out of the job market for a while, things might look a little different.
Emily Durham is a senior recruiter at Intuit Canada, and is also known as @emily.the.recruiter on TikTok. She's received almost 9 million likes on her topical videos about interview prep, optimizing your LinkedIN and finding your career path. Emily herself uses TikTok as a recruiting tool, and she tells us that over the past few years, social media and technology have changed the way we search for jobs.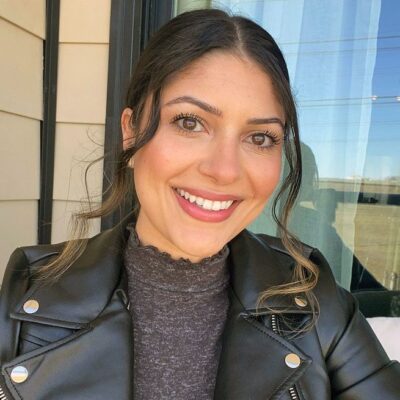 Emily gave us some of her best advice for landing your dream job, from how to incorporate tech-savvy tips into your job search, to nailing the basics — resumes, interview skills, and networking.
What would you consider to be the biggest shift when it comes to applying for jobs in recent years? How are things different today than 5 years ago?
A lot has changed over the past five years. I can narrow it down to three of the biggest shifts:
Knowledge + Access. Five years ago, the primary method for researching companies was websites like GlassDoor and Indeed. Although these sites are still credible and very heavily relied on, there are now additional platforms that further expand visibility on a topic through the virality of TikTok or the authenticity we see on Reddit. Today, candidates can see first-hand accounts from employees through vlogs, employee testimonies and Instagram stories. Recently, I showed an authentic day-in-the-life of my 9-to-5 job at Intuit and what it's like working from our new Toronto office. This helps potential candidates see inside our space and get a real sense of an Intuit employee's potential day-to-day.
Technology. Technology has enabled candidates to be creative with how they stand out to employers by the click of a button. Now, anyone seeking a job can leverage templates and language readily available online to proactively reach out to recruiters or potential employers through platforms like LinkedIn.
Transparency. The rise of web and social connection has also improved things like salary transparency, better enabling candidates to advocate for their needs and compensation.
What are three things you definitely want to see on a resume that maybe aren't always there?
Nail the basics. Believe it or not, it's all about the basics. You wouldn't believe the number of times critical elements like phone numbers and emails are missing.
Quantify your work. Consider including at least one data point under each piece of work experience noted on your resume. Data helps to quantify your work, and visually draws the eye, which will boost the chances of your resume being read end to end.
It's all in the details. I always say, "If your grandmother wouldn't understand your resume, it's too complex." Recruiters have an understanding of your field, but are not always subject matter experts. Including one bullet point for each line of work experience helps provide a high level summary of your role and makes a world of difference.
What's your top advice for nailing an interview?
I always tell candidates to prep but don't over prepare. It is always a great idea to have answers ready to go for common questions (like why do you want to work here) but what you want to avoid is reading off of a script. This can come across as more robotic, less authentic, and limit your ability to build a connection with the interviewer.
Leverage the STAR interview method. STAR is a framework for answering interview questions that guarantees you provide relevant information in a concise way. It is particularly helpful when a question leaves us feeling stuck. STAR stands for Situation, Task, Action, and Result.
Another tip I always share is that candidates shouldn't skip the small talk! Showing your authentic personality and building rapport with the interviewer can really make a world of a difference and help you stand out against other candidates. For example, I spend most of my time interviewing for engineering roles here at Intuit – I always appreciate when someone in a field completely different from mine can find a way to connect and lighten the conversation.
What are some key things people should consider before making a major career change?
The major considerations I always keep in mind are: how will this change impact your salary, will you need to take on a more junior role to kickstart your career, or can you move laterally? To find the answers keep the following points in mind:
Especially in today's market, make sure you research what the skill requirements are for the new role. Can these be self taught or will additional schooling be required?
Take advantage of social media. Look at videos from peers, content creators, and other credible voices who have transitioned into the industry and learn from their experiences.
Be kind to yourself. Making a major career change takes bravery and if you choose to pursue it, you should be proud.
What things should people be looking for when researching a company they are applying to?
It's important to start off your interview preparation with a scan of the company's website and helpful resources like Glassdoor to help give an indication of the overall employee experience and company culture. The company's career page is also a great test for what values really matter to the organization.
I always encourage job seekers to take their search a step further and review social sites like TikTok, Reddit, and FishBowl to see what employees are saying authentically. These are sites where employees tend to post raw and unfiltered experiences with their organization, which can be very indicative of the culture you are signing up for.
Any other advice you'd like to share? Your ultimate career advice? Or maybe best advice you've ever received?
I can leave you with three parting tips that always help me:
Never feel guilty for advocating for yourself. Whether it is your salary, your work-life balance, or your career ambitions, ask for what you want and ask for help to get there.
Do your research! Look into company culture, salary ranges, and product reviews to make sure you're aligned with the company's vision and values.
Networking works. Powerful conversation and connections can be born through in-person meetings and networking. So continue to network – there is so much power in having folks advocate for you.