Bawo ni? Se dada?
Be ni. Mo wa pa.
"How are you? Are you good?"
"Yes. I'm fine."
I am a Yoruba woman (one of the three main tribes in Nigeria), and yet my mother tongue still feels somewhat inept coming from my mouth. Although she tries not to, my mom laughs at my pronunciation. I can't spell half of the rudimentary phrases that I know how to say, not even the ones I just typed out. Yoruba is a guttural dialect, similar to French and Arabic in that you either have the accent required to correctly pronounce the alien consonants like "Gb," or you don't. And being a second-generation immigrant raised in the predominantly white, rich, small town of Oakville, I just don't.
My relationship with Yoruba (the language) is tenuous. Mercurial. Capricious. I approach the language as one would a dozing bear—with both awe and caution. Unlike English and even French, there is a reverence I maintain when it comes to Yoruba. It makes it more challenging for me to learn (that, and the fact that it's slowly going extinct), but the victories are that much sweeter.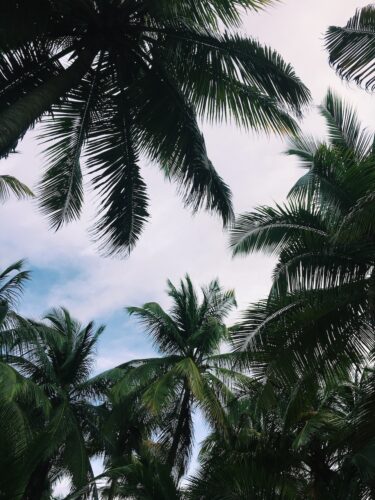 In the summer of 2018, I travelled to Lagos to be a bridesmaid in my older cousin's wedding. Anyone who has ever been to Nigeria, or anywhere south of the Equator, knows the acute sensation of sweat rolling in beads down your forehead, neck, and back; mosquitos buzzing so loudly in your ears it's a miracle you can hear anything else. Compared to Toronto, Lagos is just bigger. The sun blazes hotter, the traffic is more sluggish, and the people are meaner. I was staying with my cousins in Lekki, right next to the water.
It was one night in my cousin's house that I made the mistake (or so I thought) of sitting in the living room with the "adults" while they were conversing in Yoruba. Suddenly, my aunt (one of my mom's closest friends) turned directly to me. "Abi, shogbo Yoruba?" I felt pairs and pairs of eyes on me, and I feverishly searched for a way to escape the conversation. "A little." She bade me try, asked me what style I was going to get at my hair appointment tomorrow. "Mo fe braid irun mi." The cheers that erupted were euphoric. I had used the right phrase. By eavesdropping on my parents, by slowly turning phrases around and around until they felt more natural, I had succeeded. This was to be the first of many tiny victories in my language journey.
I can't talk about Nigerian culture without making a critical mention of food: food is everything. We use different ingredients, we come from different tribes, but when it comes to cooking, we all speak the same language. Jollof rice is arguably the most commonly known Naija food, and my favourite. I don't particularly enjoy swallow—a category of foods including pounded yam and fufu that are served with different stews—but I will never say no to suya (beef kabobs). I hate chin-chin (sort of like thin, crunchy fried dough), but I love puff-puff (deep-fried doughnut holes). My relationship with my cultural food mirrors my relationship with my language—I love it, but I can't necessarily practise it myself.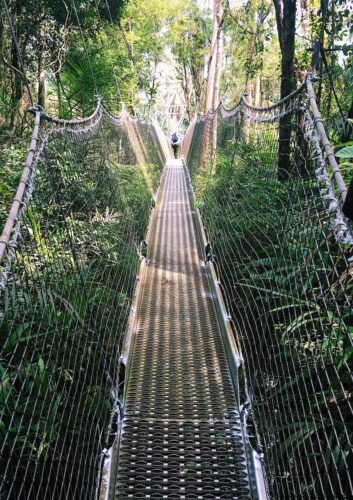 I made my own jollof rice (from start to finish) for the first time in the summer of 2021. I was following a cooking class, and my mom was looking over my shoulder for about seventy-five percent of the process (mostly at my insistence). The thing about Nigerian food is that it takes time. If you're making pasta, it boils on the stove for ten minutes. If you want salmon and potatoes, you can throw them in the oven and set a timer. With jollof rice, with stew, patience is a must. Measurements are disregarded, windows have to be opened to let the smokiness and spice out, and your arm will undoubtedly tire from stirring and stirring, waiting for the peppers and tomatoes to cook down. But more than anything, it is worth it. The flavours—curry, thyme, white pepper, rosemary, bay leaf, chicken bouillon—are worth it. The joy is worth it. The spiciness that will have you reaching for ice-cold water three bites in: worth it.
On to Afrobeats. What "Afrobeats" meant to me, before the popularity of "Essence" and "Peru," before the worldwide takeover, was that I was getting a ride to school. My mom would load my sister and I into our gargantuan silver Kia at eight in the morning and drive us twelve minutes to our elementary school, blasting (and I mean blasting) old Yoruba songs as high as the volume would go. My sister and I would sing along, swinging our legs and butchering the words. Grades one to four marked my formal introduction to both the Canadian school system (fresh off the plane from Atlanta, Georgia) and the discographies of Yinka Ayefele, Yemi Alade, and Tiwa Savage. There was the world of the car—clamorous, exuberant—and the world of my school: sterile and calm. This double life has pervaded much of my childhood, although young adulthood has seen me try fervently to merge them.
There is an inherent duality in second-generation-ness that is both splintering and healing. Isolating and unifying. There is endless potential for my ability to learn my language, my people, my food, my culture, but to do so I must first see the obstacles that stand in my way as open doors rather than concrete walls. Personal connection is part of what defines inheritance. I am devoted to my identity as a Yoruba woman, in whatever capacity that means and wherever the wind takes me.
O se!
Abi Akinlade is a writer and actress based in Toronto. She particularly enjoys writing poetry and creative nonfiction that creates a dialogue about culture, race, and film, among other things. You can find her on Instagram @abiakinlade.
This essay was selected as part of Shedoesthecity's New Voices Fund, established to help continue offering opportunities to talented emerging writers with less than 20 bylines. More info here.