I got my first tarot deck when I was a kid, and I was afraid of it (that Rider-Waite imagery does NOT look near as inviting as say, the Lisa Frank deck), so I gave it away. And a lot of my friends in my generation did the same, I later found out. Recently, I've been seeing a ton of people I'd not expect posting elaborate spreads on IG, for example, and talking about casually getting readings. I think it's rad. Tarot can be really helpful.
For me, I see tarot as a personal empowerment tool; there's something to be said for "taking your life's direction into your own hands." I draw a card pretty much every day – sometimes just one, sometimes a full on spread – to help me make sense of what's really going on in my mind. It helps me clarify my sense of direction, not because it's magic and it tells me what's going to happen (though, more often than not, it is pretty on-point), but because it makes me see how I narrativize my life. How I relate to the symbols in the card, the archetypes, how I react to them and what I think they mean for me – it's really an exercise in self-awareness, which is so key for living a purposeful life.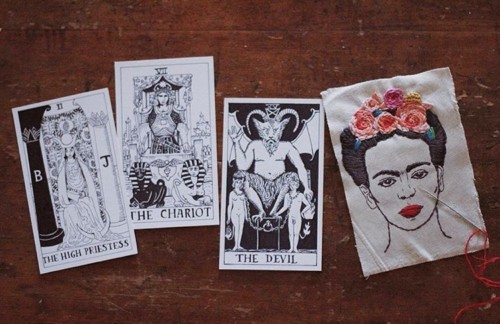 So, I would totally recommend trying your hand at this empowering system and seeing what happens for you too! Here are a couple workshops you can take downtown this winter.
Stacie Noel is an engaging and intuitive tarot teacher, a belly dance teacher who uses swords and hula hoops and fire, a multi-character performer and all around magical creatrix. Follow her on IG for much magical style inspo. Private tarot workshops are available on request.
Author, astrologer and tarot reader Liz Worth offers different tarot classes and also ongoing tarot mentorship for tarot readers of all levels. Get to know Liz at The Likely General (389 Roncesvalles Ave.) on Sundays from 1 to 5 PM, where she gives mini readings for $30.00.
The Rock Store ((602 Markham St.) in the annex sells crystals and esoteric books and card decks. Walk in here and FEEL the calm. There's an Intro to Tarot Workshop here on November 26th ($60.00, 1 to 3 PM) taught by a lady named Jayne Marie, who offers a few different psychic services.
At this storefront and community destination you can buy metaphysical trinkets and also attend classes, art shows and events. Learn how to do your own reading for 2017 in a two-hour workshop at 425 Vaughan Rd. ($75.00, December 3, 3 to 5 PM). You'll leave with a roadmap for the coming year of your life.
Sliding scale, women-only tarot & tea reading workshops are taught at this studio by Stephanie Norwich, a healer and counsellor, on weekend evenings. (Bathurst and Eglinton West.)