Kacey Rohl, named one of the Canadian Rising Stars at this year's Toronto International Film Festival, stars in White Lie, a new film that illuminates the troubling phenomenon of people faking illnesses to generate funds and sympathy.
In White Lie, Kacey plays a young woman who becomes a campus celebrity after receiving a (fictional) cancer diagnosis. But the pressure to keep up with her lie is mounting, and the film probes at the ramifications of living a dishonest life.
We asked her about the project this week.
SDTC: What drew you to the script for White Lie?
KR: I loved the idea of playing a woman who people immediately label as a bad person and that could be so easily judged. Negotiating her life living inside of a house of cards she'd built herself offered me some welcome complexity to play with. Also it was an awesome opportunity to shave my head!
What had you heard about this phenomenon of faking an illness for money?
I'd heard of stories like this, but only peripherally. But all through the process of this film—from as soon as I started chatting to people about it, through making it, and even now long after we've wrapped—people tell me all sorts of stories about how this issue has touched their lives. I had no idea how common it was.
What aspects of your character's personality do you see in yourself?
There have certainly been times in my life where the ways I was seeking out love or attention were perhaps not the best, and also the idea of creating crisis because that's all she knew how to function in is something I'm familiar with. But thankfully, I'm in a far better place than she is in regards to all that, although I could absolutely identify with those aspects of her.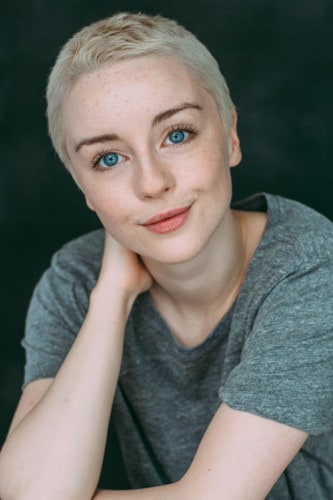 What was the most challenging part of this role?
Being bald in -30c weather! Hands down!
When did you realize you wanted to act for a living?
When I realized it was the only thing that made me super happy. And eventually that morphed into it being a handy way to force myself to develop my capacity for deep feeling and dig for my authentic self. The making-a-living thing was sort of an afterthought, but obviously I'm so grateful that that aspect of it is working out.
Walk us through your process to completing a film; how do you research your role, what is your methodology, how do you stay focused?
I always do a lot of movement-based prep work. But with White Lie, [my character's] a dancer, so being in my body was going to be even more important—how she held herself, how she would move. But also what life looks like and feels like when movement is your main language of expression. I also use music a lot, so I built a killer playlist. And I usually research as much as I can with books/docs/articles/art etc., but I avoided that for her because that's not the angle I wanted to approach her from. I spent a great deal of time alone connecting to what core wounds I thought brought her where she is.
What is your earliest memory of seeing a performance that moved you?
I remember with crystalline clarity the moment I saw Julianne Moore in Magnolia. That movie is hugely important to me as a whole, but seeing her work in that film made me want to ride the waves like she does.
What does winning the Rising Star award mean to you personally?
I'm so grateful and honestly blown away that I get to be a part of TIFF Rising Stars this year. I'm looking forward to connecting with other like-minded artists, expanding my brain and gaining knowledge on how to negotiate this wild biz with integrity.
White Lie makes its World Premiere at TIFF's Contemporary World Cinema program this fall.