A new app has sprouted in Toronto! Ritual lets you order your food and time it out to the exact moment you expect to be walking through their front door. Armed with $50 to investigate (i.e., eat my weight in baos), I set off using it around the downtown core and ended up splitting feasts with friends at Bahn Mi Boys and Early Bird Espresso.
Things that I like:
You can see the minutes counting down in real time to show when your order will be ready. It's like Uber in that sense, but you're the driver.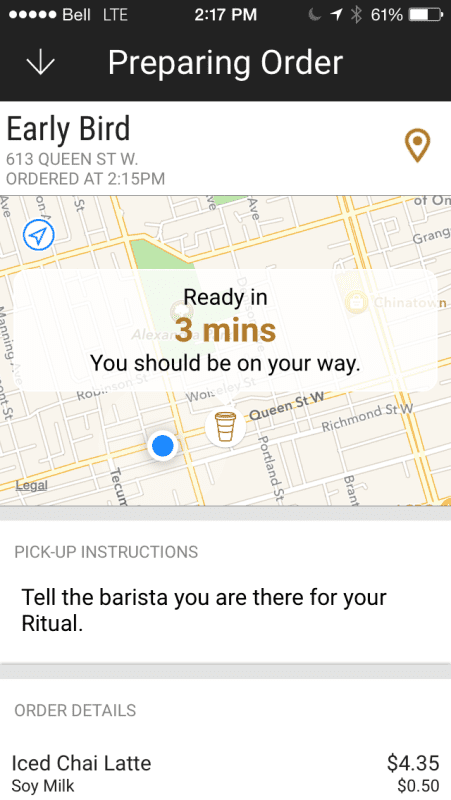 It warns you before you even order, telling you exactly how long it should take to be prepared and giving you the "You really wanna get this going now?"-type prompt. Thanks, Mom.
In Bahn Mi Boys and Early Bird Espresso, they had a designated Ritual spot on the counter which made for an easy, straightforward pick up.
No transactions necessary. Just say "I'm from Ritual!" grab it and go.
They had my picture (you take a selfie when you download the app), so they identified me and greeted me by name, therefore knowing I was not a random, take-out snatcher.
It got me to try out a new place.
Also, I can't quite emphasize enough the time I saved and benefits of skipping the line. In short, it's great to strut up to the front, skip the line and have your meal ready the moment you arrive.
No real complaints! Let's let this thing snowball so that every business in West Queen West (my neighbourhood) and downtown is using it!
Happy eating!