Get your camera phones ready Toronto, we're about to #AddSparkle to your day with a very cool contesting opportunity. No filters needed!
In celebration of two NEW Teavana Sparkling Tea Juices, Starbucks has teamed up with YouTube It Girl and our fantasy BFF LaurDIY for a sparkly and unforgettable launch party.
Going down on August 8th from 12pm – 4pm, the Starbucks at 316 Queen Street West will be transformed – with a little help from our fave YouTube glitter professional — into a whimsical dream AKA The Sparkle Shop, where you'll be able to get glittered, try samples of the new bevvy and more!
Swing by the Sparkle Shop on August 8th to meet LaurDIY, try the new delicious Tea Juices, and sparkle yourself! Make your nails, hair, beard, body, glasses, Starbucks tumblers, and more just a little more sparkly with the help of Starbucks glitter professionals.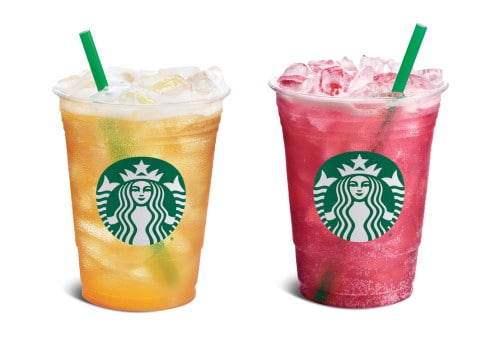 Have you tried the new flavours yet? We have, and we're obsessed! The Teavana Sparkling Passion Tango & Pineapple has a seriously tropical vibe while the Teavana Sparkling Black Tea & Tangerine delights with sweet notes of mandarin and peach; it's summer in a cup! We also love that there are no artificial flavours or added sugar, just a whole lotta real fruit juice realness with tea and teeny tiny fizzy bubbles, YUM!
CONTEST!
One lucky reader and their BFF will score a VIP meet and greet with Lauren along with an EPIC Starbucks prize pack, which includes a $200 Starbucks gift card!
To enter, RT: "Heya @shedoesthecity @StarbucksCanada, please send me to #AddSparkle in Toronto so I can get my craft on with @laurDIY! #starbucksxLaurDIY"
Counting down the days to August 8th? Us too! In the meantime, check out this cute video, made by Lauren, featuring some really cool Starbucks-inspired DIY projects!