Over the past year, we've been working closely with Womanizer to share sex and body-positive stories from a variety of womxn we admire. It's been an absolute pleasure, and every single subject has taught us something different, or helped us look at our own bodies and desires from a new vantage.
We're thrilled to have Michelle for our final boudoir feature of 2020, because her energy is frankly what the world needs more of. We've been following Michelle for awhile on Instagram and she's someone who always lights us up and makes us smile, be it from her humour, her glowing confidence, or dance moves that pop off the screen. We're big fans.
Fanny and Juliette of Scandaleuse Photography have captured her magnificence beautifully.
Tell us a little about yourself…
I'm a queer midlife mom championing for diversity, inclusion and equality. Professionally I'm a communications geek, multi-disciplined educator, social activist and content creator. I'm also very passionate about womxn's rights advocacy and can often be heard speaking on issues facing marginalized communities, radical self-acceptance and self-reinvention.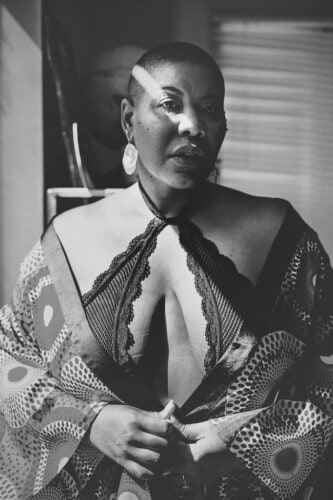 How did doing this photoshoot make you feel?
It was truly a liberating and empowering experience. Juliette and Fanny made me feel very comfortable and at home during this photoshoot. This was my first time ever being a model and they were professional, patient and kind every step of the way.
When it comes to feeling good in your own skin, what advice would you give to your younger self?
I would tell my younger self that you could be the juiciest, yummiest peach and there will still be someone who doesn't like peaches. That doesn't mean that you're not a delicious peach. You're perfect.
What always puts a smile on your face?
My daughter.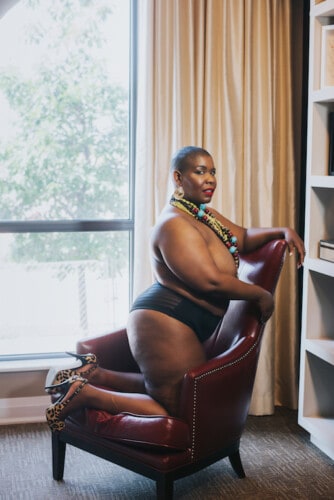 What turns you on?
Independent womxn who enjoy their own company and have a quiet confidence about them. Womxn who are authentically themselves, goal-oriented, love adventure and have a quirky sense of humour. Yummy.
What has become an important part of your self care routine during COVID?
Self-care? What's that! I'm still trying to implement a self-care routine in my life but, I would say not dating is my biggest form of self-care right now. Loving myself and my daughter is my number one priority at the moment.
What lesson or idea is currently helping you on your path?
When people show you who they are, believe them.
What small things help you get through winter? Or what are you planning this year to help you?
Conversations with loved ones, self-pleasure and comfort food.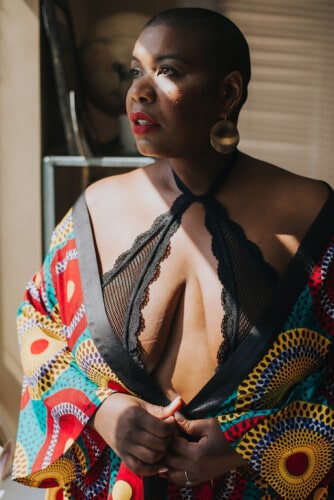 How would you describe your sexuality?
I identify as a queer femme/lesbian. I am attracted to different genders, but with womxn is where I feel most at home.
Anything else you'd like to share?
Give zero fucks. It will set you free.
Thank you to our partner Womanizer for generously supporting our ongoing Boudoir Photo Sessions with Scandaleuse Photography. We love working with them, and we also love the selection of Womanizer toys that live in our bedroom. Have you tried?