In 1972, feminist photographer Pamela Harris began to assemble The Women's Kit, a cardboard box containing over 150 pamphlets, images, articles, collages, slides, drawings, short stories, records and more about women. Harris' attention was to raise the consciousness of young people and encourage high school and college students to observe and question the limitations set on prescribed gender roles.
The box went out of print in the mid 1970's and the public hasn't seen it since.
Ilene Sova, founder and lead coordinator of the Feminist Art Conference (FAC), first laid eyes on the box in 2014 during a meeting with women from the Centre for Women's Studies in Education (CWSE) at the Ontario Institute for Studies in Education (OISE). She was astonished. She mobilized the FAC Committee, along with Jennifer McKinley (Operation SUNshine), in the herculean task of digitizing The Women's Kit.
The project was expanded to allow OCAD students and local youth to dig through the archive and respond with their own viewpoints; the resulting exhibition is REGENERATION, which opens later this week.
We asked Sova and McKinley about the project.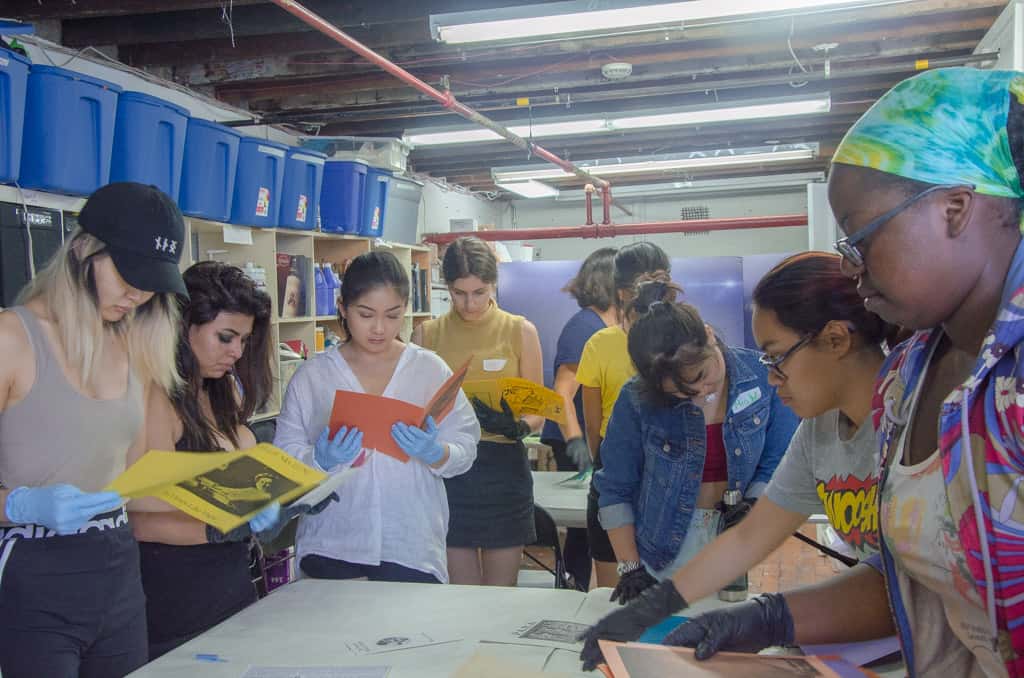 SDTC: What stood out to you the most in going over the materials in The Women's Kit?
Pamela Harris, the producer of the kit, intended the resources be used by all genders to raise questions about gender roles in society. We're hopeful that folks across the gender spectrum look at the kit as a time capsule of a very important era in Canadian feminist history. We want people to recognize its social and historical biases while acknowledging how much work lies ahead in smashing the patriarchy. Many of us do not have the privilege to say, "That was then. We've come so far. We don't need feminism anymore." We will need feminism until the end of time.
The kit is made up of a variety of vibrant, colourful materials with compelling cover images and beautiful illustrations. Nothing in the kit is uniform. When you start going through the box and read titles like Why Women Fear Success, Our Clothing, Our Prisons, and 50 Canadian Women Artists, you get a sense that this kit is rich, detailed and massive in its scope and appeal.
I think all the members of FAC expressed wonder and awe; we all wished we'd had access to this kit as high school and post-secondary students, and that is why we were very excited to reactivate it for the young artists whose work we're exhibiting at REGENERATION.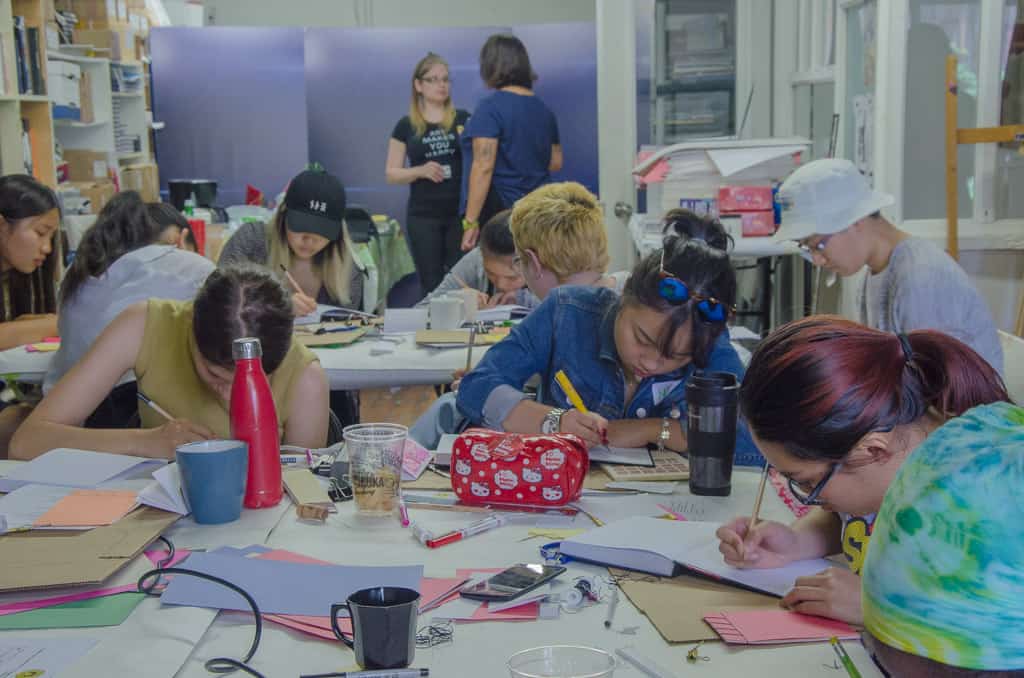 After studying the materials, which issues in 2017 do you find comparable to those of the early 1970s? What's improved? What's gotten worse?
Hetero marriage roles have evolved as more women have entered the workforce. Year-long maternity or paternity leave is very civilized. There's a piece in the kit on day care – why are we still fighting for universal child care in 2017, especially in an economic climate where few parents have the luxury of staying home? Sexism in advertising is still prevalent. "White Daddy Warbucks" still seems to be our go-to when electing people to public office.
Funding for women's organizations has disappeared thanks to merciless government cuts. Mike Harris, Stephen Harper…if you hear any political candidate heralding the siren song of "Common Sense," run like hell!
The kit came to be in the Marlo Thomas era of Free To Be…You And Me, a time and opportunity to celebrate the beauty and endless possibilities of gender neutrality. Unfortunately, it didn't stick beyond fringe groups of radical parents and educators…the PBS crowd. Gender neutrality isn't as marketable as sparkly pink princess dresses for her. And when were Kinder Surprise Eggs assigned a gender?
Improvements: We have reproductive justice in Canada (on paper, at the very least). Women can apply for and use credit cards without their husband's consent. (Nothing is more democratic or needs legal protection more than a woman's right to spend.) The internet provides a platform for a plurality of voices and experiences where there may not have been such a platform 45 years ago.
For us, the kit is important because it bridges a gap between 1970s feminism and 2010s feminism. Rather than viewing feminism and the movement(s) in waves, we're learning that feminism is a continuum. The work feminists are doing today, the work FAC has done with the young artists in the REGENERATION Exhibition, is work that will continue into subsequent generations of feminist activists.
What is your favourite art object/piece from the kit? Why?
There are too many favourites! We're fans of the records. There is a recording of a sixteen-year-old young woman who was made to go to Training School, fancy talk for youth prison. Her experience is horrifying and enlightening. We hear first-hand how the justice system is rigged against people along lines of class, race, age and gender.
There's also a recording of a panel discussion that took place at the first Feminist Art Conference at OCA in 1972 that includes Vera Frenkel, Joyce Wieland, Kay Armatage, Katja Jacobs and Donnie Kreps talking about the difficulties of being taken seriously as women artists. The conversation they have is very insightful and captivating. Much the same as the rest of the kit, artists are dealing with many of the same barriers to the established art world.
"It is terribly, terribly difficult to make people understand that women's work is real. It's visible, it's tangible." Katja Jacobs
What do you hope people take away from viewing this exhibition?
REGENERATION encompasses four decades of feminist art. Some time ago, FAC decided we wanted to mentor younger feminist activists through work on educational feminist art projects and that would have a lasting impact. FAC was very excited to receive funding from the Ontario Arts Council and the Ada Slaight foundation through OCAD University so that we could do focused programming.
We hope that people take away the importance of intergenerational conversations and what we can learn from older activists. We hope that when people visit the exhibition and look at the art they will get excited by the passionate conversations these young artists are having around gender inequality. We hope people will be as inspired as the young artists were by what the archives from The Women's Kit have to teach us.
The Women's Kit – REGENERATION runs October 5th-19th at the Ada Slaight Student Galleries, OCAD (100 McCaul St). Opening Reception Thursday, October 5, 7 – 10pm and a Panel Discussion takes place on Tuesday October 17, 7:30 pm in Room 225. More information can be found here.