Expectant moms in Toronto are often dismayed to learn that childcare costs more than university—around $21,000/year for infants and $16,000/year for toddlers. Many women refer to it as "reserving their place in the workforce," because salaries are swallowed up by daycare fees. Finagling around varied schedules and freelance work is another challenge, and usually full-time daycare is not a feasible option.
Amanda Munday encountered this dilemma in her own life and decided to do something about it. Enter The Workaround (2080 Danforth Avenue). This new, 4,100-square-foot co-working space is designed to make quality childcare accessible and affordable by having Early Childhood Educators on site. "I started The Workaround because I was at home doing double duty, trying to work and care for my baby, all because the waitlists for care is years long. Like many parents, I wanted to thrive in my tech career and do it without giving up my time travelling downtown or paying thousands in daycare costs. Thus the birth of The Workaround."
We asked Amanda about her experience and what you can expect to find at this innovative new site.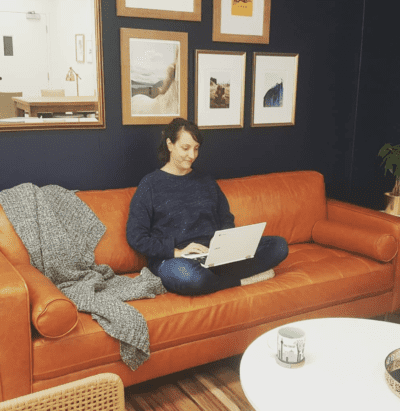 SDTC: What was your experience like trying to find childcare in this city?
AM: Childcare is prohibitively expensive in this city. I had no idea. When I started my career I was advised to regularly contribute to my RRSP. When I started a family, the advice was to regularly contribute to my child's RESP. At no point did anyone tell me I should have been saving for childcare, where the costs exceed university and happen a whole lot sooner.
When I became pregnant with my first child, I raced to get on the midwifery care list, but I didn't consider childcare until my first maternity leave was almost over. By then it was too late. The childcare lists are years long. I made a good income working in tech, and if I had to put both my children in full-time care, I would have spent more than 75% on my income on childcare. I am beyond lucky my mother opted to retire early to help me care for my children. Not everyone has the option of a family member to help care for their children. What option do they have?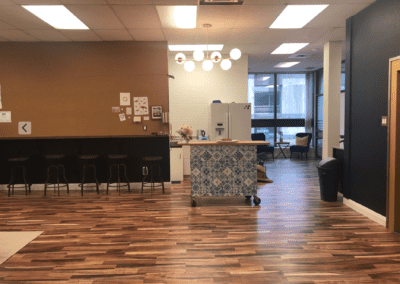 What was the catalyst to finally launch The Workaround?
When I returned to work at a start-up following maternity leave, I negotiated a reduced salary so I could work from home at least one day a week. I asked for flexibility so I could be home with my children. Guess what? I didn't work from home during the day. Instead, I would wake up at 5 or 6 a.m. and work for a few hours, desperately work a few more hours during nap time, then log back on after bedtime and work until midnight. I felt like I had no life outside of work and parenting. My identity suffered.
So in January of this year, after conversations with many mothers who felt the same way I did, I started looking for space in the east end. Once I found a viable option for a workspace, I approached Business Development Canada for a small business loan and took it from there.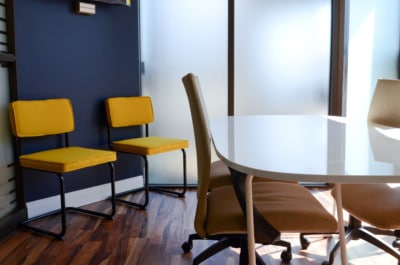 Can you describe the setup?
I describe The Workaround as an elevated café. With drop-in desks, a lounge, meditation room, podcast suite, nursing rooms, and lots of meeting areas, we want our members to have many options to do their best work. For parents, that includes having Registered Early Childhood Educators on-site who provide high-quality children's programming, so work can actually get done.
As a member, you can expect that we've thought of everything you need to do your best work. We have a podcast recording studio with equipment. Coffee and tea and bubbly water. A freezer to store breastmilk, and a pull-out couch that is perfect for a quick nap. I don't want you to worry about logistics, and I want you to go home at the end of the day and stop working because you were productive during the day.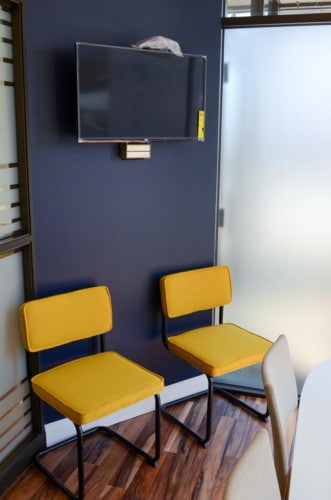 Do you have to be a member to utilize the space and childcare? What is the cost of membership?
Yes, you need to purchase either a half-day or full-day package ($150/six full days) or an unlimited monthly membership for $318/month. Childcare is an additional $10/hour/child.
What do you love most about this project? What are you hearing from other parents?
My heart is fifteen sizes larger with the overwhelming neighbourhood support. I've heard from so many parents who are thankful that we put The Workaround in the east end (my home!) and that we offer a solution for parents who are entrepreneurs, freelancers and who have work-from-home days. What childcare options are available to people who only need part-time care? Or during non-traditional hours?
The other day I had a mom in for a tour of the space. Her child is approaching his first birthday, and she isn't ready to put him in full-time care because of some lingering health concerns from his birth. The Workaround gives her an option to return to work now, and transition her son into care while she remains close by. I can't think of any more important work than this.
You're a staunch advocate for universal childcare. What changes in policy would you like to see to move us closer to that goal?
Well first and foremost, we need united government support for childcare, at all orders of government. A small subsidy or tax break will not resolve the economic challenge parents, especially mothers, face against the cost of childcare. If we don't figure out a way to make childcare more affordable, women will continue to leave their jobs to stay home and care for their children. That hurts economic prosperity.
I want to see childcare be viewed as a jobs growth imperative. This is not a family-planning, liberal ideology—without childcare, families can't work. We need innovative solutions that reimagine the workforce and the way we need to do our jobs. If we do not find ways to support all working parents, businesses can't grow and will lose money in employees who do not return to their jobs after parental leave. We are all at risk when we don't support childcare.