Toronto-based R&B artist Xentury (a.k.a. Samantha a.k.a. xenturysam) was born to a music-loving, party-crazy, mixed-race couple. She grew up with struggles, but she learned at a young age that music was an escape. As she grew older, she had to move, along with her younger siblings, to her aunt and uncle's house in Whitby when it became evident that her mother could no longer care for them.
Life was now stable but not easy; her new parents were hard on her. The family ran a Taekwondo club, where she taught and trained for about seven years, winning multiple first-place trophies and getting her first dan black belt. But things at home became too much, and at sixteen, she moved back to Toronto, where she felt she belonged.
On her own at seventeen, she hustled and did what she could to get by, despite being in a very abusive relationship. She became pregnant at nineteen years old, and at twenty, she had her son. "But the evil got darker," she explains. "Once again, I had to change my life, but this time, not just for me. At twenty-two, I had finally gotten far enough from my son's father that I had the chance to fall in love with a young man." He encouraged her to grow and develop her musical talent. Then, eight months later, her lover and his brother were murdered.
"I was alone again," she says. "But this time, I had his words to give me strength." She wrote her performance debut track, Pillows. Almost eight years later, she has a beautiful family with two kids and multiple achievements under her belt. Her first release, Nothkng 4 Nothing., was followed up by her first video, "Trust Issues." She'll be performing at Showcase in Da 6ix tonight at CineCycle (129 Spadina Ave) and again on February 17 at 961 College Street.
With a powerfully smooth voice and raw, incisive lyrics, Xentury is already making big moves this year. We can't wait to see where 2019 takes her.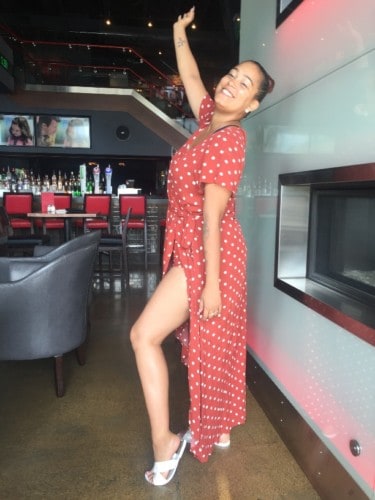 SDTC: When and where do you feel most content/at ease?
In the studio.
What food/dish always satisfies you?
A really good curry goat roti.
What film/show has recently wowed you?
ANY Marvel movie from 2018.
What's on your current reading list?
Who Moved My Cheese? by Spencer Johnson.
Who/what has influenced your music the most?
My own life. It hasn't been the easiest and I use all my experiences to write my music. But the actual drive to write my own songs comes from Tupac. He just wrote amazing lyrics.
What is your mantra these days?
Don't worry about what everyone else is doing. You don't know what goes on outside the frame.
What Toronto spaces / places do you truly love?
Kensington Market is my favourite place in the city by far. I was born there, my love for music was born there, some of the best and worst parts of my childhood happened there. And my friends will tell you I love Cherry Beach bonfires and BBQs all summer long.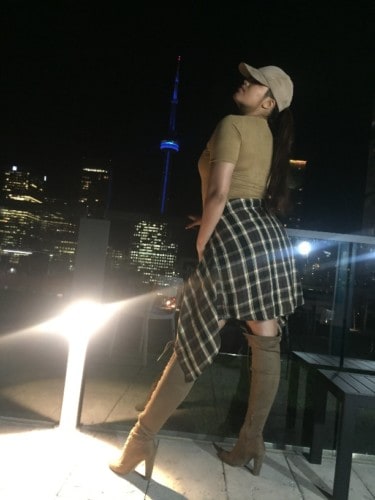 What exhibit/museum/sight are you dying to see?
Happy Place. I would love to take my family there and just take pictures and laugh and really have fun together.
Your go-to coping mechanism/self-care?
I need at least two baths a day if I'm really down or sick. Sometimes, like four of them! The warmth of the water makes me feel at ease and kinda like I can reset, have a smoke, watch a reality show and lock my family out for twenty minutes.
What five things would you want if you were deserted on an island?
My family, white wine, a tent, a machete, salt.
What's a childhood memory that always brings a smile to your face?
Disney World.
What life philosophy is currently helping to guide your journey?
It's been worse, but I can make it better.
One skill you'd love to learn/nurture/improve this year?
I'd love to learn an instrument, nurture my music, and improve my French.
What's a piece of career advice that has served you well?
Work hard and never give up.
What outfit makes you feel the most you?
Anything I perform in. I love the glam of performing. At this point my pockets can handle exactly what I want, but I just look for those good deals. When you get a great outfit and it's cheap, I call that a WIN.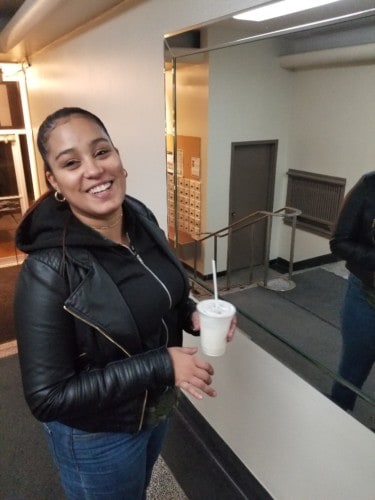 What toy/book have you held onto since you were small?
I moved around so much as a child; I lost everything. But I find things that I had or wanted when I was younger. I have a plush black Power Ranger in the box and Crazy Bones.
What's a subject that is currently holding your attention? An issue that you're focused on?
For me it's always about justice. Too many people find it so simple to take a life, or make someone's life hell just because they think the other person is an object that they own. It doesn't matter what type of relationship you're in; domestic violence can happen and one time is NEVER OKAY.
I wanna be a voice for the silenced; child abuse is on the same level [of concern] for me. I have just been through too much.
When you compare yourself now to where you were at ten years ago, what's a major change you can identify / feel proud of?
Ten years ago, I was going to studios and trying to get some music done. I wasn't focused. I was in a scary place with someone very scary. But then I had my son and everything changed.
Now, I'm in a way better place. I've done hundreds of shows. I've made mistakes and learnt from them and improved. I make amazing songs at lightning speed and love them. I had two kids and my boyfriend and I are adulting like champs. I'm proud I didn't give up on myself and my dream. I'm proud that I still don't give up.
Goal(s) for 2019?
My goal for 2019 is to introduce myself to the world, and never say goodbye. I've been there, and I can help them get through it, and in return the world will let me know I'm not alone.