Shedoesthecity, in partnership with Touchwood PR and Game Theory Films, is honoured to be hosting a premiere event for Catch and Release, a new film by Canadian directors Dominique Cardona and Laurie Colbert. Please join us for a virtual panel discussion on Monday July 13 at 7:30pm ET with the filmmakers, along with experts in gender equality and reproductive rights. Following the panel, all attendees will receive an exclusive link to view the film, in advance of its release on July 14th.
Based on Jane Martin's 1993 Pulitzer Prize-nominated play, Keely and Du, Catch and Release examines the unsettling dichotomy in society regarding abortion and women's rights, in an evocative and tense modern-day drama set on a remote island in Northern Ontario.
Jen McNeely, founder of Shedoesthecity, will moderate a panel discussion exploring the origins of the seminal play and uncover why Cardona and Colbert were inspired to adapt it into a film, while also addressing current threats imposed by the anti-choice movement and how it has shifted, and transformed since the play first premiered—nearly thirty years ago.
What has transpired since that time? How has the narrative shifted over the years? When it comes to women's rights, in Canada, where should our efforts be focused, and which direction does the conversation need to move in? These are urgent issues that are top of mind as we continue to watch women's rights erode, both in America and right here at home.
Register now to reserve your spot for the event on Monday July 13. Once registered, you will receive a confirmation email with the meeting link. Please do not share this link as this is a private event.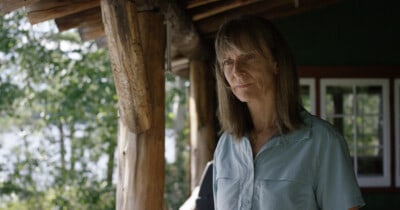 Keely (Laurence LeBeouf), a young pregnant woman, wakes to find herself captured, in a log cabin, on a rocky island surrounded by unrecognizable waters and towering trees in all directions. Frightened and desperate, she clashes violently with Du (Nancy Palk), the seemingly impenetrable religious fundamentalist who is both her guard and caregiver. Keely quickly discovers that she is nothing more than a pawn in a sinister anti-abortion game begin played out from her wilderness prison. She must rely on her wits if she hopes to outplay her captors and win back her freedom.
This event will also be raising funds for Sistering, a multi-service agency for at-risk socially isolated women in Toronto, and guests are encouraged to make a PWYC donation.
Catch & Release will be available on itunes Canada on July 14th.