I was twelve years old when I decided I would live in New York. I can't really say why. Maybe I was watching too much Must See TV (I was obsessed with Friends), maybe I had watched When Harry Met Sally too many times, maybe I just liked imitating the Noo Yawk accent a bit too much, but whatever it was, New York it would be. It was always New York.
In grade twelve, when most of my peers were traveling to check out campuses at Western or Queen's or U of T, I was studying for the SATs. I wanted to go to NYU, and only NYU. I'm a stubborn Capricorn, but I prefer the word "passionate" thanksverymuch. The SATs were unlike anything I had ever studied for. I asked my grade 12 teacher to help me with the math portion, and she was baffled by some of the questions. She said, "Brianne, this is a different kind of math." A different kind of math?! What does that even mean? I thought I was fucked. My friends were filling out OSAP forms and applying to five, sometimes eight, universities across Ontario and Canada, and my whole future depended on a four-hour test filling out bubbles with a No. 2 pencil.
Thanks to American television, I knew that if a college-bound student receives a small envelope in the mail from her prospective university, then she will surely collapse into a human puddle of tears and dashed dreams, forced to settle for a depressing gap year working at the Gap. On the other hand, if she receives a large envelope, she will surely jump for joy because all her sleepless nights studying for those damn SATs has finally paid off; her life has just changed. A quick aside about me: I don't jump. I rarely get excited (on the outside). But when I received that large envelope from NYU, the Daddy Mac made me jump, jump.
NYU, Chinatown
I moved to New York at nineteen, into a dormitory apartment on Lafayette Street, just south of Canal (a.k.a. Chinatown). A soup kitchen was next door, a very busy fire station was across the street. I shared the apartment with three other girls. Two of the girls smoked a lot of pot. I didn't. I couldn't sleep very well, so I got hooked on Lorezapam instead. My roommate was very dedicated to her Econ studies. She knew exactly what she wanted to do in life. I always assumed I did, but it turned out that what I had only really known was that I wanted to live in New York. Everything else was like driftwood.
Three years in New York came and went. There were drunk nights, study nights, getting lost on the subway, finding new friends, new haircuts, new dorms, lots of Shakespeare (I was a Dramatic Lit major), celeb sightings (the Olsen twins! Kim Cattrall!), hazy afternoons in Union Square, hazy mornings in Brooklyn. Then I graduated from NYU. It was a beautiful, sunny morning in May when my class and I walked through the big arch at Washington Square Park, wearing purple gowns and hats, and I remember thinking that the best was yet to come, even though the idea of what was "best" for me was still such a mystery.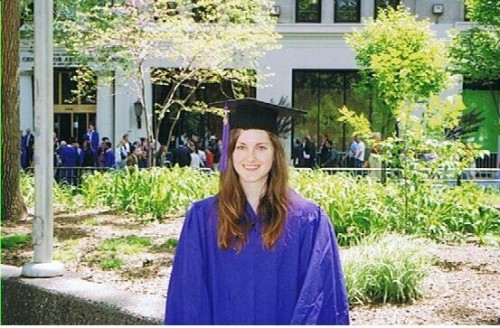 Me on graduation day.
The city as a non-student, which I guess is more accurately described as an "adult," was a tortuous place. All the cinematic romanticism I had loved about New York soon dissipated into cynical realism. I didn't have a Central Perk. I didn't have a lavish apartment in the Village. I had a job (as a waitress), but it wasn't a career. I would eat my main meals at the restaurant where I worked, and survived on cereal and toast and basically cheap carbs galore when I was at home in my apartment (which was in "do or die" Bed-Stuy). I went to acting class, but never went out on auditions. There were too many nights that ended at 6 a.m. and began at 4 p.m. I had a serious boyfriend. It was good for a while, but I chased him a lot. I chased a lot of things back then—security, food, love. I chased after everything except my own dreams, desires, myself.
Acting School, Harlem
There was a brief breakup with New York after my breakup with the Serious Boyfriend. I moved back home with my parents, only to realize that I wasn't finished with New York. I had invested so much time with the city without ever honouring the twelve-year old girl who had dreamed of living there. So, nine months later, I enrolled in acting school and moved into a shoebox-of-a-room in Harlem. My previous years in New York had been those of playing the part of a girl whose own gifts and talents were elusive and even frightening to her. It was time to start anew.
It turned out that NYC Redux was pretty much like the previous version, except this time, I was slowly becoming a writer. I was still chasing after security and food, but this time, the love I was chasing after was my own. I wrote a short script for my writing class about a kid and a time machine. People said, "You're a good writer." They were both incredulous and encouraging. Then I wrote a play. I produced it and directed it at a small local theatre in the West Village. I wrote another and then another, and produced them all. I felt purposeful. Maybe the best had yet to come, but at that moment, it was more than good enough.
My last apartment in New York was at West 4th and Macdougal, across the street from NYU, and up the street from my first waitressing job in the city. I had come full circle in a weird "Brianne Hogan, this is your life!" sort-of-way. I had finally become intimate with my own creativity in the city, but the practicality of living there eluded me. I didn't have a green card, and the stress of jumping from cash job to cash job was finally running its course. I was mad at the city. I was mad that I had to eat peanut butter sandwiches twice a day and wasn't able to write for a living. I was mad that New York didn't understand how much I believed we were good together. But I realized NYC was kind of like the dicky boyfriend who draws out the relationship over months and months until you realize it's actually over and has been over for quite a long time, but you never got the memo. I had to find the balls to say good bye to New York before it completely blackened my heart forever. I was twenty-six years old when I finally left New York.
Back for a Visit, Queens
I went back for a short visit in 2011. I stayed with a friend in Queens. I visited old friends, walked around old haunts, all the while keeping a safe distance. New York was my ex-boyfriend, after all. Everything smells and looks great, but you know if you let your guard down for only a moment, you're a total goner. Besides, I had warmed up to Toronto. I finally liked Toronto. Toronto was the new man in my life, and I wanted to give him a shot.
I visited NYC this past weekend. I stayed at a boutique hotel in midtown like a proper tourist. Like a proper adult. I went to SoHo and bought an awesome pair of Frye boots because I can. I'm not saying I was flaunting myself to the city, declaring that I was different now (I have more money! I have a real job! I'm gluten-free!), but, let's face it: I kinda was. It was liberating to stand in the city on my own two feet without its bracing wind knocking me down. Admittedly, I missed it. A lot. NYC is a part of my DNA. I knew it back when I was twelve. And I kinda think that even if I bombed that dreaded SAT test and didn't receive the big envelope, I would have found a way to move there anyway. Some things in life are just meant to be.
I met with a couple of friends for brunch on Saturday and they asked if I ever would consider moving back to the city. I said that I would because, for me, New York is never off the table. It's always been New York.