When was the last time you were in Québec City? I went on a class trip in Grade 6, and then, because of my fondness for it, my mom took me back for my 13th birthday. But that was in 1992, so what felt like not too long ago was actually 25 years ago. (LIFE, HOW?)
While the old cobblestone streets and the Château Frontenac were familiar to me, my quick nip to Québec City felt like I was discovering the city for the first time, and was it ever a pleasure.
The first thing I want to share is that if you live in downtown Toronto and take a flight from Porter, then all the headache of travel disappears. In less than 90 minutes, you'll land at the very small Québec City airport, and the drive to downtown is a breeze (15 minutes, no traffic, and I hear that's normal and not just a fluke). It was the easiest city-to-city commute I have ever experienced. And no customs! Because C-A-N-A-D-A!
What's even cooler is that walking the streets in Vieux-Québec, or even the more modern strips, feels so foreign from Toronto that it's as if you've been transported to a completely unique culture (which it kind of is even though we share a border). From the French language to the architecture, the outdoor cafés to steep streets–it's a different world, which makes it feel as though you are truly engaging in a travel adventure, exploring and discovering.
Whether you desire a romantic getaway (I think it's perfect for that), an easy family trip, or a solo escape (what I did), Québec City will exceed your expectations. There is a TON you can do there in just a few days, and if you plan well, that is all you'll need for the pause or diversion you may be seeking.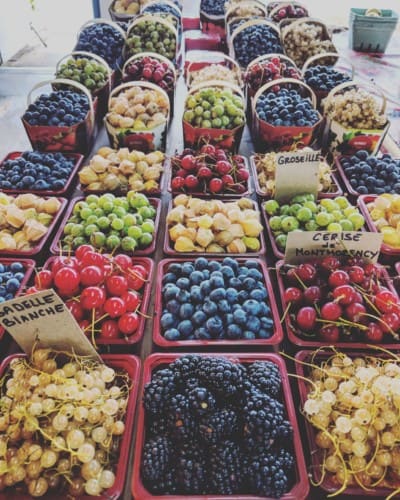 Marché du Vieux-Port de Québec (160 Quai Saint-André, Québec)
I always love to start my visit in a new place by taking a stroll through the market. Like a colourful path to the heartbeat, the combination of people watching, interacting with vendors, and tasting local fare is the quickest gateway to the inner soul of a city. Visiting in late summer, I had the luxury of devouring every kind of local berry, and I enjoyed taking photos of perfectly ripe tomatoes. Grab lunch, or simply take a slow meander to test out the various cheeses, sausages and fresh produce on display.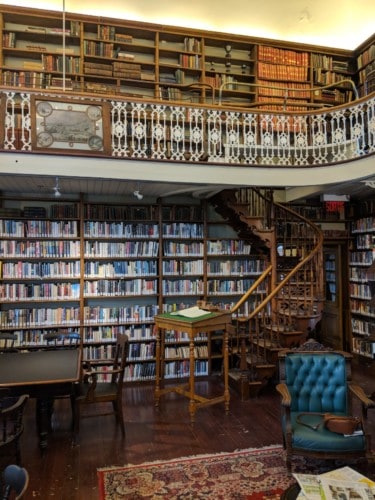 Morrin Centre (44 Chaussée des Écossais, Québec)
This is Québec City's largest English library that is tucked away in an old prison. After operating from 1812 to 1867, it evolved into a cultural centre. Beyond a fascinating history, it's an elegant space with winding a staircase, Persian rugs, gorgeous high ceilings, and the coziest kids corner. Definitely worth a trip for quiet reflection.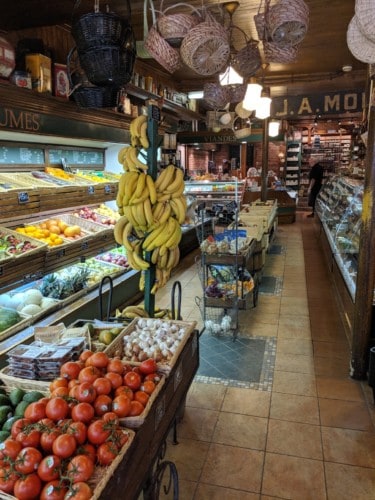 Rue Saint-Jean (1310-1390 Rue Marie Rollet, Québec City)
With vintage boutiques, record shops, independent bakeries, and Épicerie J.A. Moisan—North America's oldest grocery store, Rue Saint-Jean, is a wonderful strip for a couple hours of exploring and eating. A skip away from the old town and with fewer tourists milling about. (AND IT'S BEAUTIFUL!)
There will be other tourists on Grande Allée, but for good reason. From noon until last call, the bars, restaurants and microbreweries spill out onto the street. While areas in Toronto like King and John may attempt European-style outdoor patios, they lack the charm and joie de vivre feeling that is found in these Québec City blocks, which provide attractive historic architecture to contemplate.
Le Buffet de L'Antiquaire (95 Rue Saint-Paul)
If you're seeking that traditional rich Québécois food, or simply want to relax with a glass of wine or a café allongé in a hotspot with lots to look at, Le Buffet de L'Antiquaire, tucked away on St. Paul's Street, is a divine choice. With over forty years in the business, the service and menu here are classic Québec. Tortiere, Tarte au Sucre, the most satisfying colourful brunch plates that will urge you to wander to the St. Lawrence for an afternoon stroll, or back to bed for an indulgent mid-day nap. Or simply meander slowly along Saint-Paul to gaze at the gallery windows.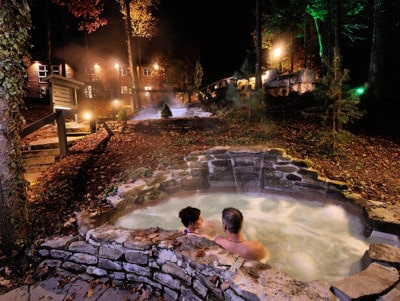 Sibéria Station Spa (339 Rue de Genève, Québec)
This wooded oasis is just a short drive from downtown Québec City, and it is SO WORTH IT. Nestled in a forest with a river running through it, Sibéria Station Spa offers the Nordic Spa experience. With hot and cold water baths, along with a sauna and steam room, this spa welcomes you to relax and rejuvenate. On a summer's day, you can choose to lie by the river and take a dip through the dock (a special hole you can swim through) to really connect with nature, or stick to the inviting pools artfully scattered throughout the property. Hammocks hang on the river bed. You can also duck inside the yurt to get warm by the fire. A two-hour trip will have you feeling like you took a week's vacay, and it should be noted that the Sibérian Café is, in its own right, a destination. The design of this place is worthy of a four-page feature in Azure.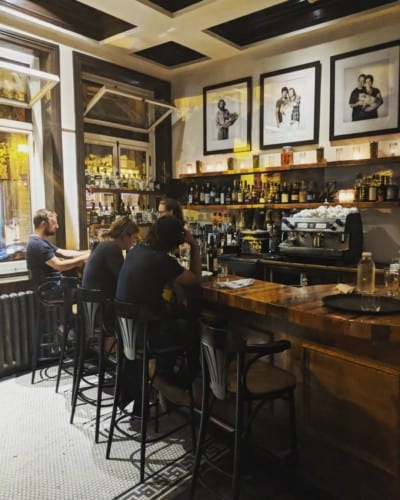 Le Clocher Penché (203 Rue Saint-Joseph Est, Québec)
For a grittier side of town that's overflowing with authentic flavour, hit the Saint-Roch district and make a reservation at Le Clocher Penché. With a devotion to working closely with local farms, this understated gem will give you the very best taste of Québec right now; traditional cuisine but with a modern flair. I had the homemade cheese, homemade blood sausage, and plate of wild mushrooms, locally foraged by Chef Mathieu Brisson.
Fromagerie des Grondines et ses amis (199 Rue Saint-Joseph Est, Québec)
Who likes cheese? This gorgeous cheese boutique/café is worth a pop in. La Sauvagine, Baluchon, Fontina fumé, Vachement Bleu: savour the wide variety of cheeses from the various lake regions and all over Québec. If you're familiar with Le Gourmand in Toronto, Fromagerie des Grondines has a similar feel, but with a focus on fromage.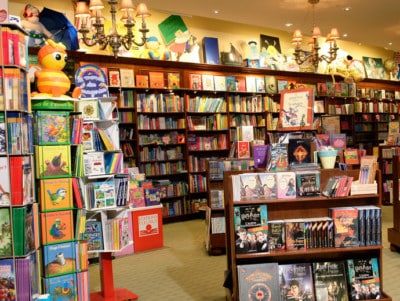 Benjo (550 Charest Boulevard E, Québec)
Like a trip to Willy Wonka's, walking into Benjo is a magical experience that every kid, and grown-up with big imagination, will love. And the fun starts before you even enter! Children can choose to go through the VIP entrance, a door their size, and inside, little ones will delight in the in-store train that choo-choos around a simple circle track. Céline Dion shops for her kids here; need we say more?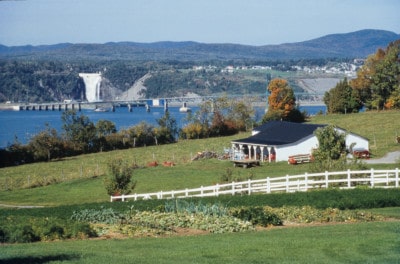 This isn't a road trip, but it will feel like one. One of the best things about Québec City is its close proximity to farmlands, without any of the hassle or extreme traffic that you have to deal with in Toronto. Rent a car, and take a spin to Île d'Orléans. It's twenty minutes from downtown and you'll be blown away by how tranquil and picturesque it is. With views of the Saint Lawrence, and traditional 200-year old Québec farmhouses, it's a photographer's dream. Those who love driving will also take pleasure in the curvy route that glides up and down small hills, with something lovely to look at on every turn. Most of the produce found on the colourful tables of Marché du Vieux-Port de Québec are grown on the age-old family-run farms in this district. Definitely carve out an afternoon to enjoy a scenic exploration.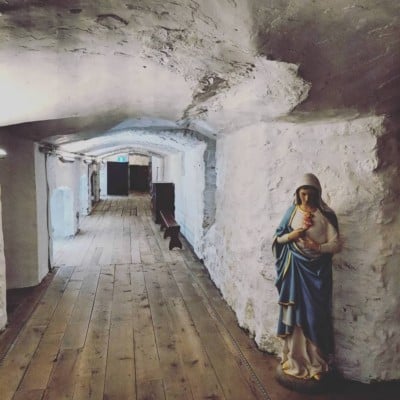 Le Monastère des Augustines (77 Rue des Remparts, Québec)
If you are looking for a really unique experience tucked quietly behind the noise and bustle of Côte de la Fabrique, head to Le Monastère des Augustines. For centuries (it was first established in 1757), this historic building was home to the Augustine nuns, who first arrived from Dieppe, France, in 1639. Recently—and with a huge investment—it was transformed into a wellness centre. You could book a massage or relaxation treatment, but you could also just pop your head in to visit the fascinating museum, which chronicles the story of the Augustine nuns in Québec, specifically their profound contributions to nursing and healthcare. The Monastère is also a beautiful hotel, where one can choose to either stay in an authentic room (an original nun's cell), or one that is modern. Both offer a very different kind of respite, steeped in history. While the centre is secular, welcoming all—with a special mission statement to care for the caregivers—there are still ten nuns that share the property. If you visit at around 5 p.m., you might just catch them singing in the chapel. A wonderful place to pause and think; well worth the visit, for many reasons.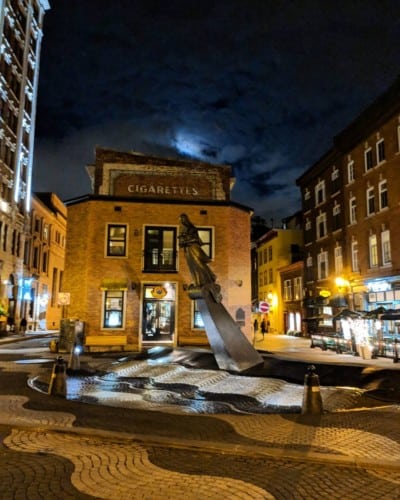 There's something quite romantic about strolling the streets of Old Québec at nighttime. The Château Frontenac is lit up, and Quartier Petit Champlain is less hectic with Instagram crowds, but still brimming with life. As you wander up and down the steep streets and cobblestone car-free roads, there are dozens of cafés, sweet shops and bars to nip into. If the weather allows, grab a seat outside. We have nothing like it in Toronto, which makes it an incredibly special place to visit.