Crazy D's Soda Labs is a new Toronto-based prebiotic drink company offering super delicious sodas that are organic, vegan and keto. This "soda without the guilt" contains no added sugar, caffeine, preservatives, colours or flavours. Think of Crazy D's as a sister beverage to kombucha, only with MORE health benefits, including a prebiotic ingredient that helps with nutrient absorption, improves digestion, increases immune function, lowers cholesterol levels, decreases inflammation, results in a better hormonal balance and lowers the risk of obesity and weight gain. Handcrafted in Toronto, Crazy D's is now available across Canada online and in over a hundred retailers.
Not only does Crazy D's have a commitment to giving the gift of good health, but they are also focused on a brighter and better future for children through their support of children's charities, such as Lonny's Smile, Camp Winston and The Robbie. An integral force behind this honourable company is Tamara Doerksen, who takes care of Crazy D's Business Development and drives their Corporate Social Responsibility Strategy.
We caught up with her this week.
SDTC: How were you introduced to this company, and what hooked you?
I was introduced to our Crazy D's concept on July 27, 2016. My business partner Darren Portelli and I had been working together in the film industry, and he had mentioned a few times that he was creating a soda. I didn't think much of it, because he's a serial innovator. Then one day he said, "How about we make sodas instead of movies? Come over and try some samples." As soon as I did, I was hooked. And because Darren only commits when he can see a clear line to success, I jumped in with both feet and haven't looked back.
What was your background before this?
I have an eclectic background. After a short stint in sports marketing, I went on to have a career in the professional services industry working for KPMG where I held a senior leadership position in the technology area. KPMG's Community Leader Strategy was an inspiration for launching my children's charity, Lonny's Smile Foundation, which honours the memory of my little brother and sends children with congenital heart disease to summer camp.
Murray Foster from Great Big Sea and Moxy Früvous hosted a couple of our fundraising concerts for Lonny's Smile. He was working on his first feature film and asked me to be an Executive Producer and raise the funds needed. Darren was the movie's producer. After the film wrapped, he asked me to join his production company Spiral Entertainment. Then he created a soda, and the rest is history!
Can you share with us a little about what happens in the lab? We picture chemistry experiments and lots of test tubes.
It's definitely a mad lab scientist kind of place! A significant amount of R&D goes into making sodas that taste good and are good for you. Crazy D's is a functional beverage, which means the ingredients we use—including the prebiotic root veggies—provide multiple health benefits. It has no added sugar and is all natural, organic, vegan, gluten-free and has no artificial flavours, colours, preservatives or caffeine. To achieve all of that in a beverage takes a lot of test tubes, experimentation, and occasionally an exploding bottle! It also takes a mad scientist, and that's where Darren comes in.
What's the most fascinating discovery you've made since beginning to work for Crazy D's?
I have been astounded by the transformation of our prebiotic sodas on Darren's health. He's had mental health issues all of his life, and when I met him he was on a substantial amount of medication. He had developed a very unique way of eating (dairy-free bulletproof coffee, anyone?) and had a very healthy lifestyle, but as he consumed the prebiotic sodas, he was able to slowly taper himself off of his medications. Now he's medication-free and healthier than he's ever been.
The other revelation is that we spend a lot of time focusing on our physical health—working out and watching our diet—but we don't give our brain health the same attention. And ultimately, that's the lynch pin to our overall health and longevity.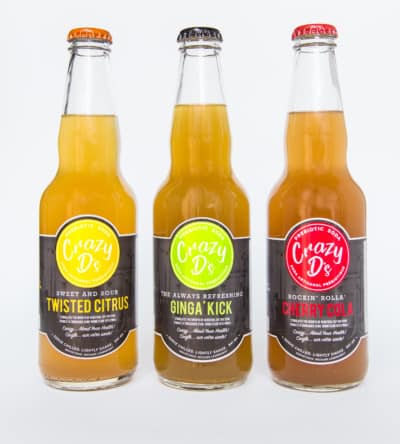 You are responsible for the Corporate Social Responsibility Strategy. What does that mean?
It's about building partnerships with non-profit organizations that are aligned with our mission. We believe that businesses can and should have a positive impact on the communities they serve. One of my favourite quotes is from Winston Churchill: "We make a living by what we get, but we make a life by what we give."
As the sister of a child with a congenital heart defect, and through my strong relationships and collaborations with medical professionals, patients and their parents, I've seen the importance of nutrition, mental health and physical activity. Demonstrating commitment to the health and well-being of youth by working with kids-related charities was very important to me personally and to Crazy D's. The local charities we support are aligned with the health benefits of our sodas and our vision for a better future for children. Lonny's Smile provides kids with congenital heart disease with the life-changing opportunity to go to summer camp. Camp Winston provides this same opportunity for kids with complex neurological disorders. The Robbie, which is the world's largest annual charitable youth soccer tournament, is in support of Cystic Fibrosis Canada.
Why do you believe in this company?
I believe in Crazy D's because I've seen first-hand the difference its made in Darren's life and in the lives of our customers. When you hear people at markets, product demos or online talking about how the sodas helped them kick their sugary soda habit or literally changed their life, that's extremely gratifying.
Getting a company off the ground and growing it can be a pretty tough slog some days, especially when you're breaking new ground, introducing a new product category, and educating customers on something like prebiotics. But when you believe in the product and the people you're making it for, it's so worthwhile.
Crazy D's started in farmer's markets, and now you're retailing in over a hundred locations! Why do you think the growth has been so phenomenal?
It's two-fold. People have tried it, liked it, experienced the health benefits, and as a result the demand is growing exponentially. It's also because Darren is a warrior going out to do product demos all across Ontario. When introducing a new product category into the marketplace, you need to educate the public on it, and it's challenging to do that when it's sitting on a shelf surrounded by other beverages. There is only so much information you can include on a product label. You need to get out there and talk to people—explain what prebiotics are (the water and fertilizer to probiotics, which are the seed!), talk about the health benefits, and let them try it for themselves.
When should we drink Crazy D's, and what flavours are jumping off the shelves this summer?
Every day! In addition to stimulating the growth of beneficial gut bacteria, higher intake of prebiotics are linked to a ton of benefits, including lower risk for cardiovascular disease, healthier cholesterol levels, lower inflammation higher immune function and more. Consuming them daily can provide significant health benefits.
In terms of flavours, it depends where you live! In general "Ginga' Kick" (ginger, lemon, lime, vanilla, cinnamon and turmeric) is a fan favourite, but Ottawa loves "Rockin' Rolla Cherry Cola" (tart and sweet cherries, cinnamon, coriander, nutmeg, lemon, lime, gum acacia and essential oils.), and London's crazy about "Twisted Citrus" (lemon, lime, baobab and camu camu).
Are you noticing a trend in non-alcoholic offerings at the moment?
Yes! Baby Boomers are now seeking out ways to increase their vitality and are more inclined to seek beverages with health benefits. On the other end of the spectrum, millennials are more aware of health and wellness than previous generations. They want choices and transparency in their products. This trend will only continue to grow with heightened awareness of ingredients that are detrimental to our health. Consumers are turning to products using natural ingredients they can trust.
The global craft soda market size is also on the rise as consumers are shifting from sugar-laden drinks to low-sugar beverages, as well as choosing craft soda as a substitute for alcoholic beverages. Alcohol sales in the US fell by 80 million litres last year. Crazy D's sodas uniquely address all of these market trends and more, and in a way that makes you feel great!
As someone in charge of business development, what's a lesson you learned along the way that helps steer your work?
First, it's all about relationships—with our customers, the organizations we partner with, and any others we collaborate with. To be successful and sustainable, you need to develop mutually beneficial, respectful relationships. Of course, we're here to do business, but it's not all about what you can gain from a relationship; it's about what you can contribute.
A second lesson I'll share comes from a small football statue on my desk that says, "If you don't pick up the ball and run with it, someone else will!" To gain first-mover advantage in the market with a new product category, you have to hustle!