When Fat Girl Food Squad invites you somewhere, anywhere—you go. Not only was the Fall menu preview at The Whippoorwill Restaurant and Tavern a chance to try some amazing, season-appropriate food but it was also a time to catch up with FGFS ladies, who are experiencing one hell of a year.
Their mission is honest. Their taste level and food event selection is on point (start following foodie reporting in Toronto and you will see them everywhere). Their blog has totally taken off, and they've only been going at it seriously since April 27th, 2013. What better scenario to learn more about Fat Girl Girl Food Squad than over some crazy beautiful samplers of Whippoorwill's latest offerings by Tyler Cunningham?
An off-menu, brown butter cocktail entitled "Blogger Love" kicked off the night. Questions started flying. The accompanying food bloggers' cameras were dancing around the table to take in the plated platters of beet salad with gorgeous Stilton and walnut pesto, rosemary-cured Coho salmon with puffed quinoa, cucumber and mustard oil… and don't you dare forget the beef carpaccio with shaved mushroom, chives and tahini. Upscale tahini! And while the food was centre stage for the night, it was clear that the "Head Bitch" and "Lead Photographer, Editor & Social Media Whip" of Fat Girl Food Squad are the ones hosting it for a reason. They brought in a diverse crowd, made easygoing introductions, and their criticism (or rave reviews, in this case) come from a knowledgeable place. It was a perfectly lovely evening.
So, who are these ladies?
The OGs running the show are Ama Scriver and Yuli Scheidt. One fateful day, they registered a domain and committed themselves to posting five times a week. Nowadays, they are posting all over the place—all day, erry day—to a following of thousands.
What do they do?
A LOT. Fat Girl Food Squad may have been started in Toronto by the pair above, but it has grown exponentially. Now there are chapters from coast to coast in both Canada and the United States. FGFS covers food events, does public speaking engagements, helps to organize food events (hello, Whippoorwill!), upkeeps hilarious and drool-inducing social media pages and posts their own unique content (think pieces, photo shoots—the works) on their blog.
What is the Fat Girl Food Squad philosophy?
It isn't about having a specific body type; it is about embracing one's own body type and embracing your inner fat girl. This is a collective that celebrates the food scene in your city, yourself, themselves and meanwhile, it's damn good at putting a smile on your face.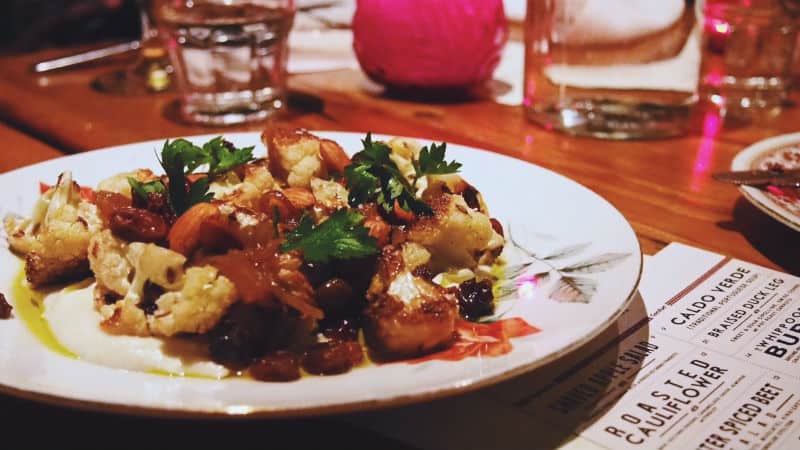 Roasted cauliflower with Sultana raisins. 
We move on to larger plates and mains, starting off with roasted cauliflower with Sultana raisins, caramelized onions, almonds and parsley. Carnivores, you will never know the goodness you are missing. Omnivores and vegetarians, step in to my office. This is soft but crispy dish that hits almost all taste areas of the tongue. Next up was gnocchi with beef cheek and brown butter powder, which was crispy on the outside, but deliciously doughy inside. We also tried the perfectly braised duck leg with sweet and sour cipolline onions, swiss chard and earthy carrots.  Korean-style short ribs decorated with a pile of king mushrooms, green onions and sesame seeds were a unexpected wonder. Ontario perch had that great crispy skin, whilst remaining delightfully juicy and flaky. This came with roasted squash, a pine nut crumble and cerignola olive. Those plump things will turn any olive-hater around.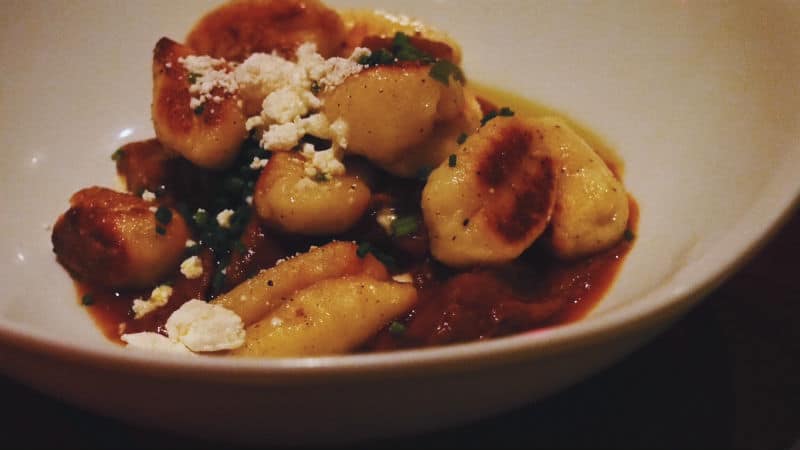 Gnocchi with beef cheek and brown butter.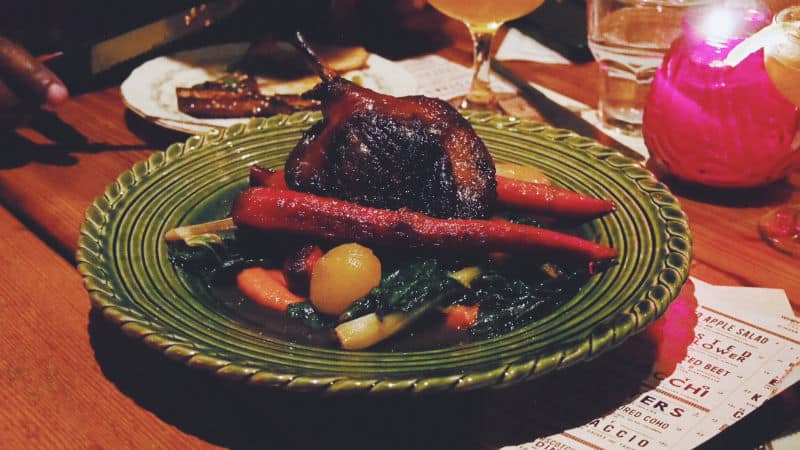 Braised duck leg. 
Why stop there? We cap the night off with dessert. Apple crumble with tamarind ripple ice cream, butterscotch pudding served a la mason jar and "ice box cake" which is chocolaty goodness topped with hazelnuts, preserved blackberries, candied fennel seeds and graham cracker. At this point, surprisingly, I'm not keeling over. Yes, this is even after sampling the cocktails entitled Silk Road, Skippy Welcher, Diablo Verde and Buffalo Bill. Each is dangerous in its own special and tasty way. Whew! Are you full yet, just from reading this? Rest assured that while the food is definitely what the doctor ordered on a chilly day, it is hearty not heavy and the portion sizes are perfect.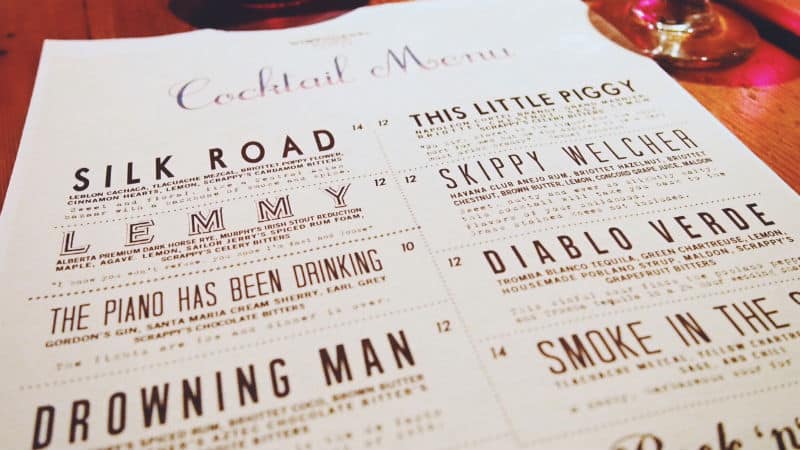 Big ups to Fat Girl Food Squad and Whipoorwill for putting this together and appealing to our inner Fat Girls—men and women alike. We will be back.