Usually around this time every year I'm running around Queen Street West trying to pick out the perfect gifts for all the wonderful people in my life. Because I express everything through food (sadness, happiness, thoughtfulness, selfishness, generosity, greed… you know, like a full, normal range of emotions), I often buy gifts that are related to food. Popular gifts from me in past years have included pickles, fancy olive oil, and servingware…BUT NOT THIS YEAR.
This year, I'm broke for Christmas. I have $0. In fact, I actually have NEGATIVE dollars, which is a depressing reality I'm sure at least some of you can relate to. I went back to school and haven't had the same time I used to have to work. So I'm still giving the gift of food this year, but this time it will be from my own kitchen.
I've been really into using my blender lately. This is partly due to my aforementioned broke-ness. I haven't had the cash to pay for the former luxuries I was used to splurging on like juice, nut milk, and prepared sauces. So, I started making more of my own. I gotta say, I love it. You'll love it too, once you see how freakin' easy it is. Plus, your friends will think you're awesome for gifting them with homemade food.
Below are my recipes for cashew milk and the late Marcella Hazan's tomato sauce. They need a good, sturdy blender like Kenmore Pro Blender by Sears Canada. I never used to think a tool like this would make a difference, but this blended my tomato sauce fine enough that I didn't have to strain it (MAJOR bonus — takes way less time) and the cashew milk fine enough that I didn't have to strain it for long. My handheld blender wand and food processor did not stand a chance.
Each can be frozen in mason jars until the time you wish to use/give them and can be stored in the fridge for a week. Give one or both as gifts or party favours this holiday season.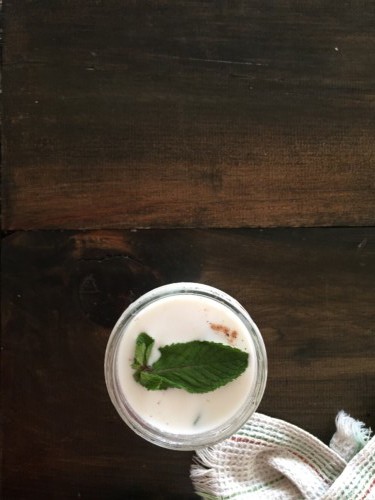 Cashew Milk 
Makes 3 cups of milk
Ingredients
1 cup cashews, soaked in water for 3 hours
3 cups water for blending the cashews
Strain the cashews in a sieve and add to Kenmore Pro Blender with the water. Blend on low initially and then turn to high slowly. It should come together relatively fast, about 10 seconds. Strain the milk through a sieve into a bowl. Freeze, or refrigerate for up to a week.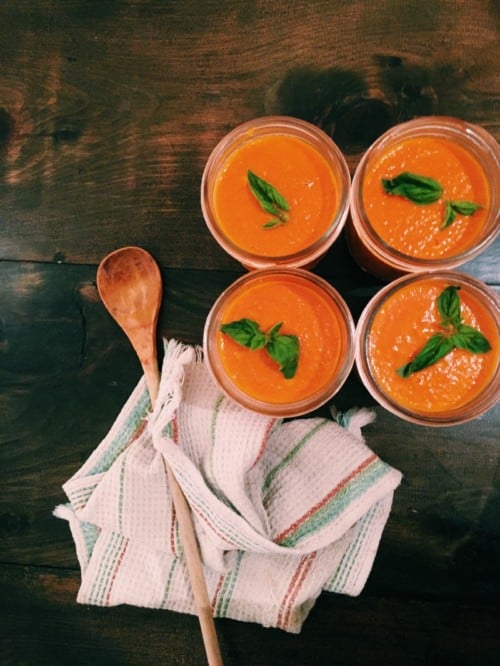 The Sauce of Gods
Ingredients
6 cups canned tomatoes
3 medium onions, cut in half
1 cup of butter
Combine all ingredients in large pot and bring to a simmer for 45 minutes on low-medium heat. Stir and break up tomatoes with the side of a wooden spoon occasionally. Taste and adjust for salt.
Remove from heat and pour the contents of the pot into the Kenmore Pro Blender. Whiz on medium, gradually increasing speed to high until combined. Transfer into jars for storage or onto pasta to enjoy 🙂
CONTEST: Enter To Win a KenmorePro Blender!
Take inspiration from Tara and get a KenmorePro Blender to whip up homemade gifts for your entire family, or give this good looking kitchen essential to the chef (or aspiring chef) in your life! You've got three ways you can enter to win:
Facebook:
We're sharing this post on Facebook. Find it on our page, and LIKE and COMMENT for a chance to win!
Instagram:
We will be posting Tara's recipes on our Instagram. LIKE and COMMENT for a chance to win!
Twitter:
Tweet: "Dear @Shedoesthecity, I'm all about soup season! Please gift me a #KenmorePro Blender from @SearsCA, I want to make winter delicious."
The best gifts are made with love. Get blending!
Winner will be selected and notified on December 12th, 2016 by 3pm EST. To learn more about the KenmorePro Blender, go here.