To kick off TIFF this year, we were invited to attend the Bask-it-Style Gift Lounge at the Fairmont Royal York. Full of amazing products that are sure to boost our daily life rituals, experts in wine, dermatology, dentistry, the power of the SodaStream, and even astrology were there to help guests navigate the products and assure a relaxing and inclusive gift lounge experience. What a beautifully relaxing start to the beginning of TIFF!
We partnered with the folks at Glo Communications to offer one lucky SheDoesTheCity reader the VIP treatment. There is still time left to enter our giveaway for the chance to win a Bask-It-Style gift bag brimming with luxurious goodies, including high-quality beauty products, classic accessories, delicious beverages, and more.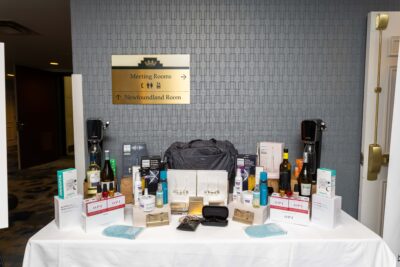 "Bask-it-style is an essential part of the Toronto International Film Festival." says Jessica Glover, Principal, GLO Communications. "We are excited to showcase our sponsors to media professionals and visiting international and local talent; we have lots of great brands everyone will be excited to try."
Many celebrities have been gifted through Bask-It-Style hotel partners in past years, including Rachel McAdams, Jennifer Garner, Anna Kendrick, Elle Fanning, Blake Lively, Sadie Sink, and Helen Mirren. This year, celebrities will receive an exciting mix of goodies in bags designed by Bellroy, known for their high-quality leather bags and sleek design.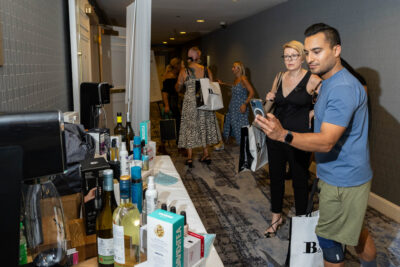 You could get the star treatment too—the lucky winner of our Bask-It-Style Giveaway will win the following goodies, valued at over $1900!
DAVIDsTea Valerian Nights tea pack, & a Double walled glass perfect mug
Bellroy Lite Duffel and Lite Pouch Duo
Philips Sonicare 9900 Prestige and Philip Sonicare Cordless power flosser 3000
Victoria Beckham Eyewear Sunglass models
OPI Big Zodiac Energy collection
SodaStream Art Sparkling Water Maker & SodaStream On-The-Go Bottle
Marc Anthony Hair Care products
D.O. Rueda wine collection
Stila Cosmetics Eye, Lip, & Contour products
St Tropez Tan Luxe Body Serum
Enter to win the Bask-Is-Style Giveaway:
Head over to Instagram and like this post, follow @shedoesthecity, and tag two friends who deserve to be pampered. Only available to Toronto residents.