Mother Nature teased us with a taste of spring, but before we could put away our salt-covered boots, she decided to give us one last test. The #WeAreWinter chant of enthusiasm has been replaced with utter desperation for a glimpse of sunshine. Until that happens, we drink.
Warm climates result in ripe fruit. This, in turn, results in wine with higher alcohol levels than those sourced from cooler growing conditions; and both are things that will help you get through these last remaining weeks of dark and cold Toronto winter.
Forget the expensive plane ticket, here are two reds and a white that will transport you from the blizzard outside to a sun-soaked vineyard.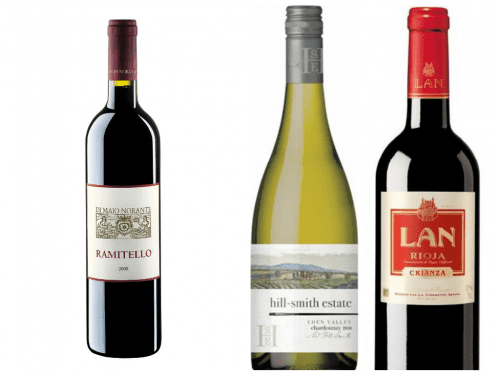 Di Majo Norante Ramitello 2010
(Molise, Italy / Vintages +973214 / $16.95)
The dominant feature is pretty, fresh sour red fruit flavours: cranberries and sour cherries made interesting with a bit of Italian funk. It's just right: medium-bodied with a bit of grippy tannins (same texture found in tea) and some pleasantly integrated acidity all combining to make a very moreish wine that disappears quickly. Overly precious wine and food pairing is for people with too much time and not enough imagination. However, this is definitely a drink that will show best with some food alongside – something braised slowly with love and, ideally, delicious animal fats—though French lentils and root veggies would also do in a pinch. It is the perfect wine to nest and incite some low-key, darkest winter snuggles. (Whether with another person, a pet or Netflix  is up to you.)
Hill Smith Estate Chardonnay 2010
Not your mother's new world chardonnay. Forget heavy, oaky and that alcoholic vodka-burn as you swallow – this is refined, elegant, lean and absolutely delicious. Australians will vehemently argue that the Eden Valley, an elevated subzone within the better-known Barossa, is a "cool climate." But it's Australia, fergodsakes, so let's not quibble about that. The important part is that this is, without doubt, the most interesting bottle of chardonnay you can find in Ontario at the moment for under $20. It is great to sip on its own but will also stand up next to seafood dishes and would be insanely delicious next to a simple roast chicken, especially with some lemon and fresh tarragon. (Steer clear of anything too spicy which will kill its beautiful nuances.) It was bottled under screwcap, so is best poured out into a carafe (or juice pitcher, it's all the same) for at least 10 minutes before serving. Conveniently, that's the minimum amount of time you'll want to leave it out of the refrigerator to warm up a bit as fridge-cold chardonnay tastes a bit harsh. Let it warm up 10 degrees, and hard edges start to seem a bit more smooth. (Which sounds like wine gobbledygook but just try it and see for yourself.)
Lan Crianza 2009
(Rioja, Spain / Vintages +166538 / $15.95)
Just think of sitting on a sunlight-dapped terrace overlooking Rioja's rolling hills. And also Spanish men. Aren't you happier already? Like the Ramitello, this is a medium-bodied, berry-fruit-forward red. (Think ripe strawberries and a hint of spice.) The key difference with this region is the lovely smooth texture and lower acidity that make this wine an ideal companion to a fireplace, if you are lucky enough to have such a thing. If not, just open a bottle and shut your eyes and you're pretty much there. No food required, though it would play nice with the usual red wine suspects – roast chicken, grilled or broiled meats and such. (Just avoid tomato-based dishes, as the acid will likely overpower the wine.) This is the perfect companion to bring along under the blankets to dream and scheme about a winter getaway.
Anya Spethmann has been working in the wine industry for over a decade. She loves learning about the intricacies of various wine regions, trying new vintages, and sharing her knowledge and passion on the art of good winemaking through her writing. Follow her on Twitter: @anyaspethmann