After starting her career in entertainment marketing, Kasia Koziara turned to her first passion: wine. She enrolled in Niagara College's Wine Maker program, which brought her to Portugal, where she learned the ins and outs of the vineyard. Upon her return to Canada, she furthered her education through George Brown's Post Grad in Advanced Wine & Beverage Business Management. Kasia Koziara is now Victor Restaurant's Head Food and Beverage Manager. Known for her sense of humour, passion for food and wine, and event-planning know-how, Kasia is considered an authority in the biz.
We asked her about her career this week.
SDTC: What made you pivot to wine after getting your start in the music industry?
KK: I worked in a high-demand and high-stress job (not dissimilar to running a restaurant, come to think of it). To completely unplug, I tried to find a hobby that was separate from what I was doing. I reached a point in my job where I really did not want to do it anymore and decided that going back to school would be the best way to start over.
I attended Niagara College for their Wine Making Program and discovered that (for me) drinking wine was far more fun than making it. I started working in a restaurant called Backhouse with a phenomenal wine list and got more involved in that side of the industry. I then moved back to Toronto to enroll in the George Brown Advanced Wine & Beverage Post Grad and realized that the business side was what I found most fascinating. Fast forward a couple of years and I was hired to run Victor.
What is it about wine making and selection that you find most interesting?
You never really know what's in the bottle until you open it, and you will never know everything about wine. The constant change in consumer preferences, the change in wine making styles and technology, the discovery of new regions, even the way climate change is affecting grape growth, there is constant change which keeps me fascinated.
Walk us through a typical day in your life.
I'm usually up by 6 or 7 a.m. (I have a sunny room and refuse to close my curtains, so I wake up with the sun). I have a very leisurely morning routine–this is the only time of day I have for myself so I take it easy, watch the news, enjoy some coffee and make a full breakfast. I'm in the restaurant by noon most days. Between 12 and 4 p.m. I'm usually putting together budgets for upcoming events, answering emails, attempting to clean my office, and sneaking pastries from the kitchen. I water the million plants I thought would be a good idea in the restaurant, meet with the hotel team about upcoming events, chat idly with Chef and go over sales numbers, and, if I'm lucky, I'll have a wine tasting lined up.
At 4 p.m. the evening team arrives on site and we do a quick briefing of what to expect for the night. I tell a couple lame jokes, and they're kind enough to laugh at with me. After the briefing, I return to the office and continue to tackle the myriad of paperwork that comes from this position. I pop out to check on the restaurant throughout the night, helping to run food, polish glasses and seat people when it's busy.
By 10 o'clock things are winding down in the restaurant and I'm ready to go home. As soon as I call an Uber I remember three things that needed to be done and go back to the office. By 11 I'm out the door and chatting with my Uber driver about the state of affairs of the world—the hospitality pro in me doesn't stop. At my drop-off I realize I haven't eaten in 6 hours, a pang of hunger leads me to Rabba where I chit chat with Joseph, the night clerk, pick up some sushi and head home. This is my time to sit down, eat and have a glass of wine. I cuddle my pillow while watching The Good Wife for the hundredth time and fall asleep. I wake up with a start to wash my face and brush my teeth. Asleep again in minutes.
Who or what has had the greatest influence on your career?
Failure. I learned to pivot early on and lean into the curves. I didn't fail "big," but every time I wanted to go left I had to go right first. The detours are annoying, but I'm a character because of them.
Worst advice you've received in relation to your career?
"Do what you love" is the worst advice I've ever received. That's not realistic. Only Peg Bundy gets away with eating bonbons and watching TV all day. I think "do what you respect" is better. The missing piece of all career advice is to choose something and follow through. I jumped careers, from music, to marketing, to wine—that left me in a place where I was starting over and over again at the bottom. You get to your mid-thirties and you're just at the start of your career when you should have been ten steps ahead. Whatever you do, just do it. Work past the bad and get into the core of why you like it.
Best advice?
The best advice is to be kind. That wasn't overt advice, but you could see that the kind people were the happy people. I make mistakes, I get irritable and impatient, but I hope that most of all my team remembers me as hard-working and kind.
If you could rewind five years, what would you tell your younger self?
SAVE YOUR MONEY. Don't take that money out of your RSPs and STOP BUYING SHOES. You could also probably use some exercise.
Walk us through the process to develop the wine/cocktail list at Victor.
When I initially took over the wine and cocktail list I was influenced by the places I had worked before. I wanted to bring in wines you couldn't get at the LCBO and that people didn't see in every other restaurant. That did not work. For most of our guests, Victor is a safe haven from travelling, from work, from the day-to-day. Our food menu perfectly reflects that with what has been termed "your grandmother's cooking on steroids." I had to learn to give people what they needed but in a package I wanted to present. Cabernet Sauvignon from California was our best seller. I took it off the menu and spent over a year finding its replacement. I finally stumbled on Pablo Claro, which is an organic biodynamic wine from Spain. A mixture of Cabernet Sauvignon and Graciano, it had the flavour profile our guests wanted, and satisfied my off-the-beaten-path desires.
When it comes to our cocktail list, I leave it to the experts. Our head bartender, Albert Chan, is one of the most underrated in the city. His ability to create a balanced drink is beyond reproach. He and his second in command, Yanara, have turned our cocktail program on its heels.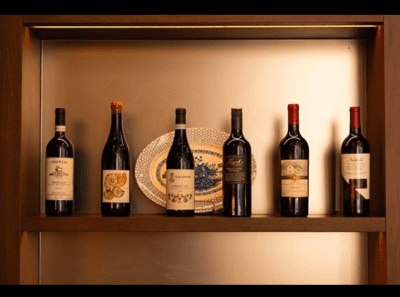 What should we keep in mind when pairing drinks with a meal?
Throw out the rules. The most important thing when pairing is to drink what you like. Yes, some things will bring out flavours in each other, but if you don't like it, don't force it. I know people that drink Amarone with white fish. That's a little crazy, but they're happy, so who cares! The second thing is don't be afraid to try something new. If a bartender is telling you something is good, LISTEN. Same goes for a Somm. Don't drink the same thing over and over again. Leap into a different flavour. Lastly, Champagne with everything.
How do you unwind?
In this industry, you're constantly talking and surrounded by noise. To unwind I love being alone, either at home, or I'll take myself out for a cocktail or dinner on my days off. When I can, I try to visit friends in Niagara (they'll laugh because I haven't been there all summer). Getting out of the city is always a great way to refocus and realize the world doesn't revolve around us.
Victor is located at 30 Mercer Street—just down the street from TIFF Bell Lightbox. Take a look at their website and menu here.