Frustrated and concerned with the volume of single-use plastics, Michelle Donnelly set out to create an eco-friendly beverage company that would also give people something pretty to put on the table. Toronto, meet lark.
Similar to how milk arrived back in the day, lark offers a close-looped delivery service, meaning they'll drop off a case or two right at your doorstep and once you've consumed, they'll pick it up. Every bottle is clean, sterilized and refilled, which helps prevent hundreds of thousands of single use plastics from being dumped in landfill or our waterways.
Stylish innovation that we love to see—we caught up with Donnelly to find out more about her refreshing business model.
What was it that inspired you to start Lark?
Realizing that 4 to 9% of what goes into your recycling bin actually gets recycled. It floored us. Recycling just seems like a lie. Also we drank a lot of Italian sparkling water out of green glass bottles and we found out most coloured glass does not get recycled :0 The endless footage of mountains of garbage shipped to other countries, plastic in the ocean covering beaches and in animals stomachs – it is just so sad. Throw away culture is so CRAZY to us. How do humans make billions of items they use for a few minutes that last for 1000s of years. How is this the #1 option for most packaging? We want to change behaviour and mindset around throw away culture and thought to ourselves… could we create a super clean eco option without compromise to aesthetic and quality? We loved that challenge.
As someone who doesn't drink, I appreciate that Lark gives people a non-alcoholic option that feels special. Was this part of your thinking behind the brand?
It was definitely a consideration. The bottles have the stature of a wine bottle and drinking from them brings a ritual -type feeling that is usually saved for alcoholic beverages. It is super satisfying to honour water in this way and we think, makes something we all do (or should do) everyday more beautiful and enjoyable.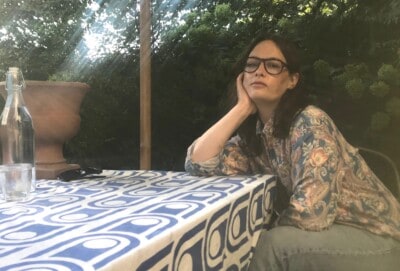 You launched a company during COVID—how did this affect your business plan? What has surprised you?
We were supposed to primarily cater to restaurants and hotels and they all shut down 2 days after our facility was ready. Gulp.
The surprise was, oh I guess we need to market to direct to home now. We didn't even have a website. Ha.
How would you describe the LARK customer? I imagine people who invest in water delivery is a pretty niche market.
Homes were never intended to be our primary market so we were never like "you know what, people really need to have water delivered to their door… lol" That being said we live in a "get everything delivered" economy and picking up heavy spring water at the store is cumbersome and inconvenient. We have a loyal direct to home customer base now that love the ease and the zero waste aspect. Luckily, bottled spring water is not really niche; it's actually a pretty mainstream purchase.
Our customers are so varied. We deliver to Rosedale and Rexdale in the same day. It's pretty cool to see that being eco and having an appreciation for quality transcends different demographics. As awareness grows around lark, more people swap their current spring water for us. BUBBAS is the best seller – we find people are swapping their Italian or French sparkling water for us as it has a way lower carbon footprint (local spring), zero waste packs and the taste profile and mouth feel is the same or better. Also some customers who had "soda streams" have switched to us, as the machines inevitably break or lose consistency after a few months.
How did you go about creating your flavours? Do you have a favourite?
We worked with a mixologist for the first 2 flavours and looked at premium imported waters for the preferred level of carbonation.
The flavour profiles are earthy but familiar; one is citrus based while the other has cola vibes. The colour is important too, it adds so much to the experience. Our faves are INSIDE JOB and BUBBAS but we're working on new collabs for the fall so these may change! We also have a killer toasted oat milk AKA TOATS. We worked with Alexandra Baird of @ripenutrition on TOATS and we're super proud of it – Oat Milk is the most eco-friendly alt milk as the crops use less resources to grow and less water to process than nut milks.
What have you enjoyed the most since embarking on this new journey?
The independence and freedom to be zero waste (no compromise) and to present the brand without layers of decision-makers weighing in. My husband and I worked at ad agencies for years and the group decision-making and sell through process can be paralyzing. More often than not, when you work with multiple teams, the best ideas get cut or super diluted because there are so many opinions and agendas. We have ONE agenda and that is VERY liberating.
Inspired? Thirsty? Head to the lark site for more info.