Vancouverite Ashley Freeborn launched Smash + Tess with her mother in 2016. The idea for Smash + Tess rose out of Ashley's recognition of an unfilled niche in fashion—a void in the loungewear market. But it was the Smash + Tess Sunday Romper that catapulted the brand into the success story that it is today.
In 2020, Smash + Tess achieved 66% year over year growth, surpassing $16.5 million in sales. Spotlighting Smash + Tess customers on their Instagram and constantly being in communication with their community has helped the brand become far more than a fashion label. Some would even say that it's evolved into a sort of sisterhood.
We connected with Ashley to find out what it is about the Smash + Tess romper that women love so much, how her mother has inspired her in business, and how being a mom to two young daughters has helped her become a more strategic entrepreneur.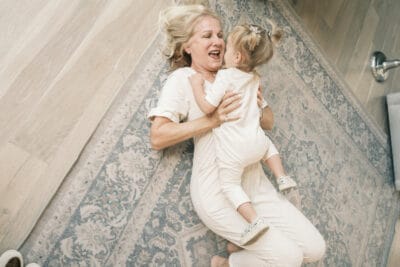 Not everyone could work with their mom. Can you talk about your relationship, and what it's like to work together? How has your mom inspired you?
It's not always easy! But my mom has been my mentor and my inspiration since I was young. My mom really is a pioneer businesswoman. In the 80s and 90s she was in finance, back in a time when you didn't dare talk about your family, you didn't leave a meeting early to try to make it home for dinner on time—at the time, it was considered weak to have a family. In so many ways, I feel so lucky that we have these women who came before us. Now we're in such a better place, in terms of bringing our family with us to work, and letting people in on our personal and family lives. But my mom showed me what it meant to get up every day and do something that you love, that you're passionate about.
To have a business partner and a mom who is CEO, I'm so lucky because she knows what it's like. That responsibility you carry—it's a hard job! My mom really acts as an advisor to me, and to the company. I'm very fortunate. Not only was I raised in that way, but now I get to work with her in the business all the time, and continue to learn from her. She has a ton of grit and tenacity that she's imparted to me. She's instilled that in me—that it's not a perfection game. It's day by day evolving, being open to getting smarter, by having different perspectives at the table. She's also the person I can go and cry to at the end of a hard day.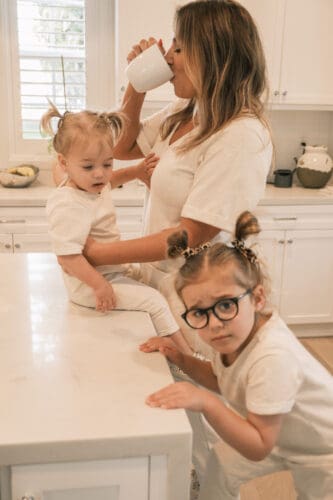 What would you say is the biggest lesson your mom taught you?
As a mom who is very much committed to my career and what I do, I'm modelling what it means to do what you love every day. I was very lucky that my mom showed me that every day, so I always led with confidence. I was always able to imagine success and a life outside of a family. My mom showed me what that meant. It's not without sacrifice! There's always sacrifice. When people ask 'How do you balance it all?' There's no balance. You're always making difficult choices. I grew up with my mom doing the same.
You're a mom to two little girls now—how has becoming a mother helped you grow as an entrepreneur?
If you want to get something done, give it to a working mom. You become the master of juggling a million things and being effective with your time. It's made me a more empathetic person, boss, and professional. You can have a career and you can be a very active parent at Smash + Tess, and I don't think I would have had that lens if I didn't have two kids of my own, and juggled those two.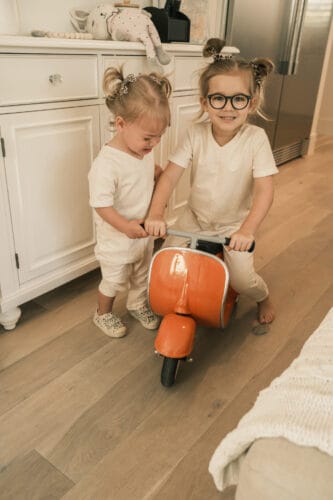 My girls remind me every day about why I do what I do. We're in an industry that has been notorious for eroding our sense of self-worth as women. As I raise two strong women, I realize that I have a role to play in this industry. Part of what we've always done at Smash + Tess is to make people feel like they belong—and that goes from size XXS to women who are XXXL. That is something I take very seriously. What is the legacy I'm leaving for my kids? How can I continue to disrupt an industry that has done a lot of harm to our self esteem as women, and instead create a fashion brand that uplifts us, and brings joy to our lives…that celebrates us just how we are. My daughters help me continuously think about the footprint that we want to leave behind.
Tell us about the revolution of the romper.
Not a lot of people know this, but we didn't start with rompers in our line. In our first spring collection we were doing a lot of comfortable PJs and Loungewear. We knew we wanted to be disruptive. We wanted to create a community and a lifestyle, not just a fashion brand. We launched with all of that as the core to who we were, but it wasn't until our first fall collection that we launched the first Sunday Romper and it took off really fast.
We had a choice to make: do we pivot hard and give the people what they want? Or do we try to stay with our original aesthetic vibe we thought we were going to do? So we made the decision to be in dialogue with our community and create what they want. Our customers vote and we listen—whether it's colour, silhouette, cut, style. We try our hardest to be like what do they want? And then give it to them. In that, what we've seen is a democratized fashion, where our community is voting for what they want to wear and how they want to wear it.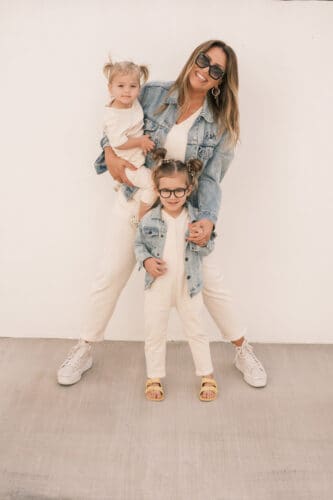 So why do you think women love the Smash + Tess romper so much??
I think women are stretched. We are playing so many roles… I know I am. I'm wearing a million different hats. What I need in my life is something to assist me to live my big life with ease and confidence, and that's what the romper stands for— it's one and done. You have to worry about a million and one other things, you don't have to worry about this. It's a one and done, cute, playful clothing item that has your back in the morning when you're busy. You can sleep in it, you can throw on denim, you can grab a coffee in it; we simplify women's lives and there's a sense of playfulness in the romper that women are drawn to.
How has having your mom in your corner helped you grow your business?
She loves me so much and more than that, she believes in me as a businesswoman. Having her in my corner has let me take bigger risks. She's always said that she'd catch me if I fell. Having that kind of safety net has enabled me to take more risks and go after the things that I love to do. I'm very lucky that way.