Choi Seung-yoon gives an absolutely mesmerizing performance in Anthony Shim's critically-acclaimed Riceboy Sleeps. In South Korea, Seung-yoon is a well-known dancer and choreographer and has acted in web series, including the Emmy-nominated Deux Yeoza, Dxzy, but we were shocked to discover it was her first starring role in a feature film. "This was my very first audition and frankly, I didn't expect I'll get this job when I sent in my self-tape," Seung-yoon tells us, from her home in Seoul.
In Riceboy Sleeps, Seung-yoon plays So-Young, a single mother who leaves Korea after her husband dies, in hopes of finding a better life in Canada with her young son. From working long hours at a factory job to dealing with the racism at her son's school, her life as a new immigrant is a series of struggles. But despite her many hardships, So-Young has an inner strength that is unwavering, and it is this quality in the character that Seung-yoon portrays so remarkably well.
The film had two casting agents (one based in Canada and one in South Korea), and it was the South Korean casting agent Su Kim who recommended Seung-yoon to Shim. As soon as he saw the taping, Shim knew he'd found his star. For Seung-yoon, the opportunity to work in British Columbia was a thrilling experience. "I was impressed by its massive space. It was a pretty astonishing sensation to a person who comes from a super-dense city!"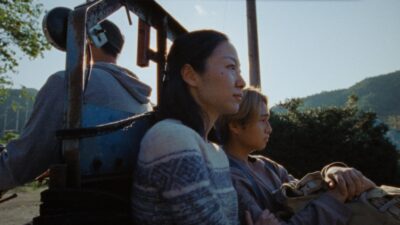 While not autobiographical, Riceboy Sleeps is inspired by Shim's own difficult childhood. "My family immigrated to Canada from South Korea in 1994 when I was eight years old and I grew up on Vancouver Island, where I was often the only Asian child in school," Shim shares. "I was looked at and treated like an alien, this foreign being that intrigued and even frightened people at times due to my "foreign-ness". Over time, I became embarrassed in public of my Korean food, language, culture and even family. I tried to hide all things Korean about me, thinking that if I concealed them well enough, people would stop seeing me as different."
"So-young is a survivor from the beginning of her life. Many tragic things happened in her life, but she always managed them at her best," says Seung-yoon, in awe of her character's grit and perseverance.
Shot mostly in and around Vancouver, with some scenes shot in South Korea, the film has been a festival hit and is currently nominated for 6 Canadian Screen Awards (a very big deal), including Best Picture, Achievement in Direction, Original Screenplay and Seung-yoon is up for Best Performance in a Leading Role.
"I believe what makes So-Young special is not how her life is tragic, but rather how she responds to it," says Seung-yoon. "She never complains about her life or feels self-pity, and this is what makes her such a distinctive human being. In this way, she inspires me a lot and I hope that this inspires the audience too."
Both So-Young's story and Seung-yoon's performance leave a lasting impression. If you are a lover of cinema, Riceboy Sleeps is a must-see.
The Canadian Screen Awards will air on Sunday, April 16 at 8 PM (9 AT, 9:30 NT) on CBC and CBC Gem.