Looming over a bustling intersection in LA's Hollywood neighbourhood is a billboard with an oversized maple leaf and the words Politely Kicking Ass (Sorry.). It's part of a clever new campaign intended to promote production north of the border by MADE|NOUS, an initiative backed by Telefilm and the Canadian Media Fund, that celebrates Canadian creators. The high-impact ad is both cheeky and unmissable.
A few blocks away, against the backdrop of the famous and slightly decaying Hollywood sign, is another massive billboard that reads: Need Direction? Look North, with the names Villeneuve, Polley, Cameron and Shi stamped on four director chairs—reminding everyone (especially Hollywood heavyweights), that talent abounds north of the border.
The MADE|NOUS ads have received a ton of attention for two main reasons: the tone is oh so unCanadian, and the message is undeniably true.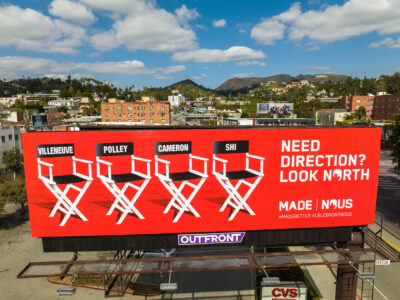 James Cameron's Avatar: The Way of Water, and Sarah Polley's Women Talking are both up for Best Picture at this year's Oscars, and Domee Shi's Turning Red (set in Toronto), is nominated for Best Animated Feature Film. While the directors are Canadian (and much of the crew are too), the productions are not, but the messaging of the campaign is clear: Canadians are kicking ass. This year's Canadian Screen Awards nominees are further proof of that.
The awards show this year will be hosted by Samantha Bee, and provide an opportunity for Canadian audiences to celebrate and support excellent homegrown productions. Of course, seeing the very best of what we produce here is also a great indicator of who we are, and this year's nominations show off our rich diversity of stories in a way we should all be proud of.
Taking the lead in this year's Canadian Screen Awards nominations is The Porter with a whopping 19, including Best Drama Series and nominations in one of the new gender-neutral categories, Best Lead Performer, Drama Series, for Aml Ameen, Ronnie Rowe Jr., and Mouna Traoré. Set in the 1920s, the series is inspired by real events and follows the journeys of an ensemble of characters who hustle, dream, cross borders and pursue their ambitions in the fight for liberation – on and off the railways that crossed North America.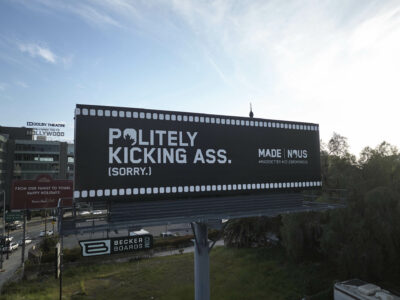 In film, Clement Virgo's Brother tops the nominations with 14, including Achievement in Direction and Performance in a Leading Role for Lamar Johnson. The coming-of-age story is based on David Chariandy's award-winning novel about two brothers growing up in Scarborough in the 1990s.
Other titles to receive multiple nominations include Crimes of the Future, Pretty Hard Cases, Sort Of, and whip-smart web series Revenge of the Black Best Friend, Avocado Toast and Tokens.
"From legendary directors like David Cronenberg to new voices like Bilal Baig, the 2023 Canadian Screen Award nominees reaffirm that our country has an immensely talented industry, and we are lucky to call them Canadian," said Tammy Frick, CEO, Academy of Canadian Cinema & Television.
Amongst the more recognized titles are many gems that deserve a wider audience. A few that we absolutely loved and want to shout about include the doc series The Big Sex Talk, which is the sex education everyone should receive, packed into 6 extremely fascinating and entertaining episodes. We were also huge fans of the Sex with Sue documentary, which pays tribute to the daring, trailblazing Sue Johanson. Other favourites we recommend checking out include Comedy Punks: Kids In The Hall, Ann Shin's riveting doc A.rtificial I.mmortality, the creative and bingeworthy Best in Miniature (which we adored—and a great one for the whole family) with host Aba Amuquandoh. Other noms to discover include the zany and hilarious web series Real Blackity Talk with sisters Aiza and Kamana Ntibarikure, and Nisha Pahuja's hard-hitting To Kill A Tiger, which Mandy Kaling praised as "a triumph".
We could go on and on touting numerous nominees, but encourage you to explore the full list. Whether you're looking to be enraptured by a dramatic series, are in the mood for a thought-provoking doc, or are simply in search of quality programming for your kiddos, this is an excellent place to start.
Without a doubt, the Canadian industry has never looked better. It's an accomplishment that we should own—modesty has never suited showbiz. But while it's fun to brag to the world that we're killing it, it's important to acknowledge that the support starts at home, and that's also where it's needed most. So watch and enjoy.
The Canadian Screen Awards with Samantha Bee (!!!!!) will air on Sunday, April 16 at 8 PM (9 AT, 9:30 NT) on CBC and CBC Gem