Ballin' Y'all Productions' Real Blackity Talk launched on CBC Gem in late March, and it's without a doubt the most entertaining talk show we've ever seen. Once we started watching, we couldn't stop smiling.
Created and hosted by Burundian-Canadian sisters Aiza and Kamana Ntibarikure, the high-energy web series shines a spotlight on the perspectives and experiences of Black women and non-binary Black folk in Canada. With backgrounds that combine songwriting and comedy, Aiza and Kamana use humour, musical theatre, and dance to explore universal issues—through a Black lens.
"We're here to claim our space and we've brought a whole team of other dope Black folk," says Aiza, seconds after the duo introduce themselves as melanin-poppin' sisters. Their fresh head-on approach to issues of representation offers high-impact commentary that is uniquely memorable.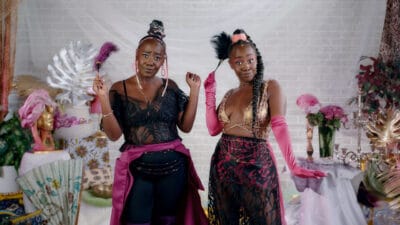 "Real Blackity Talk is our love letter to Black Canadians. We're not being fully represented on screen, so we decided to create a series that we've always longed to see: an unapologetically funny show full of amazing Black people and compelling stories," says Aiza and Kamana Ntibarikure. "Expect to laugh. Expect to learn a lil' something. Expect to feel empowered. Ultimately, Real Blackity Talk is a necessary addition to the Canadian media landscape, not just for the Black community, but for anyone looking for fresh new voices and faces to cover topics that are universal to all of us."
Each episode focuses on a different theme (self-love, social media, Black hair) and features "Blaxperts" who provide valuable insight, diverse perspectives, and bring their own radiant personalities to the show.
A red-carpet premiere was held at Carlton Cinemas and included a star-studded list of local actors and trailblazers, including Oluniké Adeliyi (The Porter, Akila's Escape), MPP Jill Andrew (who is one of the many Blaxperts in the series), Shane Marriott (The Porter) and Thomas Antony Olajide (Learn to Swim)—who was named a 2021 TIFF Rising Star.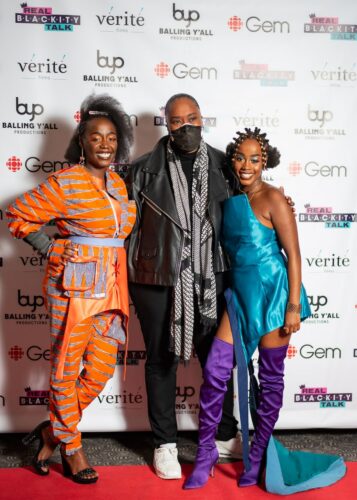 Within a few minutes of watching the first episode, it's indisputable that if anyone deserves to have a talk show, it's Aiza and Kamana—they are natural and electric performers who know how to hold an audience's attention. While the issues tackled are poignant, their outrageous delivery inspires lots of laughter. We can't help but imagine what life was like in their Montreal home when they were little girls; we picture non-stop over-the-top heartwarming performances.
This new CBC Gem original is exactly that—ORIGINAL. Fall in love with Real Blackity Talk, and then be sure to follow Aiza and Kamana.