Sue Johanson is a Canadian icon. If you grew up in the eighties, nineties, or were a teen in the early 2000s, Sue was likely the one who educated you about sex. Maybe you learned the technical stuff in health class ("when a penis is inserted into the vagina and sperm travels up the fallopian tube…"), but Sue gave Canadians the real deal, like how to give a rim job, choose a cock ring, or ride a dick 'till you cum. She gave people what they really wanted.
Sue is now 92 and remains to be a fierce feminist and compassionate rebel, as well as being a doting grandmother and great-grandmother. She's also the subject of the new documentary Sex with Sue. We're so glad that a documentary about Sue's spectacular life now exists.
"I wanted Sue to be memorialized. I wanted people to know about this incredible woman who was radical for her time and spreading a message of sex positivity," says award-winning filmmaker Lisa Rideout, who worked closely with Sue's daughter, Jane Johanson, to make the film. "Sue was my sex education. I grew up in Catholic school, so I was really taught don't do it. Sue taught me so much! And she taught me not to be ashamed of sex. "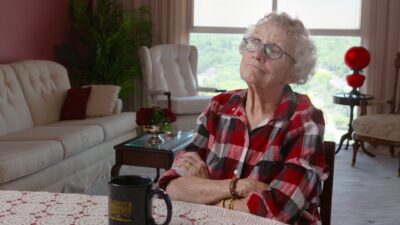 The feature-length documentary from Banger Films explores the prolific and decades-long career of the world-renowned sex educator, who hosted a live call-in Canadian television show called "Sunday Night Sex Show" which ran from 1996 to 2005. But the documentary goes back much further, including Sue's difficult childhood in the 1930s, her early career as a nurse, and her love and family life.
A major turning point in Sue's life was when one of her daughter's close friends got pregnant. She was very young and abortion was illegal in Canada at that point. "It was very traumatic for her," Sue says, in an archived clip in the film. "I realized that I didn't want kids going through this ever again."
Sue began taking sex education courses at UofT and voraciously reading anything she could get her hands on to expand her knowledge and understanding about sex and relationships. In 1972, Sue set up a birth control clinic for adolescents in a local Toronto high school. It was extremely popular and highly controversial.
When the prominent rock radio station Q107 found out about Sue, they invited her to be a guest on the show. Producers immediately realized that Sue was a natural, and that her expertise made for great content. Sunday Night Sex Show with Sue was an instant hit.
Jane shares that when she first heard her mom on the radio, talking about how to give a blow job, or tips or tricks for anal sex, her reaction was an expected "ew…gross", and she'd have to stop listening. But she was also so proud of her mom. "She was able to get in there and break apart taboos and make people feel comfortable. She did that with honesty. She would lean in towards people. She was not afraid of affection. And she would also use her humour to release the tension that was in the air."
From the dozens of people who worked with Sue over the years to media personalities like George Stroumboulopoulos and Dan Savage to comedians Russell Peters and Margaret Cho, the Sex with Sue documentary is loaded with interview subjects who share how Sue impacted them. Several of the subjects comment about how Sue provided vital education during the HIV/AIDS epidemic when governmental medical guidance and support was sorely lacking.
"I think something that Sue did so spectacularly was answer people's questions that you felt embarrassed to ask or you maybe just weren't able to articulate that you even needed to know it, and she answered it from a really non-judgmental space. So what I hear today is people still need that, they need a human being rather than a search engine to answer their questions," says Lisa, who made sure to introduce audiences to the sex educators who are doing similar work to what Sue did 20 years ago, including Dr. Nadine Thornhill, Lorraine Hewitt, and Shan Boodram.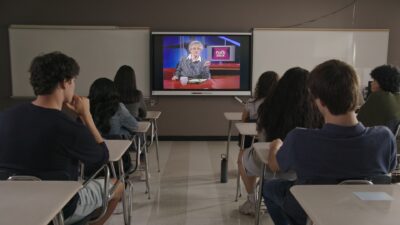 A lot has happened since Sue went off the air in 2008. The online porn industry has grown exponentially. Social media exploded. There are now over 100 sexual identities (and growing) to choose from. There's been progress in a lot of areas, but there's also been pushback. Hard won LGBTQ rights are being annihilated in countries where right-wing populism is on the rise, and people are living with a growing sense of fear. Roe Vs. Wade has been overturned in America, and even here, in Canada, we're seeing far more anti-abortion rhetoric and protests than in previous decades. One of the most noticeable things about this doc is realizing that the Sunday Night Sex Show probably wouldn't be greenlit today—because, in many regards, networks are playing it 'safer' than they were in 1995.
"We do live in a time where we're still getting pushback against sexuality, against owning our bodies, women's rights. It's a completely relevant film for right now. And it's important to amplify Sue's voice and the other sex educators in this film because we do have a long way to go in terms of sex positivity and not feeling shame around sex and not having our bodies controlled."
Watch Sex with Sue to celebrate Sue Johanson and her magnificent legacy, but also watch it to discuss what is happening right now. Sometimes it's hard to recognize how drastically things are changing when you are living through it—this film offers an important perspective.
Sex with Sue premieres on Monday, October 10 at 9 p.m. ET/PT on W Network.