Ninja Thyberg's hard-hitting debut feature film Pleasure neither condemns or glamourizes the billion-dollar porn industry, but shows it for what it is. The Swedish filmmaker auditioned approximately 1000 people before casting newcomer Sofia Kappel for the starring role of Bella Cherry, a young woman determined to be the next big porn star. The time she spent to find the right Bella paid off.
Kappel was bartending at a club in Stockholm when her manager suggested she might be the right fit for the role. "I was in therapy for body dysmorphic disorder. And one of the things you do to kind of deal with that is that you write long lists of situations that make you feel uncomfortable or uneasy and then you put yourself through them," she tells me, explaining how she ended up auditioning. "My initial thought was absolutely not. So I said yes."
It's astonishing how compelling Kappel is in the role. From her body language to the way she can communicate so much loneliness and desperation with just her eyes, her performance is outstanding. You'd never know that she'd never acted before.
For those of us born in the 70s and 80s, porn was not something that was easily consumed in our coming-of-age years. I remember being about 17 when I decided to purchase a PLAYBOY from my local convenience store. I bought it to share with my girlfriends. We opened the pages and sort of screamed at the giant dicks and then threw the magazine across the room and cackled with laughter. But kids born after the onset of the internet have had a very different experience growing up. Porn is everywhere.
"Porn was a huge part of sexual education not only for me, but for a lot of people of my generation, and the way that we reproduce things that we consume, especially when we're not being taught how to consume things, can be very harmful to us. It felt like a story that wasn't only about the adult industry but also about what it's like being a young female," says Kappel, who was 19 when she first read the script. She shares how collaborative the working relationship was with Thyberg, and how keen the director was to understand Kappel's perspective, as someone much younger. Ensuring that the material was authentic was paramount, as was creating a comfortable and safe environment on set.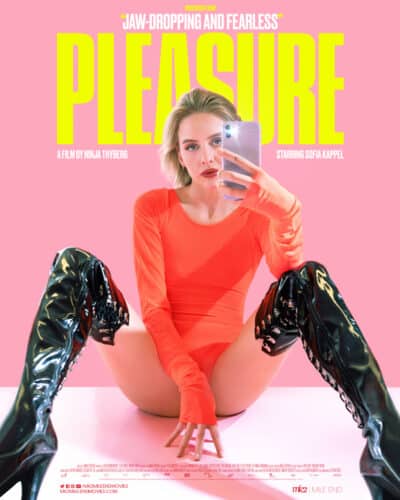 Right from the get go, the film is explicit. True to the industry, Bella's career moves fast, starting with 1:1 sex scenes with older men and quickly escalating to group sex, double penetration, to extreme choking porn (an entire genre that is violent and deeply disturbing).
"My biggest fear before I talked to Ninja was am I auditioning for a movie that's going to be exploitive towards me? In my opinion, it is not at all. There's very little focus on my body and the only part of the film that actually is a very full frontal vagina, that's not me. It's actually Ninja."
In 2018, when Pleasure was filmed, intimacy coordinators were not as common a role on set, so Thyberg took on both the role of director and intimacy coordinator. While there is a lot of nudity in the film, Kappel makes it clear that she was rarely naked. "I would wear privacy patches or I would wear underwear. For a lot of scenes I actually wear pants or shorts because they only filmed waist up."
Boundaries were clear, and for a particularly rough scene with two men, the actor had a friend fly in from Sweden to LA to help her feel more at ease, and Thyberg ensured that at any moment she was uncomfortable, they'd stop filming. "Revika, who plays Joy, was also there for that scene and their only job was to look at me and if I ever made eye contact with them that meant cut."
Thyberg's journey to make Pleasure is as fascinating as Kappel's. As a teenager, Thyberg was a known anti-porn activist in Sweden. Her short film Pleasure (2013), also about the grim reality of life on a porn set, and the ways that actors prepare their bodies for painful scenes, played at the Sundance Film Festival and received the Canal Plus Award at Cannes Film Festival Critics' Week. Years before casting Kappel, she spent a significant amount of time exploring the porn world in LA—the ensemble cast in Pleasure are all adults working in sex entertainment, and will be familiar to regular consumers of porn.
For both Thyberg and Kappel, spending time getting to know the people working in the industry was eye-opening. "I had a lot of prejudice. I had this idea that especially females in the adult industry are broken or traumatized. And when I got to the set, I realized very quickly that I was wrong," says Kappel, explaining how she met women with PhDs who choose to do porn for work. "Ninja's a genius. I think I could go on and on and on about what her mission was and what intrigued me with it, but I think a lot of it has to do with being a woman and sexuality and sexual education."
Taking on the role of Bella was transformative for Kappel, who credits the project for helping her overcome a lot of insecurities. "This movie helped me overcome a lot of the issues I was dealing with a couple years ago. I used to be an expert in limiting myself as to what I was capable of doing and I'm not an expert in doing that anymore. Ninja was the one who helped me prove that I was capable of doing a lot more than I ever thought and imagined that I could. I am so proud of this movie and I am so proud of my performance in this film." She should be—it is a challenging role to play, even for the most experienced actor, and Kappel is magnificent.

Pleasure opens in theatres across Canada on May 20.