For anyone, moving from the streets to a career in social work is a massive hurdle. But for Iman, a lively, strong-willed transgender sex worker living in Toronto, it was something she felt compelled to do.
"I didn't have support as a trans person," she says. "Trans people and sex workers—no one cares about us. I wanted to help others like me, who felt the same way. I felt like I could try to be a voice for the community and change things for us." Having lived the reality, she knew full well what changes needed to happen, so she set out on a journey to completely alter her life. Her story is the focus of One Leg In, One Leg Out, a new film directed by Lisa Rideout.
We asked Iman and Lisa about the film this week.
SDTC: Iman, did you find any crossover between sex work & social work?
Iman: Being a sex worker you have to listen to your customer; you're almost a therapist sometimes. They want to talk to someone about their problems that isn't their family or friends. So, you have to listen, listen, listen and not judge them. It's the same in social work: you have to listen to people to try to help them, hear about their issues and help them with their problems. I feel like the listening skills I developed as a sex worker are important as a social worker.
How did you surprise yourself over the course of this process?
Iman: I think I surprised myself when I started getting up early to shoot the film, to take tests to get into school and for my job. It was a completely different lifestyle than what I was doing before, late nights and partying. But I had a support system: Lisa and the documentary crew, my friend Devine, the people who hired me. I didn't want to let people down or disappoint them. And that helped a lot, having people to hold me accountable or to feel like they were relying on me.
What is the biggest challenge you've faced in your life, and how did you contend with it?
Iman: Changing my lifestyle from one with drugs and partying to who I am today: the Iman I've wanted to be, someone who is helping other sex workers and going to go back to school. It was hard at the beginning, but I changed my social circle, stopped doing drugs and going out late, and started to change my life.
But I'm not ashamed of anything I did before. It's made me who I am today and it makes me a better outreach/social worker, because who am I to judge anybody with all the shit I've done.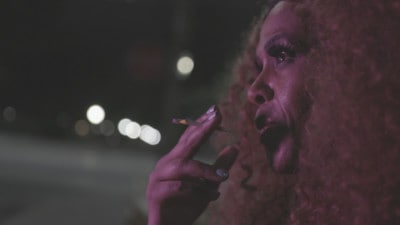 Lisa, what did you learn from Iman?
LR: I was unfortunately reminded how far Toronto has to go in terms of recognizing transgender and sex worker rights. Iman's inability to get the "normal" job she had wanted for years and even just standing on the street with Iman, seeing the looks she got, were glaring reminders of the prejudice that still exists.
Iman also taught me about perseverance, survival and love. She's overcome so much but continues to want to help other people in her position. She recently started a job as an outreach worker helping other sex workers, and I think that's amazing. Iman is also going to start school in September—the first step to becoming a social worker. I think her love for others has really motivated her. It'd be fair for Iman to be filled with hatred, but she's not. It's a good reminder about what can change people and what, in a larger sense, can drive social change.
How did you approach filming this?
LR: Documentary filmmaking is about relationships. It's an intimate process to be vulnerable on camera with your real life, and that requires trust between who is on camera and behind it. We had a small crew, and Iman got to know them all before. That was my primary concern in this, that Iman felt comfortable. We all had a lot of fun filming, everyone had nicknames by the end of it.
It was also really important to me that Iman liked the film and felt like it represented her story properly. In documentary, its someone else's story that you are visualizing, so I see it as a collaborative process and you want to feel like you've done your partners right. I showed her before it screened in public and she loved it. Phew.
What do you hope people take away from seeing your story on film?
Iman: I want anyone going through the same things I was—drugs or a lifestyle they don't want to be in—to know they can change. That it can get better. I don't care if people judge me for my story or if it pisses people off. I want to help others in the same situation as me, and I think telling my story can do that.
One Leg In, One Leg Out opens June 7 at Breakthroughs Film Festival. Get tickets here.