Women Talking released in 2018, months after #MeToo exploded on social media. For Sarah Polley, Frances McDormand, and millions of others, the novel by Canadian author Miriam Toews provided a new way to think about and talk about the complicated feelings and ideas that #MeToo triggered, regarding sexual assault, power dynamics, the patriarchy, and consent.
"I was really fascinated with the conversation and very anxious about it," McDormand said, in a press conference hosted by Penguin Random House earlier this month. "I had existential anxiety about it. When I read the book I realized that this was the kind of atmosphere and the kind of way I wanted to talk about how I was feeling, in a group of women, with nuance, with a sense of humour, with a sense of community, with a sense of urgency, but with a real thoughtful milieu."
Wanting to discuss the book, she quickly called up Producer Dede Gardner, President of Plan B Entertainment (12 Years a Slave, Moonlight), and the two secured the film rights to the book (McDormand is both a producer and star of the film).
While not everyone could see how the book, which takes place in one spot and is more talking than action, would translate into film, both Gardner and McDormand saw great potential in Women Talking.
"For me, it was instantly cinematic," said Gardner. "There was an inciting event, there was a limited amount of time, there was a ticking clock, there was a consequence, there was a decision to be made, you didn't know what they'd decide — so to me there was also mystery. I agree with Fran that it posited a different way to talk about all the noise that was around us."
It wasn't long before Polley discovered that McDormand and Gardner had secured the rights, and reached out to see if they were looking for a director. At almost the exact same time, they sent an email to Polley's agent, inquiring what she was up to. "It felt very meant to be," says Polley, smiling.
Like McDormand and Gardner, Women Talking struck a chord with Polley, who had made waves within the #MeToo movement in October 2017 when she published "The Men You Meet Making Movies", a daring op-ed in the New York Times which went viral. The moving piece detailed her experience working with Harvey Weinstein when she was 19 years old.
The film industry that Gardner, McDormand, and Polley lived and worked in for decades is a vastly different setting to Toews' bestselling book, which takes place on a Mennonite farm, but the themes and ideas and questions overlap.
Toews was compelled to write the book after learning about the horrific serial rapes of over 100 women in a Mennonite community in Bolivia, a news story that broke in 2009. "I was horrified. I think why it was so disturbing for me—I mean for everybody—but for me especially, was because I wasn't surprised. I grew up in a very conservative Mennonite community," said Toews.
"I had so many questions. I wanted to think about those questions and write about them. I didn't know how I was going to write about it. I eventually realized that I didn't want to re-enact these crimes, that was never my intention, I thought that would be a violation of the women, in a sense. I wanted there to be a conversation, I wanted the women to be talking."
These questions also haunted Polley. "I'm a huge fan of Miriam's work and have been for a very long time. I read it shortly after it came out and just found myself lost in it. Miriam talked about the questions and wanted to raise these questions and I just lived inside those questions so intensely after reading the book."
The main question for the women of Molotschna, the fictional name Toews gave to the community, is whether they stay and fight, do nothing, or leave. There is no easy answer, and each option leads to dozens of other questions that explore themes of forgiveness, revenge, guilt, freedom, autonomy and so much more.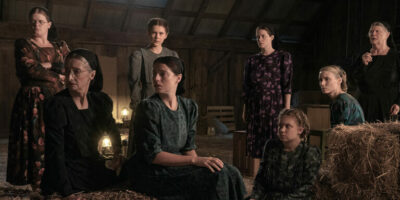 "The book goes through you like a bullet," Polley says, with admiration. "It's so efficient, so potent, you're right in it. We knew early on that this script couldn't be over 90 pages, the film couldn't be longer than 100 minutes. It had to feel like the book did: over before you can even process the thousands of ideas and questions it's raised for you. The goal really was to give audiences the same experience we had as readers with this book."
It succeeds magnificently. The tension that readers so admire in Toews' writing is ever present in Polley's film, but exquisite cinematography, breathtaking views, meticulous and compassionate editing, along with art department choices and absolutely brilliant music direction, bring a breathability to the screen. The way Polley adapted the book for film is the kind of work that should be studied in film schools everywhere. Of course, the performances by Jessie Buckley, Claire Foy, Rooney Mara, and the entire cast, are outstanding. Women Talking is heavy and emotional, but there is also laughter and light and hope and power.
"When I was writing it, I was in the loft, holding the women's pain. I was trying to maintain it in the writing, and I really felt like—more than any other book that I've written—that writing this book just might kill me. I knew I had to stop and end it quickly, which is maybe why it feels like a bullet. I was really blown away when I saw it."
Women Talking is a film about one group of women in a religious community, but it is for women everywhere.
Women Talking is playing at select theatres starting December 25.