The rumblings that Toronto writer-filmmaker Sarah Polley had made something magnificent began well before TIFF started. The deeper we get into the Festival, the louder they've become. Like so many other Canadians who've been following Polley's illustrious career and complicated life since childhood—and having recently read her deeply moving memoir Run Towards The Danger, where we learn about immensely difficult chapters she's lived through—we want Sarah to win, and Women Talking is poised to grab Best Picture.
Based on Miriam Toews' bestselling book of the same name, and adapted for the screen by Polley, Women Talking explores sexual assault within a remote and isolated religious community. The film's powerhouse cast includes Frances McDormand, Rooney Mara, Jessie Buckley, and Claire Foy. The latter three were in Toronto this week to celebrate the film at TIFF; the off-screen chemistry was apparent during both red carpet interviews and on stage (The Crown's Foy got down on her knee, to jokingly but genuinely praise Polley).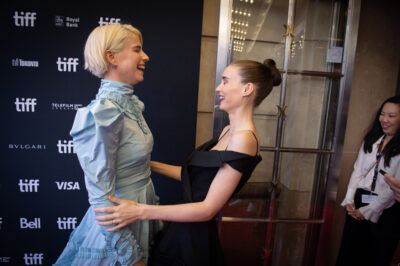 At the Canadian premiere on Tuesday (the film had its worldwide premiere at the Telluride Film Festival earlier this month) audience members at the Princess of Wales Theatre gave a standing ovation for several minutes. Following the film, many were compelled to quickly jump on Twitter to share their immediate reactions. "Wow!!! I'm speechless. #WomenTalking was incredible," wrote longtime critic Bonnie Laufer. "Sarah allows each perspective to be fully realized…there is not one false note, the performances are grounded and honest and the script doesn't waste a syllable," tweeted renowned entertainment reporter Teri Hart.
During the Q&A, Polley shared that she wrote multiple passes of the script from each character's perspective to ensure the perspectives were fleshed out. Writers in the audience gasped, replying with "wow" or "mind blown", understanding the time and dedication required it would take to do several rewrites.
It goes without saying that Polley is brilliant and daring and deeply committed to her craft, but it's her empathy and kindness that have distinguished her reputation as a filmmaker. "She's really compassionate and kind and generous and makes space for everybody and is really brave in her life," Foy shared during an interview with TIFF at the film's premiere.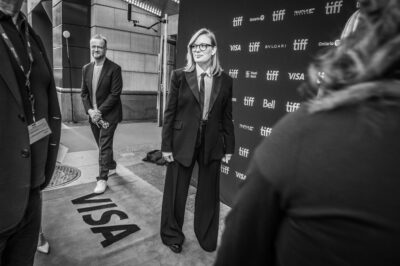 Other cast members have shared similar sentiments, and all have exclaimed how grateful they are to be part of a project that will drive important conversations. "I hope that audiences take away that there is no one option that is braver than the other. To stay and fight, it takes immense courage. To leave a situation that is unsafe takes courage. And to stay and do nothing also takes immense courage," said Shayla Brown.
Shot here in Toronto, there are many people who've worked on Polley's film, from makeup to catering from set design to post-production, and this was something she graciously acknowledged at the premiere. "She not only said kind words about each and every person on that stage, but also acknowledged and thanked all the crew in the audience – and their families – and asked them to stand," noted one person at Tuesday's screening.
At the Canadian Film Centre homecoming event this past Sunday, Women Talking dominated chatter. We ran into several people who shared how elated they were to have a hand in the film. "Right from reading the script and seeing the first scenes in the cutting room, this film felt special and so timely; the kind of project that doesn't come along very often. Working with this talented team has been a career highlight," said Emma Sanders Finlayson, Post Production Coordinator.
TIFF has made it clear that the subject matter of Women Talking is extremely disturbing, but they've also remarked how carefully Polley has treated the material. "It's one of the most difficult stories that we saw, but on the other hand, it was handled with so much grace, with sheer moments of beauty," said TIFF Chief Programming Officer Anita Lee, while moderating the Q&A after the film's Wednesday screening.
"I think the thing that surprised me most about the book was that I was left with this hope at the end that blindsided me," responded Polley, further explaining that Women Talking is about building a better future. Before the film begins, there's a card that reads: "What follows is an act of female imagination." "There are a lot of women talking in a hayloft but we should also feel the seismic nature that they're having a conversation about remaking a world and we shouldn't shy away from the gravity and the bigness of that either."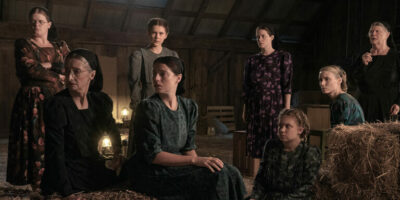 With Women Talking, Polley not only gives the world a stunning adaptation, a masterful piece of cinema that shows off the power of the art form, and outstanding performances that leave a lasting impression, but she invites audiences to use their own imagination, to dream up a better world, a brighter future, a path forward. It's hard to summarize just how impacted we've been by Polley over the years, so we'll end this by echoing what Rooney Mara said. "She was Ramona Quimby, age 8, so she'll forever be my girl crush."
Women Talking is set to release in theatres on December 2. If you weren't able to catch Sarah Polley at TIFF, she'll be at The Toronto International Festival of Authors on September 30, to discuss her memoir Run Towards the Danger.