Kate Bezar and Rebecca Percasky worked in the courier and eCommerce business for many years, and started to notice how much waste was involved, "We became aware, and frankly horrified, at the amount of plastic waste the industry was generating", they explain. Compelled to change things, they set out to develop biodegradable, compostable packaging solutions, or a 'real dirt bag', and that's how The Better Packaging Co. story began. "We now develop the world's most sustainable, eCommerce packaging solutions that consider the complete lifecycle impact of a product from raw material sourcing, right through to end-of-life disposal," says Percasky.
The company is based in New Zealand, but has strong ties to Canada because when they were experiencing a period of rapid growth, and requiring an infusion of capital to help take the company to the next level, the New Zealand SheEO community stepped in to give them the financial support they needed, and share that "The support we've received from SheEO goes far beyond the interest-free loan." Founded in Toronto, SheEO is a global movement, with strong communities all over the world.
Dedicated to supporting women-owned businesses that are determined to help the world, SheEO saw great potential in what Bezar and Percasky were doing. We see it too—the world needs this kind of change!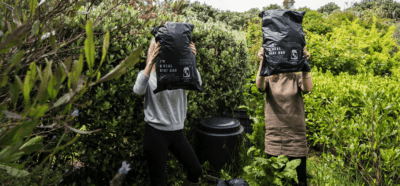 How would you describe your company mission now?
We started The Better Packaging Co. in an attempt to make more of an impact than we could as individuals. Our mission is to create a more sustainable future by reducing the environmental impact of packaging. We believe everyone and every company can start somewhere and have developed products that offer them the opportunity to do just that, simply and easily with no change to existing processes. We like to think of it as a 'no-brainer'.
How has SheEO helped you grow?
The support we've received from SheEO goes far beyond the interest-free loan. The coaching, mentoring, and especially access to a network of super-connected and clever individuals has opened up doors for us that we may have never even dreamed of knocking on!
Having SheEO support us as we grow has given us the confidence to put into practise (and own!) new models of operating; more collaboration less competition, more team less hierarchy and more radically generous behaviour.
What are some recent discoveries you've made, or lessons learned, that are helping you on your journey?
Running a values based business pays off in the long term. When you make business decisions based on what is right for the planet, your customers, those you partner with and the health of your team rather than the bank balance, over time these decisions will pay off.
The importance of putting what you need out there / voicing it.
What excites you most about your business?
We get to do what we love, how we love to do it and most importantly, make a difference along the way.
On March 9 & 10, SheEO will be hosting their first Global Summit in Toronto. Ventures, like Barbara Alinker, will share their story, and attendees will also be able to learn from 50+ speakers—all self-indentified women breaking barriers and growing businesses that are changing the world in a positive and healthy way. Get all the info here.