Thirty chefs. ENDLESS options!
FoodShare's 9th Annual Recipe For Change event is going down at St. Lawrence Market on Thursday, February 22nd and will bring together some of Toronto's finest chefs for a thoroughly memorable culinary experience that gives back. Recipe For Change is a truly special event that supports vital food literacy work in Toronto schools and school farm programs. If you are a socially minded foodie, you will not want to miss out!
Leading up to this must-do, must-eat event, we're spotlighting various chefs featured at this year's Recipe For Change. For this installment, we spoke to Kim Vo of North Saigon.
SDTC: Is there a recipe that changed your life? What was it, and how did it alter your perspective or direction?
KV: Yes. Well, it's not a recipe per se. A few months ago, I had the pleasure of cooking with chef Nick Liu in his kitchen at Dailo. While I was there, I noticed that he had pickled a bunch of odds and ends and had it neatly stowed away in containers—pickled watermelon rinds (delicious!), for example. He made a point to not waste any food in his kitchen and it really inspired me to do the same. If you taste his food, you'll notice that he always incorporates a bit of a briny flavour into his dishes and I realized that it's probably because he pickles so many things from scratch.
Pickling is a great way to not only preserve the shelf life of a product but is also beautifully enhances its textures and flavours. You can get creative and add pickled/fermented vegetables and even pickled/fermented fruits (like lemons and limes) to sauces, broths and marinades, or use it as simple sides or garnishes. Fermenting is a big part of East Asian cuisine, especially in Vietnamese cooking. I ferment leftover cabbage scraps when making Vietnamese slaw salads and make a kombucha for marinating meats with its SCOBY. It's amazing what a little bit of salt can do! Food waste is not only costly but is also hard on the environment. I try my best to pickle/ferment whatever leftover scraps I may have and transform them into delicious little bites later.
Why is supporting FoodShare so important to you?
My family and I came to Manitoba as refugees in the early '80s. My parents were farmers in Vietnam but they weren't familiar with Canadian food; it was very different from what we were used to. We lived in the inner-city of Winnipeg and my elementary school had a breakfast program run by volunteers for kids like myself who didn't have much to eat. My brother would walk me to school in the mornings and we would have warm oatmeal with brown sugar, a piece of bannock with jam and some orange juice. I later asked my mother to buy oatmeal at home and we would enjoy similar meals. Promoting food literacy programs in the community brings me a lot of joy because I can personally relate and attest to its long-term benefits.
What food experience excites you most and why?
Creating recipes excites me the most. When I'm creating a new dish, I think about where my products will come from, which supplier I'll get to work with, and the people enjoying my recipes. For instance, I have a supplier who grows microgreens. Her farm is located just outside of Toronto and it's small. Now that I'm producing enough volume, she plants my microgreens for the week and doesn't have to make extra trips to farmer's markets or do additional vendor drop-offs because most of her supply goes directly to me. This has benefitted both of us a lot because I get to have more control over my ingredients and there's less stress on her end to do multiple drop-offs. I prefer working with local small businesses, especially small businesses run by women.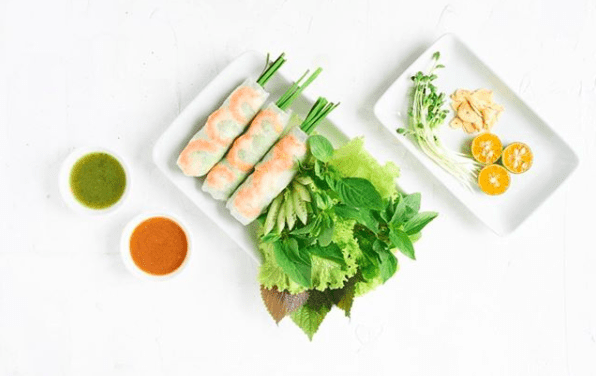 For those who aren't immersed in the Toronto food community, can you share something about it that you think makes it special?
Everyone is connected in some way or another. Food moves through our community like air and it touches so many different people along the way. There is a lot of great food that's grown right here in Ontario by local farmers. With the right programs and investments in place, I truly believe that good food can be made accessible to everyone—as they say, sharing is caring.
What dishes of yours can guests expect at Recipe For Change?
We are making shrimp, crab, and taro net shell egg rolls with a special sauce that my aunt has passed down to me. My mother used to grow taro on her farm in Vietnam. In Winnipeg, I spent a bulk of my childhood rolling egg rolls with taro. My egg rolls are slightly more elevated than my mother's (please don't tell her I said that), but they bring back warm memories.
What philosophy currently guides your culinary journey?
I'm not perfect. I've made a lot of mistakes in life and in business. I don't have one specific philosophy that I follow aside from the basic philosophy of trying to have as much respect as possible for everything and everyone around me: people, the environment and everything else growing, living and sharing our space. Sometimes things don't go your way and you don't get what you want. I've learned (the hard way) that during those tough times—no matter how badly it may sting—giving that extra level of respect is what will most likely carry you forward. Cheers.
Tickets for Recipe For Change are now on sale. The $135 ticket includes all-you-can-eat-and-drink access for the duration of the three-hour event. DO NOT PROCRASTINATE: THIS EVENT WILL SELL OUT! Get all the deets about the good that FoodShare does for our community here.